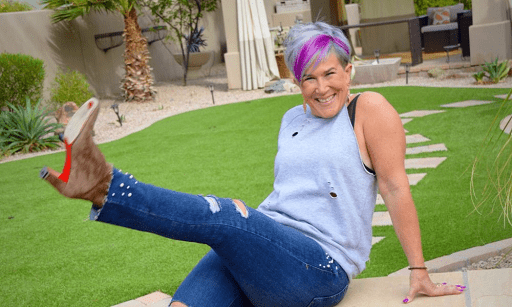 Sandi Krakowski was born on March 3, 1964 in the United States. She is a renowned digital marketer, author, social media influencer, Facebook expert, public speaker, and business consultant. Forbes named her as the top 20 influencer in social media in the year 2014.
Sandi is the founder and CEO of A Real Change International, a company designed to help business owners enhance their revenues through social media marketing. She has over 80,000 followers on Instagram and over 300,000 followers on Twitter.
Her entrepreneurial journey
Sandi launched an E-Commerce company Health for You way back in 1996. The website lasted till 2001 and in a small period of 3 years, it had garnered around $4.5 million.
She launched her own company, A Real Change International Inc. in 2009 and it has served more than 1 million customers worldwide.
Sandi is a multitasker and handles many things at a time. At present she is into digital marketing consulting, paid search marketing, social media marketing, copywriting, publishing, speaking, training and education.
Conducting business according to the Bible
According to Sandi Krakowski, corporate life should be taken as a mission for God and should be based on Christian principles.
A Real Change, her own company is a proof that if you take your business as a mission of God and conduct the business according to teachings of the Bible, you will not only succeed but you will thrive and create opportunities for others as well.
The employees who work at A Real Change International actually live her vision regardless of the religion they belong to. They need not be Christians, but the entire philosophy and mission statement of the company is to conduct business as God's mission to help and serve others.
Most of the businesses find it challenging to consistently make money and attract the right clients. Sandi Krakowski has helped more than 2 million people so far to increase their revenues and help them make more money.
As an author
Sandi has written a book titled "Be More" that offers some 80 secrets to a powerful life. The book is read by more than one hundred and fifty thousand people globally.
She regularly writes for the Entrepreneur magazine and her articles have also been featured in American Express Open, Mashable, Forbes, and BeliefNet, etc.
Her business empire
Sandi Krakowski is a venture capitalist and also a new generation author with revolutionary views. She can be a source of inspiration for millions of entrepreneurs and individuals worldwide as she has built her own business empire worth $20 million. It is important as she has achieved this feat purely through self-taught skills.
She has done a remarkable work by introducing faith at work and she is propagating her thoughts through her teachings and keynotes.  She is promoting an entrepreneurial culture leading to a real change in society.
Women empowerment
Sandi also loves empowering women and prefers to discuss those things which people often deliberately skip during business conversations.
As a marketer and influencer
Sandi is a Facebook marketing expert and has been honored by Forbes as the top 20 online marketing influencer. She is also been mentioned as the top 50 social media influencer.
She is an author with a difference and a speaker with unique views. She is also one of the leading social media influencers and a thought leader. She is bringing in change in the world as she doesn't believe in doing business without any social or spiritual objectives.
She has already created history by introducing faith at work and empowering women. Many people are now following the work culture and marketing strategies introduced by her.
Struggle and achievements
Sandi's entrepreneurial journey has never been easy. She started business as a young mom and succeeded in converting it into a multi-million dollar corporation.
At times, she had to face issues both in her personal life as well as professional life, but she never allowed circumstances to rule her life. Currently, she is the president of her own company, A Real Change International Inc. with a turnover of $20 million. She also runs a company named as Sandpaper Tablet Inc.
Sense of self-worth and biggest achievement in life
What gives Sandi immense pleasure is the fact that both of her businesses work in a way that they introduce an element of faith at the workplace. So her vision of helping business owners and employees bring success through basic religious values such as kindness, happiness, faith and other noble strategic principles has already gaining ground.
It has been 21 years, since she is doing business in the field of online marketing and business development. So far, she has built around 11 prominent companies leveraging her expertise in Internet marketing, E-Commerce, publishing, direct response marketing, sales and management, copywriting, team development and leadership skills.
Despite her busy schedule, she manages to find time for her hobbies such as working out, reading books, travelling, hiking and drinking good wine. She is very fond of chocolates. She has three sons, two daughter in laws and a beautiful grandson Luka.
Social media engagement
Sandi has been able to achieve a very high level of engagement on her blogs, videos, and social media properties, mainly because of her passionate approach, strong zest of business, and her dynamic approach toward life's challenges.
On Facebook she has around 1.4 million followers with lots of interactions. She has also got around 2.5 million views on her videos. On Twitter, she has more than 300, 000 followers with 15 million organic Impressions.
She has more than 30000 ReTweets, out of which 1500 ReTweets are with comments. The majority of her followers include females which is around 78% on Facebook followed by 52% male followers on Twitter.
Amazing metrics
Sandi has some amazing success metrics to share. She has sold around 60, 000 acupressure mats in just 30 days. She received 36, 000 clicks on her campaign with a 3% conversion rate, which is considered to be very high. The mat was priced at $55.
She also runs her program "Social Media MasterClass" on which she earned 12 times ROI (return on investment). This was a paid Facebook campaign that she ran.
She sold more than 130, 000 copies of her book "#BeMore" by spending just $400 in local ads attracting 10, 000 attendees.
This proves how efficient and social media savvy Sandi Krakowski is. Her achievement including her social, religious and business successes are remarkable and commendable.
[Source: Sprout Social May 1, 2015 to January 31, 2016 and Sandi's website http://www.arealchange.com/]