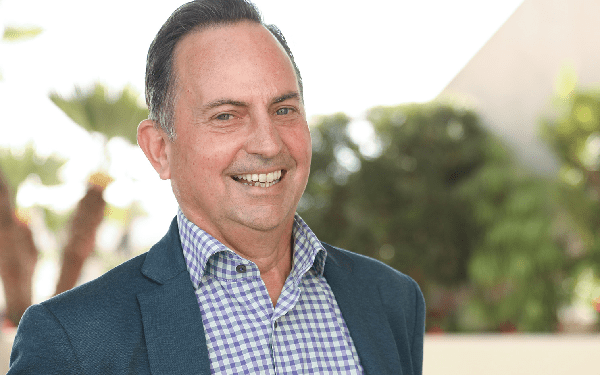 Jeff Bullas is a speaker, entrepreneur, and founder of Jeff Bullas blog (an award winning blog) which receives more than 20 million visitors in a year.
It looks like a fairytale, but it didn't happen overnight.
Jeff Bullas' story inspires you and pull yourself up.
Are you ready to know Jeff?
Let's start…
Struggle and Journey to Success
Just ten years ago, Jeff was going through a divorce, $50000 in debt, shutting down a business, and unemployed… He was broke. His life was a mess.
Then he started reading books and blog posts on digital marketing. The knowledge he gained here inspired him to take action and do something.
He bought a domain name just in $10 (probably the best investment of his life) and started blogging about social media and its growth.
He gave his soul and heart to every blog post he wrote.
After six months, his efforts showed up and his blog was listed in Social Media Examiner's Top 10 Social Media Blogs.
And after that, he never looked back.
Today, Jeff's blog has 25 million readers and more than 600, 000 social media followers.
That's crazy!
The mission of Jeff Bullas is simple and specific: "How to win at business and life in a digital world".
And his blog is fulfilling the mission by helping entrepreneurs and bloggers.
Jeff is someone who didn't give up and won over the depression. He started a successful blog and turned this into a profitable business.
Aspiring bloggers and entrepreneurs can learn so much from this guy.
"Our beliefs about what we are and what we can be precisely determine what we can be" ― Tony Robbins
Jeff Bullas Interview: How He Became Top Social Media Influencer
Achievements and Accomplishments Of Jeff Bullas
Here are some achievements of Jeff Bullas:
Jeff Bullas was featured on Forbes as a "Top 20 Influencer of Chief Marketing Officers 2018"

Jeff Bullas is ranked #1 in Global content marketing influencer list for 2018. (

Source

)

Forbes listed him as one of the Top 20 influencer's of CMO's 2017.

Ranked by Apollo Research in the "Top 20 Influencers of Digital Marketers in the USA" – 2016. (

Source

)

Onalytica listed him as the #1 content marketing influencer in 2015 and 2016.

bizHUMM ranked him as world's number #1 business blogger.

Tools and Books Jeff Recommend
Here are favorite tools of Jeff that will help in your journey:
Blue Host – Web Hosting

WordPress – Publishing Platform

Themeforest – Web Design

Google Analytics – Analytics

Yoast SEO and SEMrush – SEO needs

BuzzSumo – Content Promotion

Sumo and Constant Contact – Website Conversions

Constant Contact  – Email Marketing
Here are some books that inspired Jeff and he recommends these to entrepreneurs and bloggers:
The 4 Hour Work Week by Tim Ferris

The Element by Ken Robinson

Made to Stick by Chip Heath & Dan Heath

On Writing by Stephen King

ReWork by Jason Fried

Start With Why by Simon Sinek

The New Rules of Marketing and PR by David Scott

The Millionaire Messenger by Brendon Burchard

The War Of Art by Steven Pressfield

Permission Marketing by Seth Godin
Jeff Bullas Speaking Showreel
Jeff Bullas Advice For Bloggers
Give Free Stuff
Give away free content that adds value to readers' lives "until it hurts" and they will love you and become your loyal fans. If you want them to become your subscriber, you have to convince them by providing free valuable stuff.
Blogging is a Long Term Game
Blogging is a long-term game that needs your commitment and persistence. The biggest reason a blog fails is: Lack of Persistence. Most bloggers give up too soon when they don't get initial success. You have to give your efforts and time to make it a source of revenue.
Produce Awesome Content
Want to make people read your articles? Write a compelling headline that encourages people to read the rest of the article. Your article should be inspiring, educational and awesome that people want to share it with their network. Write and publish articles regularly.
Leverage the Power of LinkedIn
Use the power of LinkedIn. Optimize your LinkedIn profile and add your blog link to your profile. Start posing the question on LinkedIn and answer with a relevant answer (Links to your blog post link).
Don't Forget Email
Don't make the mistake to avoid email marketing. Email marketing is one of the most effective marketing channels out there. It can help you to nurture your potentials and convert them into your loyal customers. Convert your website visitors into your subscribers and keep communicating them to build a relationship with them.
Here are Some Fun Facts
Teenage Jeff was passionate about sports and reading books.

Steve Jobs is the role model of Jeff Bullas.

Jeff started out as a teacher and moved into the sales and marketing industry.

Jeff self-published his first book: "Blogging the Smart Way – How to Create and Market a Killer Blog with Social Media"
Golden Advice Directly From Jeff Bullas' Email Newsletters
Your Course Should Deliver What You Promise
Is it really possible to build a hugely successful business and career creating and selling courses?
Absolutely.
Online learning alone is already a 160 billion dollar per year industry, projected to grow to 286 billion by 2023.
We're currently seeing higher education and many other education options fail (including a lot of underwhelming online courses).
And if you don't want your course to be lumped into that category, then your students have to achieve the results that you promise.
Courses that provide a learning transformation are going to thrive, and those that don't are going to disappear – as all bad products eventually do.
Leverage and Scale Your Knowledge
Knowledge is power.
Right?
Not really…
It's what you do with the knowledge that's so valuable.
Sadly, more and more college graduates can't really do the jobs they studied for. They lack the skills that employers value and often have little to show for their knowledge but a ton of debt.
The opportunities that higher education is supposed to create are rapidly disappearing.
Don't wait, Start Your Journey Now
I'm sure you've heard the famous quote, "Don't let the fear of striking out keep you from playing the game."― Babe Ruth
With this quote in mind, I wanted to encourage you to go ahead and start…
Start your blogging journey because I know it will be a journey worth following.
Don't forget, I was in your shoes, and I couldn't be happier that I took the leap back in 2009 and started my blogging journey.
How to Pick Your Blog Name
Let's pick out your blog name!
I hope you saw my last email where I told you about my journey to start my blog.
The biggest excuse most people have for not getting started on a blog is that they can't pick out a name for their blog. They let this discourage them from taking that next step.
However, I want to help you brainstorm some ideas, through my own experience.
Here are 5 best practices when it comes to naming your blog:
Make the name evergreen

Check for domain availability and conflict

Ensure that your blog title resonates with what your ideal reader holds near and dear.

Repeat the new name out loud a couple of times, make the best, the most educated decision you can and move forward with faith.

Make a decision an start blogging!
Content Upgrades to Build Email List
If you're growing an email list and NOT using content upgrades, you're missing out on 50% of your potential subscribers.
That's right.
Here are the average Email opt-in conversion rate numbers:
Popups: 3%

Ribbon overlays: 3%

Welcome gate: 5%

Content upgrades: 60%
Did you notice that last metric?
SIXTY percent!