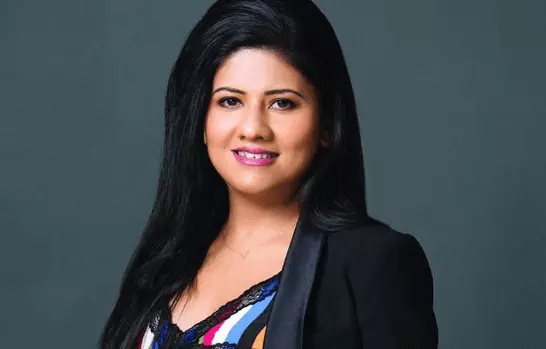 Do you love gossiping?
You landed right, Pal
Who don't love Bollywood gossiping?
From getting movie reviews till knowing all celeb's new sassy Airport look, we all are inspired and curious to impose them into our lives.
Just like us, there's a pink entrepreneur who twisted her excitement of Bollywood fanatics into a pure digital website that too at a time where no one had ever thought of.
Yes, you guess it right.
Nandini Shenoy is that powerful lady who coded a totally digital platform- PinkVilla to add more spice and excitement to your kitty party and coffee over talks.
"When I was growing up, our dinner table conversations always centred around films and stars and that is how my passion for Bollywood was fuelled," says Nandini Shenoy
 Journey of Nandini Shenoy
Nandini Shenoy has a rib tickler story.
She was born and brought up in Mangalore.
Being raised in a family of brilliant engineers, she joined the bandwagon and went on to pursue engineering from the National Institute of Technology, Karnataka (NITK).
Then she moved to the United States for a Master's in ECE from Rutgers University.
Her career climbed greater heights after joining Microsoft, Seattle as a software engineer in 2004.
She admired her work as a Software Engineer but screwed a little when the idea of PinkVilla brainstormed her mind.
Bollywood fanatics was always at her cornerstone.
Therefore she chose to nurture and foster her passion at a jiffy.
She did not quit Microsoft right away.
She kept her job intact and accordingly sowed the seeds for PinkVilla— with sleepless nights and weekends.
Pinkvilla's Founder Nandini Shenoy Shares Her Success Recipe
What is PinkVilla? What it captures?
PinkVilla is the premier Bollywood news and fashion website.
They are the leading online destination for Bollywood Gossip, Celebrity Photos and Entertainment News with visitors from over 200 countries.
They live streams celebrity fashion trends making it the talking point amongst industry insiders and readers.
The most exceptional part is that they are one of the most updated websites for anything Bollywood that is why it is very popular.
The journey was not as easy as it seems.
It was equal to boiling an ocean.
Nandini Shenoy and her husband, Jeu George, were skilled software engineer and that helped her to run the code and test the iterations of website.
PinkVilla laid its foundation back in 2007 where Bollywood sites were nowhere in talk.
She took a plunge and forthfully clinged to give an early rise to its dream.
Shenoy was always fascinated by the table talks of Bollywood celebs and grew up reading Stardust and Film fare at helm.
This probably was the starting point of it all.
She believed in excavating something out of the box with a touch a likelihood and thus her undying perseverance shoot her to successful heights of her life.
"Being from the tech background, I knew I had to figure out the SEO first before I decided on the content. If the content works and the SEO doesn't work, the website can't work. If Google and other tech platforms don't understand the content on my website, I will go nowhere. I have to keep evolving because Google keeps changing its algorithms every other day," says Shenoy.
(Source – https://www.entrepreneur.com/video/324551)
How PinkVilla was taken off to become an inspiring epitome?
The secret sauce of PinkVilla is that –Most bloggers choose technology related niche or blogging as a niche, but out of the blue Nandini Shenoy started blogging about Bollywood, Fashion, and Beauty & Gossip (liked by every woman).
Back in 2009, there were some photos of Sonam Kapoor that were posted on PinkVilla and they went viral.
Hindustan Times contacted her and said they would like to use the photos and in return they would provide her a back link.
After that, there was no looking back.
By 2010-11, some celebrities urged Shenoy to get themselves featured in PinkVilla because of paucity of digital websites at that time.
And this infused confidence into her.
She passionately took the interview of these celebs that too from the US.
On that way, she realised the requirement of setting an office in Mumbai.
She then created and hired approximately 35 people without any external funding.
Now when things went parallel and optimistic at PinkVilla, she quit her job at Microsoft and her entire concentration was then focused on the website.
In 2013 she was able to set up an editorial team in Mumbai sitting in USA with no contacts in India.
She believes having the right people is paramount. "If you don't have the right people, you end up concentrating on what's not really relevant," says Shenoy.
Adgully in conversation with PINKVILLA | Nandini Shenoy – Founder & CEO
Circle of achievement
Believe it or not your perseverance will always pay you something and same happened with Nandini Shenoy.
PinkVilla was easily able to get 8 million views in a month and has earned Indian Alexa Rank 2,862.
Like, can you imagine how can such a gossip sharing website get such a short term boom?
Nandini Shenoy earns around $15,000 per month.
Nandini Shenoy is a true spell binding personality in the field of blogging.
Currently, the traffic has hit the bars outrageously on social media.
PinkVilla already has 2.6 million followers on Instagram, a social networking site.
On twitter it is grabbed with 858K followers on PinkVilla account.
While PinkVilla telly is clutched with 50.8K followers.
Pompously, Facebook holds 1.5 million followers at a break neck.
What's new and extra to PinkVilla in current scenario?
Now, PinkVilla Hindi is leapfrogging in the field of news and media.
It aims towards rebranding itself with some customised touch of language, increasing the visitors from every corner of the world.
Apart from Bollywood and Television news, it will further showcase Fashion and Lifestyle related coverage.
Hindi Rush – to increase regional users
Hindi Rush is also available in the video format supported by YouTube channel, providing satisfaction to all PinkVilla loyalists and audiences to watch their favourite stuff anytime.
Hindi Rush is all set to proliferate its presence on Social Media- Twitter and Facebookvibrantly.
With a touch of south films and news
The website which has also a presence down South with PinkVilla South along with PinkVilla Telly for all the small screen news, has amassed quite a reach, as evident from its hugely-popular social media presence in Instagram (1.7 Million Followers), Facebook (1.5 Million Likes), YouTube (60 Million plus video views) and Twitter (830K Followers).PINKVILLA recently launched into the Television and regional markets including Kollywood.
Some Partnerships for Wider Viewership
Partnership with Hotstar for online addicts
PinkVilla has partnered with online streaming major, Hotstar.
Under this partnership, original content from the popular entity will be available for viewing under the Hotstar app.
The collaboration will help the website in catering to a wider audience reach adding to increased viewership.
 Universal Advice by Nandini Shenoy, Blogger
"Be passionate about your writing. Don't run behind monetizing your blog, take time, and work hard on your content. As soon as you started getting appreciations and traffic as well, you can monetize your blog", Shenoy believes.
Ignite the spark within yourself
Every success climb its pinnacle when you choose your dream passionately. It all begins with a dream and its undying perseverance. Always remember, you have within you the strength, the patience, and the passion to reach for the stars to change the world if you IGNITE IT.
The journey will be tough. Very tough. But your failure will teach you how to climb the rocks and hoist your dream with success. Just remember practically, every night of darkness ends with a bright glowing morning. Don't stop. You will win
From blogging perspective, keep your content nonchalant, crisp and addressing. Authenticity is indispensable. Readers love your content if it's authentic and involving. Writer daily to improve these basics funda. Ink work that you're proud of, even if you don't make much money from it initially. It's an investment in your future.
Learning is an ongoing process. You begin to work, you begin to learn. Sometimes you fall and learn and sometimes you rise and roll. The day you stop learning, the day you stop rising. Add an attitude of learning something from everything that surrounds you.
Don't doubt. Believe in yourself
The one who falls and gets up is so much stronger than the one who never fell. Within your unspoken tragedy, don't doubt yourself for failing. Stop regretting over your wrong decision. Just believe in yourself. Whatever happens, happens for a good worthy reason.
So to unwind the talks, always share a space for your dream.
Walk miles.
Chase it.
With every passionate moves, you will enjoy your journey.
Nothing comes with a well-furnished manner, you need to work hard, run through sleepless nights and days, working like nothing before, to achieve it like you never had.
Hey patrons, share your views and comments that you learnt from Nandini Shenoy and her passionate journey.
Share what inspired you the most and touched your heart.