Have you ever wondered if it was possible to make $1,000,000 in your first year as an online entrepreneur?
Well, John Lincoln managed to do just that in 2013, when he launched Ignite Visibility, one of the leading digital marketing agencies, which has been included 5 times in the Inc. 5,000 list of successful businesses.
John has been featured several times in top media publications such as Entrepreneur Magazine, Inc. Magazine, Forbes, CIO Magazine, and many others.
John Lincoln steered Ignite Visibility to success using a unique program, which focuses on Search Engine Optimization (SEO), Paid Media, Social Media, email, Conversion Rate Optimization (CRO), Pubic Relations, and Amazon, to get the best results.
Apart from being at the helm of such a successful company, John Lincoln has authored 2 best-selling digital marketing books, "Digital Influencer" and "The Forecaster Method."
He is a much sought-after speaker at top digital marketing events and was also awarded the prestigious Search Engine Land "Search Marketer of The Year" award.
He is also a teacher, having taught Digital Marketing and Web Analytics at the University of California, San Diego.
He is a top CEO in the industry and was included in the "Top Business Leader Under 40" list.
Recently, John has ventured into the movie industry, and directed and produced two short movies related to Digital Marketing, namely, "SEO: The Movie" and "Social Media Marketing: The Movie."
John Lincoln Education Credentials
University of California, Santa Cruz
Between the years 2001 to 2005, John attended the University of California, Santa Cruz, and graduated with a Bachelor of Arts degree in Modern Literature.
He was also very active in sports and societies, having played soccer and lacrosse for the university.
New York University
John also took a one-year course from the New York University, earning the accreditation of an NA in literature.
Alliant International University
From 2005 to 2007, John attended the Alliant International University where he pursued a Master of Business Administration degree in Finance.
He was at the top of his class when he got his MBA in finance and was a regular head in several projects at the university. He mainly focused on Marketing, Financial Planning, and Strategic Planning.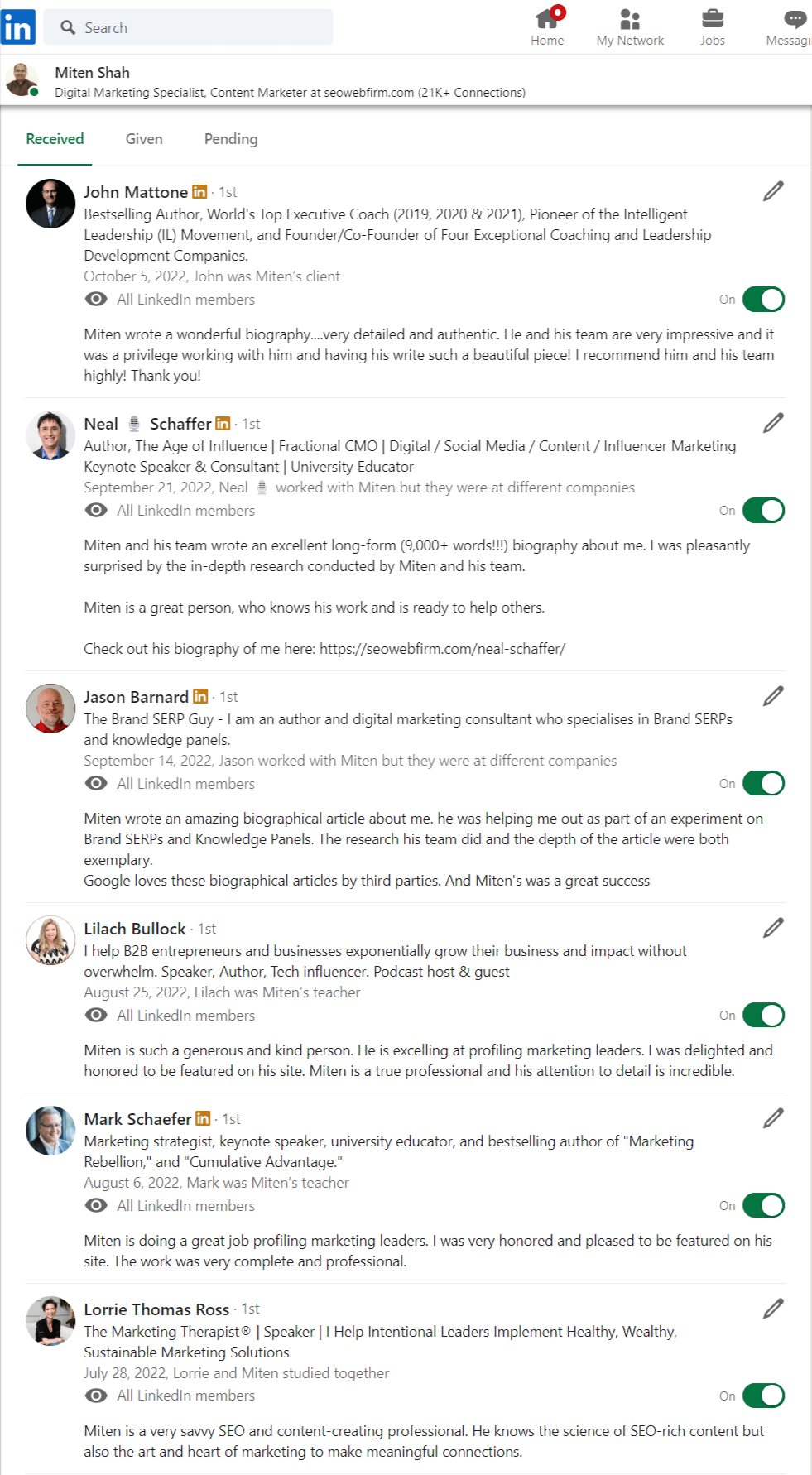 The Illustrious Professional Career of John Lincoln
John had a colorful professional career, working in a wide range of capacities, for different companies, before he decided to start Ignite Visibility.
LG&C Law – Digital Marketing Intern
In June 2002, John spend 4 months at LG&C Law as a Digital Marketing Intern. He was tasked with playing an assisting role in digital marketing and research.
ColRich Construction – Marketing Assistant Intern
From June 2003 to September 2003, he worked as an Online Marketing Assistant at ColRich Construction.
American International Group – Digital Marketing Assistant Intern
In 2004, John worked for the American International Group for 3 months. He assisted in the planning and redesign of the group's website. He also assisted in restructuring the website layout and its functionality.
He was also instrumental in the migration of the site to a new domain.
BizSandiego Magazine – Director of Online Communications
It was while working at the BizSandiego Magazine, between the years 2006 and 2009, that John finally moved up from being an assistant to a director.
His tasks included:
Managing the interactive strategy and content for the magazine
Managing social media and email marketing, SEO, and Web development teams.
He started and managed a daily and weekly newsletter for the magazine, that had a distributorship of 14,000 subscribers.
He was tasked to manage the different department sections of the magazine.
He was the art director for both the online and offline magazine, overseeing the photography and videography sections.
He was to develop and maintain relationships with their advertisers.
He was to create internal and advertising reports for the management.
He was instrumental in community outreach events.
He was an avid writer for both the online and offline versions of the publication.
FreedomVOICE – Marketing Communications Manager
Between February 2009 and March 2010, John worked as a Marketing Communications Manager for FreedomVOICE.
He oversaw project management, Internet marketing, Copywriting and Creative for websites, SEO, PPC, Analytics, SMO, PR, and Online Brand Management.
SEO Inc. – Director of SEO Consulting and Social Media
From 2010 to 2013, John worked for SEO Inc and had a wide range of responsibilities. He directed project managers and social media managers in matters relating to the strategy for complex client accounts and directing strategy for premium clients.
He also organized regular in-house training to ensure that the company stayed ahead of its competition; he also created in-house training and strategy meetings for off-site clients.
His main focus was to create goal-oriented strategies to cultivate successful campaigns through the employment of the following practices:
Website development and design
Website applications and widgets
Project Management,
Search Engine Optimization
Conversion Rate Optimization
Social Media Marketing
Online Reputation Management
Viral Marketing
And many others.
How To Scale A Business To $1,000,000 A Month And Beyond
Columnist for various online publications
For many years, John has been a contributing columnist for various high-end online publications, such as Business 2 Community, Marketing Land, Entrepreneur Magazine, Inc. Magazine, Search Engine Land, and not to forget, Search Engine Journal, of which he is also a co-founder.
University of California, San Diego – Teacher
John Lincoln has also dipped his finger in the teaching field as a lecturer at the University of California, San Diego.
He taught courses in SEO, PPC, Social Media, and Web analytics. He still teaches at the institution, focusing on CRO, Mobile, SEO, and PPC.
The courses he teaches have a holistic view of online marketing, design, web technologies, and also how to use web analytics to make data-driven marketing decisions.
Ignite Visibility – Co-Founder and CEO
In 2013, John became a co-founder of Ignite Visibility, the pride, and joy of his illustrious digital marketing career.
The company has 100 employees and more than 160 clients.
The company focuses on Web Analytics, Amazon, SEO, CRO, Social Media Marketing, Email Marketing, and Paid Media.
Books Published by John Lincoln
The Forecaster Method: The Modern System to Accurately Evaluate, Forecast, and Scale Your Digital Marketing.
This is a book that outlines a proven system, which allows you to accurately measure, scale and forecast your digital marketing campaigns.
The system allows you to cut your budget and still achieve better results in your campaigns.
Having a methodical digital marketing process is key to the success of your campaigns, and the forecaster method allows you to run your digital marketing just like you would manage a financial portfolio.
You will be able to accurately identify profitable advertising campaigns, scale your best assets, improve on your worst advertising campaigns, and create a diversified source of new business-driving online digital marketing processes.
This is definitely a book that you should consider reading if you want to improve your digital marketing processes.
Digital Influencer: A Guide to Achieving Influencer Status Online
This book was featured as one of the best marketing books, by Forbes, when it was published in 2016.
It details step-by-step, just how you can achieve the status of being an influencer.
If you want to be an influencer, then you should not hold back anything, and this book goes into the details in a manner that is precise and easy to understand.
The book explains what influence is, and just how it works. It goes on to detail just how you can create an avid following, build your credibility, and craft an authoritative persona in your industry.
It shows how you should educate yourself, create fantastic content, use the power of social media and engage with your followers, turning them into a loyal community.
By the time you finish reading the book, you will have got the tools to enable you to build such as powerful persona, that even one single post on social media can create a huge shift within your niche.
He has used the process in building himself into a powerhouse in the digital marketing industry, as well as other clients within their own niches.
This is a must-read book.
John Lincoln Honors and Awards
In keeping with his wonderful career in the world of Digital Marketing, John Lincoln has won awards and honors, and these are:
The Number 2 Overall Marketing Land Column (2014)
In the year 2014, John Lincoln wrote a powerful post for Marketing Land entitled, "Complete Guide to Universal Analytics – Should you Upgrade?"
John continues to contribute to both Search Engine Land and Marketing Land.
Other marketing Land awards that he has received include;
Number 1 Marketing Land Column for Marketing and Analytics (2014)
Number 1 Marketing Technology Column (2015)
Top 10 Marketing Land Column (2017)
Top 25 Most Influential PPC Experts (2014)
This is an award, associated with his company, Ignite Visibility, that he received from PPC Hero.
PPC Hero annually publishes the Top 25 Most Influential PPC Experts. This is a list that shows the top-performing companies when it comes to PPC advertising.
In2014, Ignite Visibility was at position 15 on the list.
The Number 1 Book Digital Influencer Featured on Forbes (2016)
In 2016, Forbes produced a popular blog, listing the top bestselling and "must-read" digital marketing books. The book, "Digital Influencer, A Guide to Achieving Influencer Status Online" was in the number one position.
8th Fastest Growing Company in San Diego
He received this awarding 2016 from the San Diego Business Journal. The award was associated with Ignite Visibility.
The Number 1 Consulting Company in USA, UK, and Canada
This award was given to Ignite Visibility by Clutch.co in September 2016.
Clutch.co also awarded him several awards in 2019, including the 'Number 1 SEO consultant in the USA", "The Number 1 SEO company in the Nation", "The number 1 SEM company' and "The number 3 PPC company."
Most Admired CEO (2017)
Now, this is quite a prestigious award, and it was given to him by the San Diego Business Journal, thanks to the way he had led Ignite Visibility to success.
Inc. 5000
In August 2017, Ignite Visibility was listed as number 698 in the Inc. 5000, published by Inc. Magazine. Ignite Visibility has been featured 5 times in the list to date.
Search Marketer of the Year
In October 2017, Search Engine Land awarded John the much-coveted "Search Marketer of the Year Award." During their Annual Landy Awards.
San Diego's Next Top Business Leaders Under 40
The San Diego Business Journal included John in their "San Diego's Next Top Business Leaders Under 40" list. This award is aimed at encouraging young entrepreneurs to excel. They are leaders, innovators, and change-makers within San Diego's business community.
CEO of the Year Finalist
The San Diego Business Journal honored John as one of the top CEOs in 2019.
There are many awards and speaking honors that John has won, and this is a testament to his expertise in the digital marketing environment.
Important Milestones in John Lincoln's Life
There are many successes that John Lincoln ha enjoyed in his professional life, but these are the ones that truly stand out:
Ignite Visibility's Meteoric Rise
Of course, many people start digital marketing companies and you must be wondering why this one is worth mentioning.
Well, the company went on to make a turnover of over $1,000,000 within its first year in 2013.
Now that is quite a milestone, and not many entrepreneurs achieve that kind of success within the first year.
One other digital marketer that shares the same rate of success is Michael Stelzner, Founder, and CEO of Social Media Examiner, which also clocked over 1 million dollars in the first year of operation.
Ignite Visibility is a leading full-service digital marketing agency based in San Diego, California. It has a roster of successful client companies, which it has helped to succeed in their respective niches, through the use of effective digital marketing techniques, high-touch customer experiences, community building, and other top-notch marketing strategies.
John Lincoln went on to try his hands at producing and directing his first movie entitled "SEO: The movie."
The movie is about the first days of SEO when techniques like "Spamming and jamming", black hat vs. white hat SEO, affiliates vs. mainstream, and other stories that tell of the rocky days experienced by the pioneers of SEO.
The movie features top personalities in SEO in its early days, such as:
Jill Whalen
Brett Tabke
Barry Schwartz
Rae Hoffman
It also tells the story of how Matt Cutts changed the SEO industry and touches on the history of Google Updates.
The movie also has interesting commentaries about the future of SEO, told by today's leading experts in the industry such as:
John Muller
Maile Ohye
Aleyda Solis
Cindy Krum
Will Reynolds
Michael King
Loren Baker
Eric Ward
Cyrus Shepard
Bill Slawski
Garry Grant
Chris Sherman
Jim Boykin
Shawn Hogan
Mike Graham
Eric Enge
And Many More!
"SEO: THE MOVIE" – OFFICIAL MOVIE – WATCH NOW #SEOMOVIE – John Lincoln, Ignite Visibility
Social Media Marketing: The Movie
Thanks to the success of his first movie, John went on a produced and directed another movie, "Social media Marketing: The Movie."
Just like in the first movie, the movie covers the experiences of the top social media marketing personalities in the industry.
These top stars include:
Michael Stelzner
Brenda Ster
Joel Comm
Mari Smith
Sue Zimmerman
Leslie Samuel
Sunny Lenarduzzi
Viveka von Rosen
Amy Landino
The movie is a gold mine of fantastic advice and experiences that you can learn from.
It discusses how to use the top social media sites, how to set up a social media marketing strategy, how to deal with low organic reach, how to measure the success of your social media marketing techniques, what are the strategies that will give you the highest returns, and a peek at the future of social media marketing.
John Lincoln, when asked about why he produced the movie said that people are now waking up to the power of social media in growing their businesses, but most of them are confused about how to start, which are the best platforms, and the goals they need to set in their overall strategy.
He says the movie addresses these issues properly and effectively.
You can watch this 44-minute movie here:
Memorable Quotes By John Lincoln
Here are some quotes that John gives from the things that he has experienced in his professional career:
"Big Things Start Small."
When making this quote, John draws your attention to the fact that the Walt Disney Company was built upon the character of a small mouse.
The company now has a market capitalization of over $175 billion and is known by countless people all over the world.
It all started with a black-and-white cartoon called "Steamboat Willie" which featured Mickey Mouse.
"Successful people Don't Lose Hope"
John reminds people of Winston Churchill's quote that "Success is walking from failure to failure without the loss of enthusiasm."
Even when you encounter a setback in your business, you should just keep on going with the same, if not more, enthusiasm as you had before.
Many people throw in the towel when they hit tough times, but successful people push past such setbacks.
"Failures are stepping stones"
Sometimes, you learn more from your failures than you can ever learn from your successes. When you encounter failure, it is a time to learn and wake up with more zeal than you had before.
The lessons you learn from your failures will propel you much faster towards your end goals than the successes you encounter in the journey.
Famous people Who Recommend John Lincoln
Here are some high-level personalities who have had the chance to work with John Lincoln, and have high regard for his work.
CEO Cubic IT Consulting
In 2017, Angel worked at Ignite Visibility and reported directly to John Lincoln. She says that she enjoyed working at the company thanks to the fact that it was organized, insightful, and had a diverse team, with great divergent inputs that made the company successful.
She says that she really enjoyed working under John's supervision.
Brand Expert, Creative Director, Behavioral Marketing Strategist, Speaker, and Forbes Contributor
In 2009, Roger was senior to John, although he did not supervise him directly.
He says that John is a very dedicated person, who handles everything that you can throw at him. He says that John went the extra mile to take on more responsibilities than those assigned to him, to ensure that the launch and progress of their business went on smoothly.
He continues to say that the devotion and work ethic that John has, goes hand-in-hand with his business acumen and creativity.
AnyPromo.com – Director of Marketing & Business Development
In 2016, John consulted for Jason Loui, and he had this to say:
Jason was selected after a very intense process, thanks to his credibility, and the way he was willing to go the extra mile, to give a client the best service.
John never second-guessed the decisions that Jason made. He was always ready to listen and share ideas, and give the necessary feedback and guidance.
The fact that Jason had a background of working within a digital marketing agency allowed him to understand what John was expected to deliver, and to his surprise, John did more than was expected.
In Conclusion
John Lincoln is a powerhouse within the digital marketing arena. One can tell that his ability to go the extra mile and provide more than people expected from him is one of the major factors that propelled his career, and also his company, Ignite Visibility to success.
This is an inspiring story for anyone who wants to excel as an online entrepreneur. Give more than you are asked for, whether by clients or customers.