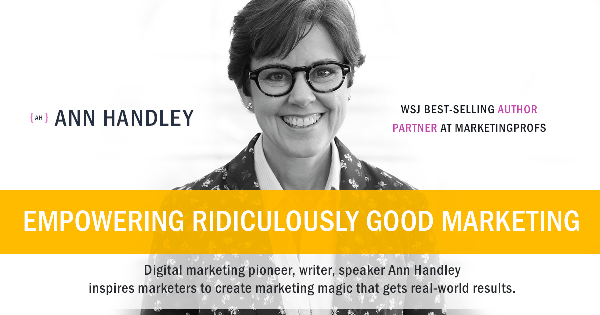 "Be an amateur. Not everything you do has to be good, especially at first."― Ann Handley
Ann Handley – Chief Content Officer | Bestselling Author
In 2013, during an interview with Cox Business Solutions, the reporter asked Ann Handley what her views were about an ideal content strategy, especially in reference to the stiff competition around. Handley narrated an interesting story. She mentioned that there is a small flooring company in Glasgow, Scotland known as
McKay's flooring company
.
In 2011, the company was small and had a low budget, but it had to compete with the global flooring giants such as Armstrong flooring etc. with their operations all across the world. It was a challenge for the marketing department of such a tiny and resource-less company. Companies like Armstrong were huge companies with much bigger budgets and a much larger footprint online.
So, first McKay tried to discover what their niche was. It led them to contemplate what their story was and then it dawned upon them that offering unique and cool flooring options was their core strength.
They adopted an innovative approach for their content marketing. They launched a simple WordPress blog on their website about their unique and cool flooring options. In that blog, they discussed how you can go for unique flooring options such as floorings made from reclaimed whisky barrels and other such things such as pennies, etc. Their calling card in the flooring industry is that they are known as a flooring company that highlights cool and unique flooring options.
They deliberately did it because they knew that they didn't have a huge budget and they were unable to compete head on with the companies of the likes of Armstrong on Google search in wall-to-wall carpeting and flooring. The decision to adopt a content marketing strategy around a very specific niche such as cool and unique flooring options was the direct outcome of realization of the situation and their own SWOT (a popular marketing terms to refer to strengths, weaknesses, opportunities and threats) analysis.
The smart content strategy according to Ann Handley is to figure out what your unique value proposition is. Figure out what is that thing that can help you to outperform the competition; choose that niche and make it your core content strategy. There is no rocket science about it, but many people are simply unable to understand that.
Ann Handley's background in journalism and storytelling makes her a smart and effective marketer. In many management schools, it is taught that your marketing strategy should be according to whether you are a B2B or B2C company, but Ann Handley doesn't think it those terms.
According to Ann, marketing is all about people and your content strategy should be woven according to what people are looking for and what do they love.
Ann Handley belongs to the brigade of the strongest women entrepreneurs and business coaches, who believe in accomplishment through merit and not perfection. This separates her from the mediocre and "me too" professionals around the world.
Leveraging her experience in journalism
Ann Handley was born on March 11, 1963. She has graduated from Simmons University, Boston and received her Bachelor of Arts (BA) degree in English Language and Journalism. She started her career as a business journalist and website editor.
She first worked as an associate editor at Banker and Tradesman in 1985 followed by a five years stint as a correspondent with Boston Globe. She joined National Business and Consumer Magazines as managing editor and writer and worked there till 1997.
Early entrepreneurial adventures
Ann cofounded ClickZ in April 1997 in the early dot com era. ClickZ used to be a leading resource for online marketing till it was sold in May 2000. This experience catapulted her into the top influencers in the field of digital marketing.
So, the equation goes like this:
Digital marketing ∝   Content Marketing ∝   Content Strategy ∝   Niche ∝   Storytelling and content delivery focused on the niche
She is a Wall Street Journal Best-Selling Author and a keynote speaker.                  
Why people like and respect Ann so much?
Ann is known to offer practical tips about marketing.  She advocates replacing mediocre marketing practices with smart tactics. She has practical insights and therefore her advice is considered valuable in the industry.
A leading influencer shaping modern marketing
Ann is a bestselling author and is respected all over the world for her practical tips to bring tangible results through pragmatic marketing strategies.
IBM has also honored her as one of the top 7 people, who are not only the influencers, but also shaping modern marketing.
This means that Ann is among the very few people, who are known for their laser focused and unambiguous approach towards marketing. It clears all the confusion and leads to the clear path that businesses should take in order to survive and be profitable.
Ann is also a social media influencer especially on LinkedIn and Twitter. On Twitter, she has close to half a million followers. She knows the pulse of the people and this gives her an edge over other marketers. Her approach is quite inspiring and empowering.
Even her website MarketingProfs is the treasure house of extremely good content and resources about digital and content marketing.
Chief Content Officer at MarketingProfs
According to her professional summary on LinkedIn, Ann is the world's first Chief Content Officer. She delivers keynotes and writes about how you can reshape your marketing and make your business successful.
At MarketingProfs, she holds the key positions of chief content officer and digital marketing expert. MarketingProfs is a leading marketing training company that has close to half a million subscribers.
Books and website
According to Ann's own website Ann Handley, she is the bestselling author of the book "Everybody Writes" written about creating good content that differentiates you from the crowd.
She is also the co-author of the book "Content Rules", which is about creating different forms of content to engage audiences and bring good results for your business. All these forms of content should be used judiciously on the web to leave a strong footprint of your business on it, so that visitors can find you from different places and platforms.
Her books have become so popular that they have been translated into 20 languages.
Adding value as a contributor
Ann is a regular contributor to some of the most reputed websites and online journals such as American Express, Huffington Post, Entrepreneur Magazine, Wall Street Journal, NPR, Mashable, Inc. magazine, and IBM's Think Marketing.
She lives in Boston, Massachusetts and is a working mom, who works from a tiny office inside her home. Personally, she loves tap dancing, but she is still a novice at that. She loves to read the likes of Elwyn Brooks White, the American writer, who is known for children's books such as Stuart Little.
She loves her home, which is her Small Office Home Office (SOHO). She has a good collection of old typewriters.
Awards and Recognitions
Forbes has mentioned her as the most influential woman in Social Media.
ForbesWoman has recognized her as one of the leading female bloggers worldwide.
At MarketingProfs, Ann Handley trains and guides marketers worldwide on the strategies and skills they need to succeed to make their projects a success.
Marketing and writing tips from Ann Handley, Head of Content at MarketingProfs
Stay curious and keep your skills updated
ABS (Always be sharpening!) your skills and knowledge of content
Use social media because
It is game changer and it changes the behavior and expectations of your audiences
It's not scary to be on social media. Your community will defend you from your critics.
Do more interesting things apart from just blogging
Be big, bold, and brave in content marketing
In your blog, talk more about your customers and less about yourself
Think first and then write
Respect the time of your reader
Be empathetic why creating content
Be genuine as a writer and don't pretend to be someone else
Recommendations
Andy Crestodina, Chief Marketing Officer and Co-Founder, Orbit Media Studios, Inc. is all praise for Ann Handley. He says that Ann is like a universal blood donor, if you consider educational content as the lifeblood of modern marketing. He also adds that Ann was the first person, who pulled him into the exotic world of content and marketing.
Jacob Warwick, CEO & Co-Founder of Discover Podium, terms Ann Handley as the best and most innovative marketing experts. He loves her keynotes and books.