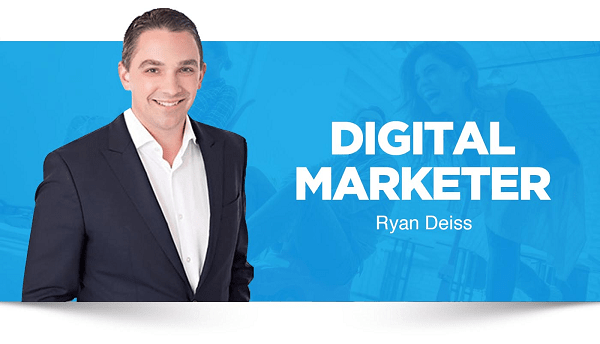 College dorm rooms are known for late-night parties and fun apart from studies. However, historically college dorm rooms have been the birthplaces of some of the biggest and most promising companies in the world.
Facebook, Dell, WordPress, and Napster, are some of the well-known companies which originated in college dorm rooms.
Apart from that companies like Google, Microsoft, Reddit, Snapchat and Kinko's were also started by college students with little or no experience.
Ryan Deiss is also known as an innovative entrepreneur, who launched his first e-commerce website from his freshman dorm room in the University of Texas, Austin. It was the year 1999 and the world was being swept by the first dot.com boom. He considers himself as a privileged kid, who had access to high-speed Internet, while the Internet was still in its infancy around the globe.
The hobby soon turned into a full-fledged business as he kept on making sales – one after another. Initially he sold e-books on his e-commerce site.  At the time, he was just 19 years old. But when he left the college in 2003, he had a basket of websites in his kitty, which were doing well in terms of sales.
From this money, he bought a golden wedding ring for his girlfriend Emily, who later on became his wife.
Ryan Deiss is one of the most recognized faces of digital marketing. He has been featured by reputed global business magazines like Entrepreneur.com, Forbes and Adweek.
He is known for his innovative strategies and approach to lead conversion. According to Shark Tank' star Daymond John, "Ryan is one of the leading digital marketers in the world".
Ryan Deiss of Digital Marketer on Becoming a 10x Marketer | HYPERGROWTH 2019
His businesses
Ryan Deiss is known as a serial entrepreneur and digital marketing guru.
He is the Founder and CEO of The DigitalMarketer.com, Scalable Company (Scalable.co), and Recess.io.
He is also a Founding Partner at Scalable Equity, LLC, a venture equity accelerator that makes and acquires B2B brands in the media and software segment.
At 26, he was a father of a newborn, a husband and a proud owner of a business that was growing. But at the same time, he also found himself in a messy situation, where he was $0.25 million in debt. He also had a mortgage.
As far as business management was concerned, he was still naïve. So, in 2006, he decided to restructure his complicated business and streamline it so he could run it smoothly.
One day, he decided to jot down his new streamlined business plan on a napkin he found in a restaurant. This was a turning point in his life.
The key question at this time was how to convert sales profitably and predictably. This led to the beginning of his specialization in lead conversion, something that made him popular across the globe and established himself as a digital marketer with a focus on conversion.
The very next year, he generated $1 million in revenue. He was able to scale up a business with honest growth and tenability.
Digital marketing training
Inspired by the insights and experience he had acquired from his e-commerce venture, he decided to launch a digital marketing training company with an aim to share his expertise and prowess with the larger masses.
This led to the launch of DigitalMarketer, a company that was dedicated to impart digital marketing training and certifications.
With over 15,000 paid members and around 500,000 subscribers, DigitalMarketer has established Ryan Deiss as an authority on digital marketing and conversion.
As a host of Traffic and Conversion Summit
Upping the game, Ryan founded and started hosting the Traffic and Conversion Summit, which is considered the largest digital marketing conversion conference in the United States.
Other businesses
As discussed earlier, Ryan is a serial entrepreneur and has founded numerous companies. These companies employ hundreds of people indirectly.
He is also the Founder and Managing Partner of plattr.com (previously nativecommerce. com), a digital media and content marketing agency and RivalBrands.com. He is the renowned and dynamic speaker and he speaks at various conferences and events globally. He is also general manager at Praxio.
Ryan, the man behind the "Customer Value Optimization" methodology
Among the many valuable contributions of Ryan, the Customer Value Optimization methodology is his most valuable gift to marketers. This is a proven strategy that has helped many businesses increase their sales in a more predictable manner.
He has not only innovated but also popularized many strategies to promote sales through digital marketing.
Even you might be using some of his strategies without even knowing the fact that these were first innovated and introduced by Ryan. He is an original thinker and a thought leader, who has established himself because of his powerful vision and an ability to see things from a different perspective.
To sum up, somebody has rightly said, "Ryan Deiss and his companies basically own the Internet."
A data-driven marketer
Ryan is a famous blogger, business consultant and author. As far as his speaking engagements are concerned, he has spoken around the world in more than 60 countries now.
He's a data-driven marketer and recently he invested more than US$15 million in marketing tests and attracted millions of visitors.
As a speaker and business coach, he has helped more than 200,000 companies in 70 different countries improve their marketing campaigns and generate leads. No wonder, most of the digital marketing enthusiasts know about him, his companies and the learning resources created by him.
As an author
Ryan Deiss is the author of many bestsellers. Ryan is not one of those self-promotional digital marketing gurus, who will publish a number of books just to make their personal brand. He is the person, who knows his business and his books are truly a wealth of information for marketers around the world.
He has authored a number of books, but I am going to mention some of his most talked about books on digital marketing. You must have heard of "For Dummies Series". These books are known to explain intricate topics in a simple and fun way. However, the publishers make sure that they choose only those writers, who are considered authority in their specific fields.
Ryan got this honor and was chosen by the publishers of the Dummies Series for their title "Digital Marketing for Dummies", which is considered to be an in-depth treatise on the complex and dynamic field of online marketing. This book is considered highly popular among the marketers.
So, the two of his most famous best sellers are:
A. Digital Marketing Dummies (Co-author with Russ Henneberry)
B. Invisible Selling Machine
Business and marketing lessons to learn from Ryan Deiss
In a presentation given at HYPERGROWTH Boston, Ryan Deiss has emphasized three "unpopular" trends that can be of much help to digital marketers across the word.
#1. Blogging is dead
Whether you like it or not, according to Ryan, blogging is slowly dying because of an overwhelming supply of content on the Internet. Nobody has the time to go through and read a blog, unless Google returns your page as a result of a search query made by the user himself.
In such a case, you should write for Google. What that means is you should write to match the search queries made by the users. Your content should provide answers to the problems faced by the users — and it should satisfy the user intent. And uncle Google will send the traffic to your site.
Ryan Deiss' advice: Create high-quality content and write it in a way that it answers the customer queries. The second step is to optimize your content.
Tip: Use a good SEO tool such as AHREFs and find all those terms and long tail keywords on which you are not ranking. Start creating relevant content around those terms and you will start ranking high on SERPs.
As a standard solution, you can also start writing blogs for each question mentioned on your FAQ page.
#2. Nobody actually follows you on social media
Again with so much noise on social media, it is very difficult to get noticed. And it's futile to wait for someone to watch your show, when you go live or post something. In fact, people are there on social media to entertain, engage and apparently waste their time. In that case, you shouldn't even trust the organic results, which are getting unpredictable day by day.
In order to address this issue, you can work on a two-pronged strategy.
Ryan Deiss' advice: According to Ryan Deiss, you should not depend on your stories and posts to get noticed. You should implement his two-pronged strategy for both organic and paid advertising on social.
For your own audience, you can create interesting and engaging shows, whereas for target people who are not yet your audiences, you should opt for paid advertising. Build trust and look authentic. As far as advertising is concerned, follow this formula i.e. try, test, and tweak; if it doesn't work, repeat the process.
#3. Email newsletters will always be hot and popular
With decreasing attention span on social media and emergence of new social media apps on a regular basis, it is very difficult to even get noticed on social channels sometimes. On the other hand, email is not dead even after this tsunami of social media.
Furthermore, email is clutter free, easy-to-use and popular. So, email is going to be the next big thing. But the catch over here is that you should not try to bother or irritate your recipient by sending mails at a high frequency or sending with irrelevant subject lines and topics.
Ryan Deiss' advice: Play big on email and stay in touch with your audiences.
Action steps for marketers to attract traffic and achieve conversions:
#1. Answer at least 20 questions per month on your blogs and optimize them for Google
#2. Create high-quality content that your audiences would love and then do paid advertising to promote it
#3. Create an email marketing/newsletter strategy ASAP and assign it to your content marketing team. Ask them to create content that your audiences would love to consume.
Net Worth
There is no concrete information available about the net worth of Ryan Deiss. He runs several businesses and hence has diverse income streams. So as per a rough estimate, he might be earning a few thousand dollars a month. As a matter of fact, just one of his businesses, DigitalMarketer, brings him around $10 million per annum.
Resources for digital marketers
DigitalMarketer is a great resource for anyone who wants to learn digital marketing. It offers a paid elite course apart from enormous free resources that can be of great help for the person, who wants to learn digital marketing from the scratch.
I would like to specifically discuss their podcast section. One of their podcasts is about digital marketing in general and the second one is dedicated to attracting traffic and is known as Perpetual Traffic.
Here are the podcasts you can listen to:
Apart from their blog section – DigitalMarketer Blog, their playbooks are also extremely useful for people, who want to learn digital marketing or the professionals, who want to brush up their skills. It is equally important for the businesses and companies, which are running digital marketing campaigns. These resources will help them with creating laser sharp online marketing campaigns for desired results in terms of sales, traffic and branding.
Follow this link to access their workshops, playbooks and courses on digital marketing.
Courses and certifications
Workshops
Playbooks
Access to a private Facebook community
Playbooks as described by the website are step-by-step implementation of tried and tested marketing tactics, growth strategies, and meticulously designed campaigns.
You can download his digital marketing PDF ebook from this link.
Final Words
Ryan Deiss is a digital marketing guru, who is living his dream of educating the masses about the craft of digital marketing. Since he has proven hands-on experience of running ecommerce sites and generating sales from those, you can follow this man for some of the best tips in the field. Furthermore, you can follow DigitalMarketer, which is the treasure house of information about digital marketing.