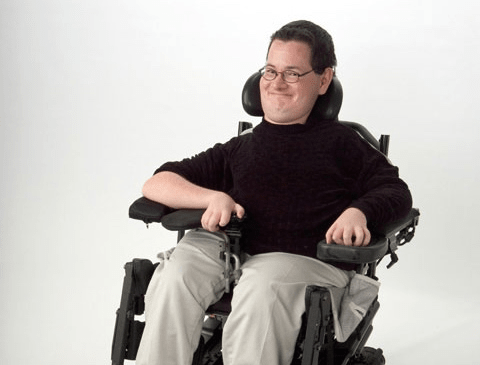 Jon Morrow is a household name in the world of blogging.
He's the founder of Smart Blogger (Formerly Boost Blog Traffic).
If you're someone who's serious about writing, Jon's prodigious and phenomenal wisdom can help you to become a prolific writer and profitable blogger.
Jon Morrow is the master of storytelling and his blog posts could make anyone emotional. – Neil Patel
People call him the unstoppable, and today, we're going to share his story here. Enjoy!
Early Life and Disease!
Pat was heartbroken when the doctors said that his one-year-old infant wouldn't live past two years.
But she refused to take any of it.
She along with the team of specialists fought to keep the little Jonathan alive, who now is one of the most successful bloggers and the founder of Smart Blogger.
Jon Morrow was diagnosed with spinal muscular dystrophy at the age of one when his mother Pat grew alarmed at her toddler's condition.
Little Jon wasn't crawling so she took him to the doctor, like any other parent.
The doctors identified the syndrome and told Pat that Jon would get repeated Pneumonia and eventually die.
After all, SMD or spinal muscular dystrophy Type 1 was a syndrome that would make Jon would weaker as he grew old of age.
The prayers of Pat and combined effects of doctors did save Jon, only after he fought Pneumonia 16 times and grew to be one of the oldest people on the planet with muscular dystrophy.
Jon credits this miracle of life to his mother who fought for him like a warrior and slept endless nights beside him on a hospital chair.
Growing up Jon graduated his high school with a remarkable performance at an early age of 16.
Blogging Journey After the Crash
The atrocities of Jon Morrow's life did not stop even after he grew up.
After battling from muscular dystrophy, seldom did he knew that he would have to suffer from a significant hit from a car that merely crashed into him at 85 miles per hour.
Jon's legs were broken in 14 pieces, yet his strong will chose not to give up and he moved on from that incident.
The first three months after the crash were the toughest where all he could think of was enduring the pain and proceeding with his life hereafter.
But this incident turned out to be a significant turning point in his life where he decided to quit whatever he was doing hitherto and start writing.
This wild decision of selling everything he had and locking himself for a month just to read, write and engage with other bloggers, helped him channelize his real potential and achieve what he has today.
But this was just the beginning to Jon Morrow's story.
An Unstoppable Entrepreneur with A Strong Voice
With a complete month of introspecting and discovering blogging, Jom Morrow started with gathering 2000+ visitors on a daily basis on his blog 'On Marketing'.
Soon he was contacted to be the associate editor at world's most popular blog CopyBlogger.
From the beginning of his life, Jon had to fight to be heard. This further pushed the zest within him to work heart and soul all by means of speaking.
Gradually, Jon decided to move to paradise and make money that paid more than just his medical bills.
He wanted to take care of his family and live a life where he would not have to worry about money every now and then.
Finally, he moved to Mexico and started a business where he could help people.
And that's how Jon Morrow bought his father a car and became an established entrepreneur with Smart Blogger.
Jon Morrow's Top 6 Tips to Boost Your Blog Traffic
Accomplishments and Projects
His works can be read on reputed blogs such as Copy Blogger, ProBlogger, KissMetrics, Penelope Trunk and most valuable Smart Blogger.
Every moment of his life is research, and he dedicates it to helping people achieve success through the means of writing.
His work with these blogs has garnered more than 200 million page views and $50 million in revenue.
The popularity of Smart Blogger has skyrocketed since its launch in 2012.
The latest projects of Jon Morrow include the blog 'Unstoppable Me' that was launched in 2016 and went viral with its most engaging post '7 Life Lessons from a Guy Who Can't Move Anything but His Face.'
Jon Morrow's accomplishments are infinite, but the most impressive remains his ability never to give up.
5 Life Lessons You Can Learn From Jon
Ever wondered what's inside the mind of a genius? Jon Morrow is an inspiration to all budding bloggers, Here are five life lessons that you can learn from him:
There is tremendous power in pain
Sooner or later life throws up punches at you to knock you down. And all that matters is how well do you take the hit.
You may fall down, but it is about the ability to bounce back.
Jon stresses the fact that if you're feeling pain or depression in life, it is because you were not prepared for the suffering.
He advises increasing the tolerance level of pain systematically so that your rate of success can be directly proportional to your pain.
The mystery of survival
How do you survive in a world that is trying to knock you down every second with an endless competition?
Jon shifted his focus away from the difficulties of life.
He accepted the situations that could not be changed. And that's what one must do.
People often assume acceptance as a weakness, but it is the opposite in life.
Acceptance is acknowledgment and helps you create a plan for the future.
In other words, it is a victory.
Counterpunch difficulties
The art of counterpunching is directly inspired by boxing. What do you do when the opponent strikes you? You evade and prepare a counter punch, and that's the only way to win.
The moment your opponent strikes you, they let their guards down, and that's when you have the best opportunity to attack.
When it comes to the boxing ring of life, whenever there is a time of hardships, there is an equal action-packed opportunity trapped underneath.
All you need is to look for that deliberate counterpunch. No matter how bad situations are, there is always a way to turn it into an opportunity. And that's what you must be looking at.
Finding self-courage
After all that punches and smashes life presents, how does one find the motivation to get up?
We've all read that getting up is the most critical aspect of winning over life, but the question is where to find that courage that keeps you moving forward?
Whenever you find something scaring you, think of something that could scare you even more.
And it does not mean at all to sink your entire life in fear but instead, do crazy things that you want to do instead of doing nothing at all.
Turn fear into the fuel that keeps your aspirations burning.
Never Give up
Jon Morrow's mom made him whisper these words almost every day before going to sleep. And it was 'Never Never give up.'
Sooner or later in life, we reach the saturation point where the pain becomes unbearable and quitting is the easiest option.
You might feel poor and hurt and unlucky and what not! But remind yourself that you're not.
The greatest gifts that you've got is that you're still breathing, and that's all you need for a power-packed comeback.
Believe when you say, "I NEVER GIVE UP."
Jon Morrow's Writing Advice for Bloggers
Pre-launch page
Before you start your blog, you must put a coming soon page. This coming soon page can help you to build your email list. It's better than nothing.
Offer a Freebie as Content Upgrade
If you want your readers to become your blog subscribers, you have to offer them something valuable.
A Freebie. It can be a checklist, ebook, white paper, a video, a free report, or anything else that is valuable.
Put your freebie in the header of your blog.
Build Relationships with Influencers on Social Media
Create a list of popular bloggers, podcasters, and best-selling authors, and public speakers in your niche.
Now, it's time to stalk them.
Know more about them and build a relationship with each and every influencer on your list.
Subscribe their blog/podcast and follow them on social media channels. Share their content and pay attention to what they're sharing.
Write Every day
Serious bloggers don't take breaks.
They write every day.
No matter what.
It doesn't matter what's going in their life, It doesn't matter if they're sad or inspired.
They write.
If you want people to take your blogging seriously, become one.
Treat your writing like a job, not something you do in your spare time.
Do Guest Blogging
Guest blogging is one of the most fruitful strategies for new bloggers.
It will help you to build a credibility and other popular bloggers will start noticing you.
Find out the popular blogs in your niche (who accept guest posts), read their guidelines, and send them a short pitch offering your post idea and a short synopsis.
Jon Morrow's Best Loved Quotes
"I've written because it fulfilled me. Maybe it paid off the mortgage on the house and got the kids through college, but those things were on the side – I did it for the buzz… I did it for the pure joy of the thing."
"Writing isn't about making money, getting famous, getting dates, getting laid, or making friends. In the end, it's about enriching the lives of those who will read your work, and enriching your own life, as well."
"If you want to be a writer, you must do two things above all others: read a lot and write a lot. There's no way around these two things that I'm aware of, no shortcut."
"Put your desk in the corner, and every time you sit down there to write, remind yourself why it isn't in the middle of the room. Life isn't a support system for art. It's the other way around."
"Write with the door closed, and rewrite with the door open."
Jon Morrow sets a quintessential example to people who decide to give up with little austerity in life. With his treasure, all you require to do in life even if the naysayers try to knock you down. After all, its one of the wisest lessons from the guy who can't move anything but his face.