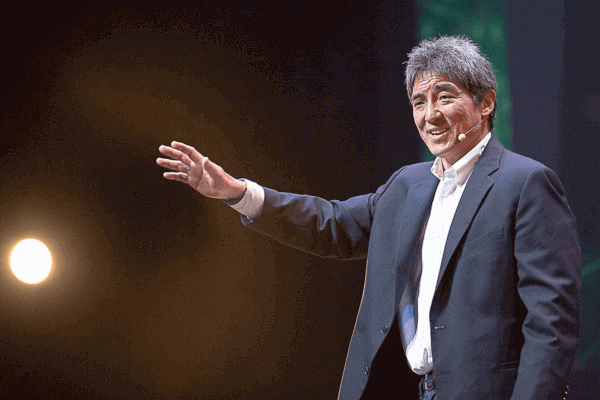 Guy Kawasaki is a well-known person in the marketing world. He is known as a person who wore various hats in his career and somehow managed to excel in everything he did.
How did he do it?
During a technology conference at the University of Pennsylvania, Guy made a humorous reference to what he called his "checkered past", perhaps due to the various exploits he has pursued during his career, to get to where he is now.
Guy Kawasaki, an author, speaker, evangelist, innovator, and perennial entrepreneur is somewhat of an enigma to most. To understand the man, one has to read about his life, times, and career exploits.
Wise Guy–Lessons from a Life | Guy Kawasaki | TEDxPaloAltoSalon
Guy Kawasaki – Early Life and Education
Guy Kawasaki was born in 1954, in Honolulu, Hawaii. His family came from the rough part of Honolulu called Kalihi Valley.
Guy's family was not swimming in riches, but he never felt poor because his parents did the right thing, and made sacrifices to give him a normal life.
Guy's mother was a housewife, while his father was a real estate broker, fireman, state senator, ad government official during his long and distinguished career.
Guy attended the Iolani School and graduated in 1972. Iolani is less known when compared to its main rival, Punahou because no U.S. president had even come from there. However, Guy got a great and formative education at Iolani.
If it was not for his AP English teacher, Harold Keables, Guy would not be the writer that he is today.
Keables taught him that the key to great writing is great editing.
The fact that Guy has eventually written 15 books, or rewritten one book 15 times, would shock and delight Harold Keables.
After graduating from Iolani, Guy matriculated to Stanford.
He graduated from Stanford in 1976, with a major in psychology, which happened to be the simplest major that he could find.
After Stanford, Guy went to law school at the University of California, Davis. Like all other Asian-American parents, his wanted him to be a dentist, doctor, or lawyer.
He was at the school for a record-breaking period of one week. Why? you may ask.
Guy just couldn't cope with his law schoolteachers who kept on telling him that he was crap and that they were going to "remake him."
The following year, Guy signed up for the MBA programs at UCLA.
He loved their curriculum more.
While at UCLA, he started working for Nova Stylings, a fine-jewelry manufacturer, which means that his first real job was "counting diamonds."
It was while he was at Nova, that he learned the art of selling from the CEO, Marty Gruber, and his colleagues; this was a skill that would define his career in a major way.
Guy is married to Beth, and they have four children. Two of his children, Nicodemus (Nic) and Noah, are his biological children. The other two, Nohemi and Nate, are biological siblings who Guy and Beth adopted from Guatemala.
Guy Kawasaki – The "Checkered" Career Journey
Guy confesses that he has had a checkered past when it came to his career.
Let us take a look at the various positions and hats that Guy had to learn on his way to success.
Nova Stylings, Inc. (1979 – 1983)
This was the first "real job" that Guy ever undertook. His duties were to count and schlepp diamonds and fine jewelry. This is where Guy truly learned to sell.
The jewelry business is much more challenging than the computer business. Marty Gruber, who was his boss at Nova, is the one who taught him how to sell, and his advice had a tremendous influence on Guy.
EduWare Services (1982 – 1983)
Guy moved on to EduWare Services as the Director of Marketing.
Guy has always had a soft spot for EduWare in his heart because this company helped him to break into the tech industry from the jewelry business. Guy had applied to many tech companies, who went on to reject him, but EduWare gave him the golden chance that changed his life.
Apple (1983 – 1987)
Guy joined Apple as a Software Evangelist.
It was his job to convince developers to craft hardware and software products for a new computer that had a zero-installed base, zero monthly sales, and zero backward compatibility.
Towards the end of his first stint at Apple, Guy managed a group of developers who created the Apple-labelled software, MacPaint, MacWrite, MacDraw, etc., that was later renamed Claris.
ACIUS (1987 – 1989)
After preaching very hard to developers about the opportunities offered by the Macintosh software, Guy decided to "listen to my (his) own hype" and start a new business. He left Apple to form ACIUS, a Macintosh database company.
Macworld / MacUser (1989 – 1993)
Thanks to his expertise with Apple products and Macintosh, Gary started writing for MacWorld and MacUser, although not at the same time. Macworld and MacUser were rivaling magazines at the same time and sought out Guy's expertise about the Macintosh ecosystem. MacUser has closed its doors in 2015.
Fog City Software (1993 – 1995)
Guy joined Fog City Software as the CEO. The company developed LetterRip and Claris Emailer, which were applications that ran on the Macintosh OS. Guy says that he loved his time at the company because he got to work with three of his favorite people in the world: Kathryn Henkens, Jud Spencer, and Will Mayall.
Apple (1995 – 1997)
Guy was later recalled for a second stint at Apple, where he held the position of "Chief Evangelist". He was also an Apple fellow.
He was tasked with protecting and preserving the Macintosh cult by doing whatever he could to keep them engaged.
TripWire (1998 – 2021)
Guy joined TripWire as an advisor, a position he held for 14 years.
TripWire is a company that provides change-auditing software, also known as cyber security software, that ensures the protection and availability of corporate networks by establishing a baseline of data in its desired state.
Advisor
Guy then went on to have a plethora of advisory positions in several companies:
Statusnet (2009 – 2013)
StumbleUpon (2010- 2013)
Motorola (2013 – 2014)
Visible Measures (2008 – 2015)
Triggit (2009 – 2015)
SocailToo (2009 – 2015)
BagtheWeb – (2010 – 2015)
Ustream – (2008 – 2016)
Tweetmeme – (2009 – 2016)
TicketLeap – (2009 – 2017)
li – (2010 – Present)
And many more…
Wikimedia Foundation – (2015 – 2016)
Guy was a member of the Board of Trustees at the Wikimedia Foundation.
Wikimedia is a company that oversees a community of more than 300,000 members, Wikipedia, and all other Wiki Properties.
Guy took up the position because of his belief in the democratization of information; the third most important cause in the world, after the first two, climate change and human rights.
Garage Technology Ventures (2008 – 2017)
Guy was one of the co-founders of Garage Technology Ventures, a seed, and early-stage Venture Capital Fund.
Alltop (2007 – 2017)
Guy was also a co-founder of Alltop, a news aggregation site that covers every news topic that you can ever imagine. The site works by pulling top news articles from various online news magazines and blogs.
Some of the sites that serve the site include TechCrunch, CNN, BBC, Wired, and others.
Brand Ambassador
Guy has also been a brand ambassador for various companies such as:
Mercedes Benz USA (2015 -2020)
It was a tough job being a brand ambassador for Mercedes-Benz, but someone had to do it. His task was to appear at every event where Mercedes had to "unbox' a new car, and to supplement Mercedes-Benz's social media exploits.
And Yes! He had to drive a Mercedes-Benz at all times – that was a lovely perk, don't you think?
MERGE4 (2020 to Present day)
Peace Vans (Part-time since 2020)
The University of California, Berkeley, Haas School of Business (2014 to Present Day)
Guy is an Executive Fellow at the Hass Business School. This means that he has to travel to the Haas School and scare the hell out of the students by telling them about what it looks like in the real world.
You can watch this video about one of the "Scary" lectures that he gave at the Hass school, entitled "The Top 10 Mistakes of Entrepreneurs."
Cheeze Inc (2018 to Present Day)
Guy is a Member of the Board of Directors for Cheeze Inc, a developer of a photography album app. The app is great for managing albums for the purpose of sharing photos in a controlled manner.
For example, albums for only family members, for your surfing buddies, or just for your colleague. One can think of it as an anti-social social media app.
Today, Cheeze is used for many other applications such as Zero Gas Fees, Sales Tracking, Blockchain Security, and a lot more.
University of New South Wales (UNSW), Sydney, Australia
Guy has been a part-time, or Adjunct Professor at UNSW since December 2019.
Guy Kawasaki's Remarkable People – Podcast (2019 to Present day)
Guy started a podcast called Guy Kawasaki's Remarkable People in December 2019.
In the podcast, Guy interviews remarkable people so you can become one too. Some of the people he has interviewed include Jane Goodall, Martha Stewart, Arianna Huffington, Phil Zimbardo, Margaret Atwood, Steve Wozniak, and Stephen Wolfram.
Canva (1024 to Present Day)
Guy is a Chief evangelist for Canva, the online graphic design service.
His task is to "spread the good news" about how Canva democratizes design by empowering users to create graphics without having to purchase or learn high-end graphics applications.
Guy Kawasaki – The 10 Commandments for Success
There is a reason why Guy Kawasaki has excelled in everything that he has attempted, right from his first job at Nova.
Guy has developed certain rules, through personal insights, and also through experience, which he feels people should follow in order to attain success.
It does not mean that you have to follow all of them, but some of them are crucial for developing a winning mindset.
Here is a look at the ten commandments of success according to Guy Kawasaki.
#1: Give Before You Ask
Guy Kawasaki is not a believer in "Quid Pro Quo" which essentially means "A Favor for A Favor". Guy says that he would rather start by paying it forward.
Most times, people do favors to get a favor in return. However, Guy says that you should not set up the relationship to be transactional. You should first become a giver before you ask for help.
Almost every SUCCESSFUL Entrepreneur knows the importance of "giving first."
Mark Zuckerberg, the founder of Facebook, never charged anyone a coin to join and use his social media platform. Instead, he offered it for free and then found ingenious ways of monetizing the platform, such as Facebook Ads.
Read Also – The Incredible Story of the Youngest Billionaire and Facebook Chief Mark Zuckerberg
The same can be applied to the case of Google, where everyone can use the search engine for free.
Take note that both Facebook and Google have attained the top position in their respective industries in terms of user numbers and financial success.
You too can adopt the same approach of giving away before you ask, and you will be surprised at the results.
You should be aware of what is termed the "Rule of Reciprocity" which states that when you do something for someone, they will naturally feel obliged or inspired, to do something for you in return.
By following the rule of reciprocity, Guy has managed to build a net worth of more than 30 million dollars.
Key Takeaway: Giving before you receive applies to almost everything in life. From networking to business relationships, you should always put your best step forward and be helpful. That is one of the easiest and best ways to succeed in business and life in general.
#2: Aim To Improve People's Lives
Successful people like Guy Kawasaki have one trait in common; they care about the lives of other people.
They always find ways in which to improve others' lives. That is a core reason why they succeed in everything that they do.
Guys Kawasaki, in one of his famous quotes, said, "The best reason to start an organization is to make meaning; to create a product or service to make the world a better place."
Guy understands the importance of value addition to others. He believes that successful ventures start out to make meaning, and not make money.
The best way to improve the lives of other people is to find a shared problem and then offer a solution.
If you want to create a product or service that will offer true meaning to other people's lives, then here are some key steps to follow:
Identify the issue
Analyze it well
Dig deep and identify the root cause
Create a product or service that solves these issues
Employ the best solution
In summary, when you want to improve the lives of others, you need to identify their needs and wants. Thereafter, build the processes and leverage tools to find the BEST solution to solve these problems.
Key Takeaway:  Always find avenues to offer help. Be memorable. Get to know your target audience. Find solutions to their needs. That is the only way to have a profound impact on the lives of others.
#3 Learning Is A Process
Guy Kawasaki believes that learning is not a one-time event, but a process.
Learning helps you get a deeper understanding and knowledge. Constant learning will change your skills and behavior.
Once you understand that learning is not a byproduct of natural intelligence, but one that is a process, then you will start getting ahead in your life and business.
Key Takeaway:  It does not matter which business you are doing, always trust the process and bet on yourself. Things may look bad at the moment, but if you keep on pushing your limits and focus on learning and improving yourself, you will be on the right path to building a successful business.
#4: Become An Author
There is one major thing that you can learn from Guy Kawasaki's journey to success, and it is this: share your knowledge by becoming an author.
At the moment (2022), Guy has authored, and co-authored, a total of 22 books.
The books are:
Guy has authored 15 of these books on his own, and the others in conjunction with other writers.
We shall look at some of the books that Guy has written on his own later in this article.
From advice on life to networking to social media, and computers, Guy has written a book about almost everything.
This did not ONLY help Guy progress in his career, but it also brought in new and diverse readers to his business.
When you author a book or become an expert author in your niche, you instantly boost your credibility.
It also helps you build and grow your online and offline reputation, opening many avenues for you to find a new audience, connect with influencers, make more money, and so on.
Key Takeaway:  when you become an author, you have a powerful means to share your values, thoughts, and wisdom. It will also set you apart from your competition. Take advantage of this and see how it will change your life and business.
#5: Start A Podcast
Guy Kawasaki's Remarkable People is a podcast that many of his followers love to listen to. As mentioned earlier, the podcast features a lot of famous and inspirational people.
When you start a podcast, you are giving your business a huge boost:
You will be able to connect with influencers in your niche
It will help you build credibility
It will bring in new sets of audiences and customers for your business.
It will personalize the information your send.
It will give you a powerful platform to share your wisdom and thoughts on a weekly basis.
Key Takeaway:  Podcasting will help you improve your web traffic, leads, conversions and sales. You cannot afford to ignore this powerful opportunity.
#6: Become A Keynote Speaker
There is one fact about Guy Kawasaki that you may not be aware of: He gives more than 50 keynote speeches every year.
Guy has major clients in his portfolio, including Nike, Apple, Gartner, Microsoft, Google, Audi, and many more. Guy mainly talks about social media, evangelism, innovation, and entrepreneurship.
If you are an expert in your field, you can try giving keynote speeches at important events in your industry.
You can give practical advice and improve the lives of others.
Key Takeaway:  Keynote speaking will help you build a better brand for your business. It offers fresh ideas to your customers and/or your workers, and inspires them to take the requisite action that will boost your business.
#7: Stop Narrow-Minded Thinking
In one of his speaking events, Guy advised people to overcome narrow-minded thinking, and as an example, he talked about his $2 billion mistake.
Shortly after Yahoo was founded and received funding from a firm, one of the firm's partners asked Guy Kawasaki for an interview to be the first CEO of the company.
Guy Kawasaki turned down the invitation, saying that the commute was too long, and he also added how he did not visualize how Yahoo would ever become a successful business.
Now that was a very BIG and COSTLY mistake, don't you think?
Guy, at the time he was giving this speech, says that he calculated the value of the stock that he would have received as the first CEO of Yahoo – A whopping $2 billion!
So, as a lesson from this example, you must think in a broad-minded manner from this point onwards.
You should approach KEY decisions with an open mind, both in business and in life.
Key Takeaway:  Always be ready to take risks. Stop running away from risks. Be broad-minded as it will help you respect beliefs and views that may differ from yours.
#8: It Takes Time
Many people, both young and old, worry about wasting the years of their lives. As a result, they are always looking for shortcuts, where there are none.
If you want to succeed in life and business, you must be ready to work hard for a long time.
It is crazy to think that you can get results that come from working for 20 years, just by doing something for 20 minutes.
It always takes time.
Once you realize that success takes time, you will have a clear vision that will eventually help you build a powerful business.
Make sure you have a long-term vision for your life and business. This is the reason why Guy's net worth keeps appreciating year after year.
Key Takeaway:  Of course, it is a competitive world and you need to move fast and make quicker decisions. However, vision takes time. Be ready to work hard for several years before you expect great results in your life and business.
#9 Build Social Proof
Guys Kawasaki is very good a creating social proof. Social proof is a very powerful way of marketing, and it generates what is called the bandwagon effect.
The bandwagon effect is a powerful sociopsychological concept that states that people are more likely to engage in action after they see other people taking the same action.
Take an example: If you can prove that 5,000 people are happy in your business, then it will be easy for another group of 1,000 people to join in.
If a friend, family member, or colleague is doing something, then you will be more ready to do the same thing.
This is why you must build social proof around your business if you want to bring in more customers and profits.
If you are raining a digital company, there are various ways in which you can create credible social proof.
Some of these include:
Testimonials from users and influencers
Reviews from users
Expert collaboration
And a lot more
Key Takeaway:  Social proof makes people trust your business a lot more. It does not matter which business you are in you must make sure that you add social proof in areas where people can easily read about your business.
#10: Readers Are Leaders
Dr. Seuss once said, "The more that you read, the more things you will know. The more that you learn, the more places you'll go."
Guy Kawasaki is a prolific reader. He is an entrepreneur who believes that you can teach yourself anything.
If you take a look at some of the most successful business personalities, including Warren Buffet, Elon Musk, and Bill Gates, you will see that they share a common addition – the addiction to reading.
Almost all influencers and thought leaders love to read.
Guy Kawasaki is considered to be a genius, and this is because he reads a lot (remember he once had a problem studying law).
Since Guy discovered books, he has never stopped reading and learning.
Some of the books that Guy says are his favorites include:
Influence: Science and Practice by Dr. Bob Cialdini
Crossing the Chasm by Geoffrey Moore
The Innovator's Dilemma by Clayton Christensen
The Effective Executive by Peter Drucker
Uncommon Genius: How Great Ideas Are Born by Denise Shekerjian
If You Want to Write: A Book About Art, Independence, and Spirit by Brenda Ueland
The Chicago Manual of Style by University of Chicago Press Staff
The Hockey Handbook by Lloyd Percival
Inevitable Illusions: How Mistakes of Reason Rule Our Minds by Massimo Piattelli
Mastering the Dynamics of Innovation by James M. Utterback
Key Takeaway: Reading a lot will help you identify and leverage new opportunities.  It will give you new ideas. Reading keeps your brain healthy and active. So, make it a habit to read a book or two every month.
Guy Kawasaki – The International Speaker
Guy Kawasaki, as we mentioned earlier, gives more than 50 speeches in a year. Obviously, we cannot talk about all of his speeches, but the list below will open your eyes to 5 of his most-popular speeches given at various events.
The Art of Innovation – TEDx Berkeley
In this TEDx opening speech during TEDx Berkeley 2014, Rethink, Redefine, recreate, Guy Kawasaki, talks about the art of innovation.
Typical of his nature, Guy goes through 10 key factors that will help you become a powerful innovator. He says that he always uses 10 as a typical number so that if his speech sucks, the audience knows just how much longer they will have to bear with him (Laughter!!!)
Some of the factors that he talks about are included in the 10 commandments that we had listed earlier in this article.
Guy Kawasaki opens up with a few jokes to loosen up his audience, a thing that he is famous for, and then goes on to list the 10 features that you should consider in order to innovate.
Many people struggle with innovation in their respective niches.
They are unable to come up with new ideas and end up trying what their competition is doing.
Although it is good to try and outdo your competition in something that they have already tried and tested, it would be more powerful to come up with your own ideas.
If you want to become a powerful innovator, then you need to capture the Art of Innovation.
The speech is short but powerful, and it will powerfully benefit you.
12 Lessons Steve Jobs Taught Guy Kawasaki
Guy Kawasaki is a person who ended up surviving working with Steve jobs, not once… But Twice!!
Many people say that Steve Jobs was a difficult person to work with. He was a perfectionist, and many people struggled to reach his standards, and ended up being let go, or resigning.
Now that is something that we may never TRULY know, but for Guy Kawasaki, it was a learning experience.
In this Keynote Speech, which Guy gave at the Silicon Valley Bank's CRO Summit on October 6th, 2011, Guy shares the 12 lessons that he earned from Steve Jobs.
Steve Jobs was a giant in his industry, and Guy Kawasaki brings innovation at its best, during this presentation.
Guy goes beyond the scope of what the original script was, and passes on a memorable message, which all entrepreneurs should internalize immediately, and on a daily basis.
Guy talks about the fact that challenges are one of the major causes that lead to employees leaving a business.
Your employees want to perform well, and you have to give them the right tools to reach the goals set out for them.
The speech is insightful and delicious for anyone who is running a business. Make sure that you check it out.
Keynote Address by Guy Kawasaki – 2012 Commencement at Menlo College
Guy Kawasaki has been invited to speak to graduating students at various baccalaureate events. Almost all of the time, he refers to his "Hindsights" speech, where he talks about some of the things that he has learned from his life after graduating high school.
The speech always touches on 10 things that young graduates should try to do in life, after graduation of course.
Let us just touch on the first five, then you can watch the graduation video to learn about the last five, alright?
Enjoy your family and friends before they are gone – Nothing, not money, fame, or power can replace your family or friends. It is as simple as that. Enjoy your family and friends at all times.
Obey the absolutes – as they get older, people tend to think that absolutes become relatives. When you are young, it is absolutely wrong to lie or cheat. But as people grow older, lying and cheating become relative. Always try to obey the absolutes throughout life.
Play to win and win to play – Playing to win is the best thing you can do since it enables you to achieve your potential. However, even when you lose, make sure you lose while you are giving your best.
Don't get married too soon – People should wait until they are mentally mature to marry. For Guy, it was at the age of 32. In your 20s, you may not know who you want to marry, or even know who the person you think you want to marry.
Learn to like yourself, or change yourself until you like yourself – Many people end up messing up their lives because they hate themselves. If you have something you hate about yourself, work to change it, until you can love yourself fully.
Now watch the video and get the full lecture in this amazing speech.
Guy Kawasaki – Creating Enchantment
In the next section, you will learn about the book "Enchantment". This book defines enchantment as a subtly seductive way of getting people to do what you want them to do – become loyal paying customers.
However, this is not a concept that is far removed from what is normally taught in marketing courses.
So, what exactly does Guy means when he says that enchantment should not be about manipulating people to do what you want?
Well, in this one-hour talk, you get to listen to Guy as he explains what he means by the concept of enchantment.
What exactly does one have to do to infuse enchantment in his or her marketing messaging?
Remember, enchantment can happen anywhere, including a blog post, social media post, or even a simple phone call.
Do you want to learn how to use this concept to bring in more customers, or get more subscribers?
Then this is a video that you should watch, with pen and paper at hand to take notes.
You get a glimpse at the humor that Guy uses to send a powerful message to his audience.
If you also want to become an effective public speaker, then this video will have a bonus lesson for you.
The Art of Social Media Keynote Speech
Many people, to this day, still struggle to become successful in their social media marketing exploits. It does not matter whether you are engaging in social media for professional or personal purposes.
You need to know the art of social media to excel in it.
Guy Kawasaki gives this speech and teaches you how to become successful on social media, based on his own experiences.
Apart from his experiences, Guy gives practical examples, so you know what you are doing wrong, and what you need to do to make it right.
The speech covers a wide range of MUST DO's, some of which you may be aware of and others you may not.
Some of the topics covered are:
Optimizing your social media profiles
Being consistent
Feeding the social media content monster
How to become a multi-faceted jewel on social media
The power of social positivity
How to engage your audience through answering questions and comments
Passing the reshare test
How to build a reciprocal network
How to ride the trends
How to test everything you post on social media.
If these are concepts that seem alien to you, then you need to watch this keynote speech, and turn your social media failures into successes.
Guy Kawasaki – The Author
Guy Kawasaki has written 15 books on his own and another 7 as a co-author in conjunction with others.
Let us take a quick look at a few of the books, of which he is the sole author.
Reality Check: The Irreverent Guide to Outsmarting, Outmanaging, and Outmarketing Your Competition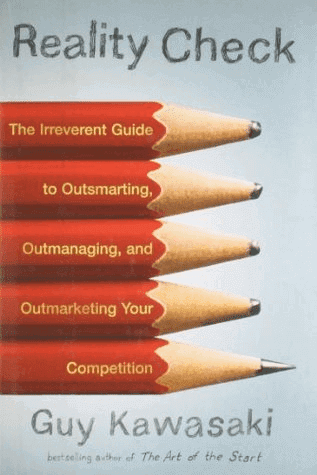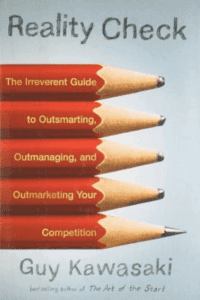 The book is available in kindle, Hardcover, and Paperback versions.
According to BizEd, You should not even think about trying to launch a startup without reading "Reality Check" by Guy Kawasaki.
For more than 25 years, in his various career guises as an evangelist, venture capitalist, entrepreneur, and guru, Guy Kawasaki has cast a mocking eye on the shady trends, sketchy theories, and outright foolishness of what many times passes for businesses today.
Some very many people desperately chase after the "Next Big Thing" only to find out that what they have made is "The Last Big Mistake."
Reality Check is an all-in-one guide to starting and running successful businesses. Ventures that will stand the test of time and disregard any passing whims in terms of business theory.
This priceless book collects, updates, and expands the best entries from his popular blog, and features his unique perspective on everything, from affective emailing to sucking up to avoiding "Bozo Explosions!"
This is definitely a book that you should purchase before you make your first steps in creating that business startup that you think is the next big thing.
How to Drive Your Competition Crazy: Creating Disruption for Fun and Profit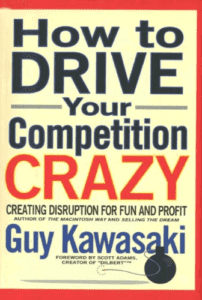 This book is available in Kindle, Paperback, and hardcover versions.
If the title of this book intrigues you, then you are perhaps the type of business book reader who has had enough of those management, self-help, and touchy-feely tomes.
You have had enough of those how-to guides that advise you to adopt a kinder, gentler approach to your customers, competitors, and employees.
You are now ready to throw down the gloves, and the first thing that you will need in your hands after the gloves come off is the first how-to, can-do, kick-butt gonzo guide to driving your competitors off the ledge.
Guy Kawasaki, a true believer of the maxim, "It's not how you play the game, but whether you win or lose" has authored this powerful "Take No Prisoners" guide to help the Small Business Davids beat the Corporate Goliaths.
The book is a product of the many years of experience that Guy Kawasaki has collected over the years as an evangelist for Apple, and also as a business strategist and computer guru.
This book is a priceless source of mocking and sometimes extreme strategies in sales and marketing, human resources, and production, that will help your business attain and maintain the upper hand.
Whether you are launching a new product or business, consolidating your strength in your niche, or trying to stave off the onslaught from your competitors, this is the book that you should buy.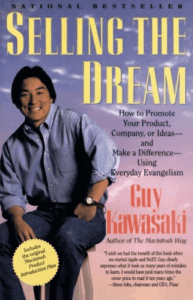 This book is available in Hardcover and Paperback versions.
Guys Kawasaki's unique approach to sales, marketing, and management, also known as "evangelism" is what was behind his amazing success at apple computers, and also as a startup entrepreneur.
Evangelism means having the ability to convince people to believe in your ideas, or products as much as you do. You do this by adding favor, guts, zeal, and cunning to mobilize your customers and employees into becoming as passionate about a cause as you are.
Selling the Dream is a workbook and a handbook for getting your evangelism gears into motion.
Guy lays out a comprehensive blueprint for a newbie evangelist that covers such topics as how to define a cause, whether it is a business, such as The Body shop or Windham Hill Records, or a public interest cause such as the Mothers against drunk Driving movement or National Auburn Society.
The nook also shows you how to identify good and bad enemies, how to deliver a powerful presentation, and also how to find, train, and recruit effective evangelists to your cause.
One of the main highlights of the book is a tiny course in developing an evangelistic business plan, aided by Guy's original and complete business plan for Macintosh Product Introduction.
Selling the Dream is a book that will show you how you can become a rampant, inexorable lizard of an evangelist; a leader whose words will never fall on deaf ears again.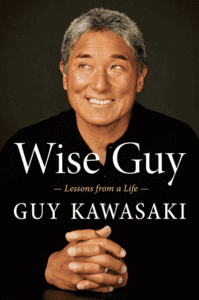 The book is available in Kindle and Hardcover versions.
In this book, Guy Kawasaki shares some of the most unlikely stories of his life, and the lessons you can draw from these experiences.
Ever since he became part of Apple's original Macintosh team in the 1980s, Guy Kawasaki has been a permanent fixture in the tech world.
He is globally respected as a go-to source of wisdom about entrepreneurship, marketing, business evangelism, and venture capital.
Some of his experiences at Apple, during this period, are shared in his book, "The Art of the Start" and "Enchantment."
Before he rose to fame, he was just an average middle-class boy from Hawaii, a grandson of Japanese immigrants, who adored football and got a C+ in English when he was in the 9th Grade.
Wise Guy is a personal book, perhaps one of his most personal.
It is about his amazing and surprising journey.
It is unlike a traditional memoir thanks to its intricate vignettes.
He had actually thought of naming the book, "Miso Soup for the Soul", because, just like the "Chicken Soup" series, the book reflects a wide range of experiences that have colored his life.
The book takes you through:
How he got his first real job in the jewelry business, and how it turned out to be the best training that he will ever get in his life.
How he disparaged a potential Apple partner in front of the Company's CEO, at the devious encouragement of Steve Jobs.
How he blew up his career at apple, with just one sentence, after Steve Jobs withheld a prerelease copy of the "Think Different" ad campaign. He famously told Jobs, "That's okay, Steve, I don't trust you either."
The book is a phenomenal read which you should enjoy and learn from.
Enchantment: The Art of Changing Hearts, Minds, and Actions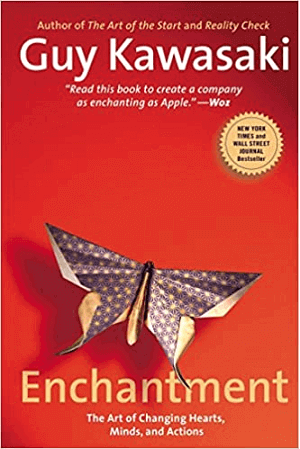 The book is available in Kindle, Hardcover, and Paperback versions.
In this book, Guy Kawasaki says that enchantment is not about manipulating people. He says it is a process of transforming situations and relationships.
The book shows you how to convert hostility to civility, and finally civility to affinity.
It is a process of changing cynics and skeptics into believers, and the undecided into loyal disciples.
Enchantment can happen during a simple retail transaction, a Facebook update, or a corporate negotiation.
When enchantment is done in the proper manner, it becomes more powerful than traditional influencer, persuasion, or other marketing technique.
Guy Kawasaki says that in personal interactions and business transactions, your goal is not just to get what you want, but to elicit an enduring, voluntary, and delightful change in other people.
Guy Kawasaki gives some examples of what enchantment is:
It is what enabled a Peace Corps volunteer to calm down a potentially violent conflict with armed guerillas.
It is what allowed a small cable channel, "E!" to win the TV broadcast rights to radio superstar Howard Stern.
Guy continues with a few more examples, which illustrate what enchantment is.
The book takes you through the steps that you need to prepare when launching an enchantment campaign, and a lot more.
This is a book that you should read if you "Want to change the world."
The Art of the Start: The Time-Tested, Battle-Hardened Guide for Anyone Starting Anything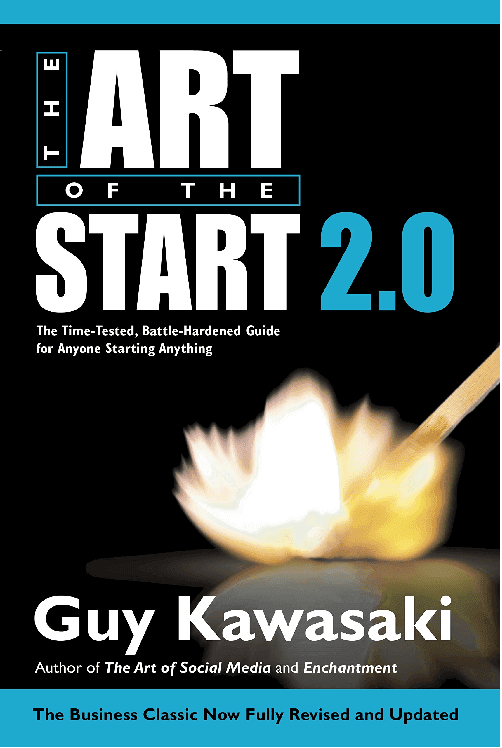 A new company, A new division, A new organization, A new service, A new product, A new anything – Where there is a will… HERE IS THE WAY!!
The journey begins with a dream that just won't quit. That once-in-a-lifetime thunderbolt of pure inspiration, the world-beater, the obsession, the killer app, the next big thing.
Everyone who wants to make his or her world a better place will become obsessed with an idea at one point in life.
But do they have what it takes to turn their ideas into action?
Whether you are an intrapreneur, entrepreneur, or non-profit evangelist, there is a plethora of advice being passed on about issues like writing a business plan, raising capital, recruiting, and branding.
There are so many books, websites, and articles out there, that many startups become bogged down to a point of paralysis.
At times they end up focusing on the wrong priorities and squander all their resources before they realize they made a mistake.
In this book, Guy Kawasaki uses over 2 decades of his experience as one of the best irreverent and original strategists, to offer a clear guide to anyone who wants to start a new venture – whether it is a church group or a multinational conglomerate.
Guys Kawasaki's history as an evangelist for Apple, a venture capitalist at Garage Technology Ventures, and an author of so many books, give you great advice based on his experiences.
These are not theories… These are his REAL experiences. These have been tried and tested. These are the steps that he used to get to where he is.
From raising money to employing the right people, from creating a brand to defining your positionings, from creating a buzz to buzzing the market, from fostering a community to managing a board, this book is the one-stop guide to getting to the top of your industry.
The Art of the Start!!
Rules For Revolutionaries: The Capitalist Manifesto for Creating and Marketing New Products and Services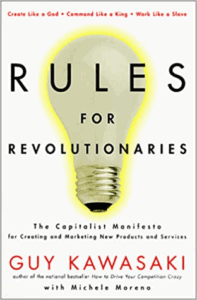 Guy Kawasaki is one person who boggles the minds of entrepreneurs. Many people ask how such a humorous and humble person can get to the pinnacle of the entrepreneurial ecosystem.
Well, in this book, Guy presents his manifesto for global-changing innovation, using his battle-tested lessons to help revolutionary people how to become visionaries.
CREATE LIKE A GOD – Guy teaches how to turn conventional wisdom on its head, and create world-changing products and services by analyzing how to approach the current problems facing your target customers.
COMMAND LIKE A KING – Guy teaches how to take charge, be insightful, make tough strategic decisions by breaking down the barriers that prevent product adoption, and evade "death magnets", which are the common silly mistakes that everyone keeps making.
WORK LIKE A SLAVE – Guy says that you have to be ready to work and work hard. In order to move from being a revolutionary to a visionary, you will need to:
Eat like a bird, relentlessly gobbling up knowledge about your customers, niche, and competition.
Poop like an elephant – spreading large amounts of information from the knowledge that you have gained.
This is a book that is filled with awesome insights from leading innovators at Gillette, Hallmark, Dell, and amazon, with rich hands-on experiences from the battlefields of business.
Whether you are an entrepreneur, inventor, engineer, manager, or small business owner, this is the book that will help you turn your dreams into reality, your reality into products/services, and products/services into customer magnets.
Guy Kawasaki – The Podcaster
In his 10 commandments, Guy Kawasaki talks about using podcasts to generate credibility within your niche.
Now, Guy started his podcast, Remarkable People, to showcase people who have become successful, or remarkable, and who want to share something with his listeners.
Guy explores a wide range of topics, so we have curated some topics for you to snack on.
Geoff Cohen: The Art of Connecting With People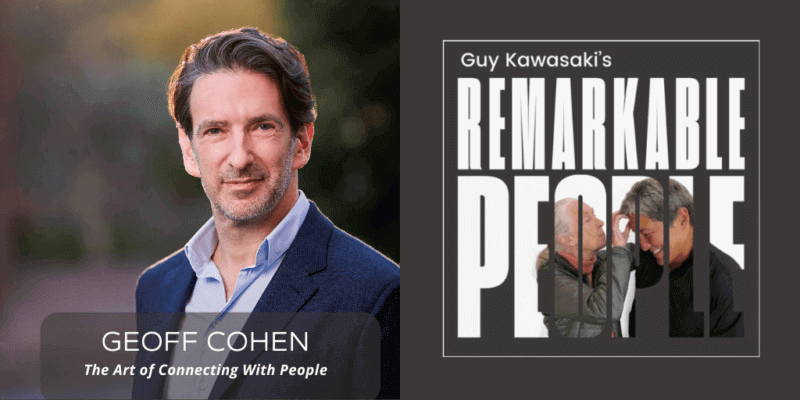 In this podcast, Guy Kawasaki interview Geoff Cohen, a professor at the Graduate School of Education at Stanford University.
Geoff has been researching the processes that help shape how people experience the "Sense of Belonging", and the "self", and the implications of these feelings when it comes to connecting with people in a social setting.
The research delves into the threats to "belonging and self-integrity", that people encounter in school. Work, and health care environments.
Geoff has also written a book called "BELONGING: The science of Creating Connections and Bridging Divides."
Geoff has a Bachelor of Arts Degree in Psychology from Cornell University, and a Ph.D. in Psychology from Stanford University.
Geoff is also the recipient of the Robert Cialdini Award in both 2014 and 1025.
The topics that are covered in this podcast episode include:
The danger of the fundamental attribution error
How to make wise interventions
How to utilize situation crafting
Why we should not consider humans as information processors
This is definitely a podcast that you should listen to if you have problems connecting with people in a social setting.
Interview with Gary Vaynerchuk on the topic of Empathy and Candor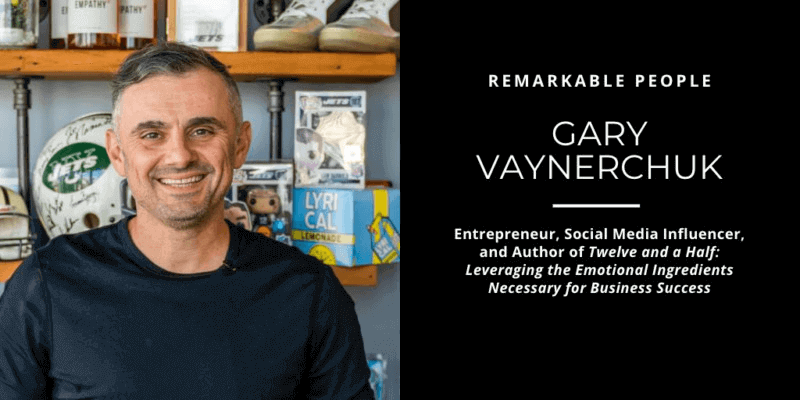 In this podcast episode, Guy Kawasaki interviews Gary Vaynerchuk, also known as Gary Vee, where they discuss some of the golden nuggets that Gary has included in his new book, "Twelve and a Half: leveraging Emotional Ingredients Necessary for Business Success."
Gary is an Entrepreneur, Speaker, Investor Author, and Social Media Influencer.
He was one of the early investors in companies such as Snapchat, Facebook, Canva, Twitter, Coinbase, Uber, Tumblr, and Venmo.
Gary is a 5-time New York Times Best Selling author and has a significant contribution as a public speaker.
He has also written other popular books, "Crush It!", "Jab, Jab, Jab, Right Hook", and "The Thank You Economy".
In this episode, Gary and Guy share their thoughts on the following topics:
Kind candor
Empathy
First job
Weakening weaknesses vs strengthening strengths
Why NFT are the next big thing
Note that both Guy and Gary have a humorous nature, so be ready to learn something, as you laugh at their humorous camaraderie.
You can check out more about Gary on his website here.
Guy Kawasaki Interviews Seth Godin
Almost every marketer has heard of the name Seth Godin, and in this interview, he joins Guy Kawasaki to talk about Marketing and its definition.
As Guy Kawasaki puts it, Seth Godin is "the one and only Purple Cow of promotion, master of marketing…"
True, Seth is a marketing pioneer, entrepreneur, speaker, teacher, and podcaster.
He is the founder of one of the most popular blogs around the globe, SethGodin.com. The boog has more than 7,000 posts and enjoys a readership of over 1 million people. The blog is published on a daily basis, and still, Seth gets the time to write 19 books.
Seth studied Computer Science at Tufts University, and then went on to get a Master's Degree in Business Administration at the Stanford Graduate School of Business.
He is a champion of talent. He is the top-most advocate for global conversations on business and marketing.
Seth Godin leads the marketing conversation in the world and pushes it to greater limits with his ideas.
This is definitely an episode that you should listen to if you are a marketing practitioner or solopreneur. Make sure you check it out.
Guy Kawasaki Interviews Deepa Purushothaman
Deepa Purushothaman is a co-founder of nFormation, a speaker, author, and warrior.
nFormation is a community formed by women of color, for women of color. Its main goal is to reinvent traditional power structures to not just help women of color to get a set at the table, but also to change the manner in which the table is formed.
Before forming nFormation Deepa had worked at Deloitte for more than 20 years and made history as the first Indian-American woman, and one of the youngest professionals to ever become a partner at Deloitte.
Deepa is a Women and Public Policy program Leader in Practice at the Harvard Kennedy School. She is also an Aspen fellow.
Deeper has studied and earned degrees from the London School of Economics, the Harvard Kennedy School, and Wellesley College.
Deep is an author of a book entitled, "The First, The Few, The Only: How Women of Color Redefine Power in Corporate America", and it is a must-read book for any leader who wants to become and remain relevant in his or her field.
Listen to this podcast and be amazed by Deepa Purushothaman.
Guy Kawasaki Interviews Colin Bryar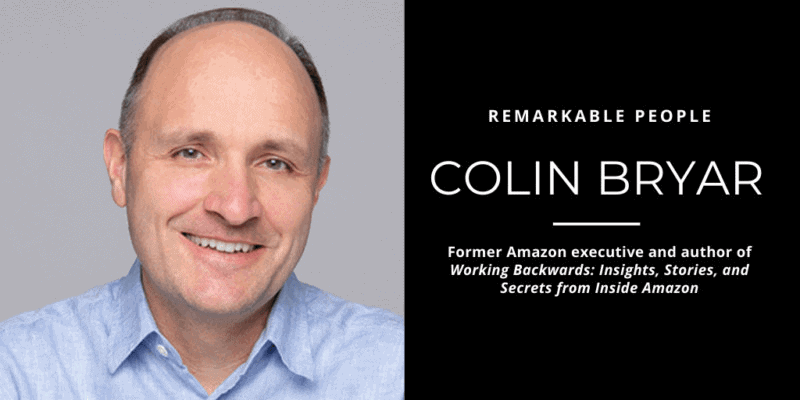 You are probably one of the many people who wonder how Amazon became one of the most successful companies in the digital world, right?
In this episode, Guy talks to Colin Bryar, who goes on to share some of his experiences while working from the inside of innovation at amazon.
Colin Bryar has a Bachelor of Science Degree and a Master of Engineering Degree from Cornell.
He has worked at Amazon for about 13 years since 1998.
Colin has held three different positions at Amazon, namely: Director of Amazon Associates, Chief of Staff to Jeff Bezos, and Chief Operating Officer of IMDB.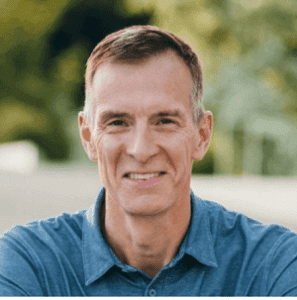 Colin has co-authored a book with Bill Carr, also a former executive at Amazon, called "Working Backwards: Insights, Stories, and Secrets from Inside Amazon."
If you are looking to create a company that will be as successful as amazon, then this is a podcast episode that you should not miss.
Some of the key concepts discussed in the episode include:
Working backward. That is, doing what customers want as opposed to doing what you want.
The power of the 6-page narrative and why Amazon banned PowerPoint.
The highly structured and disciplined Amazon recruiting procedure
Why 2 pizza teams with single-threaded leadership rocks
So, if you are looking for insider information, a behind-the-scenes story behind Amazon's success, then this is the right podcast for you.
Guy Kawasaki's Riotous Interview with Luvvie Ajayi Jones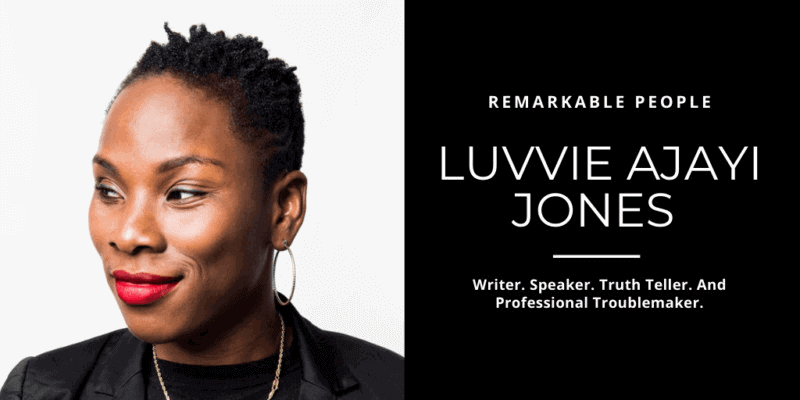 Luvvie Ajayi Jones is a podcaster, speaker, and author from Nigeria, living in America. Luvvie moved to the USA at the tender age of 9.
She is a graduate of the University of Illinois, where she started as a pre-med, but soon forgot about the course after she got a "D" in Chemistry.
Her three books, "I'm Judging You: The Do-Better Manual", "Rising Troublemaker: A Fear-Fighter Manual for Teens", and "Professional Troublemaker: The Fear-Fighter Manual", are New York Times Best Sellers.
Here are a couple of quotes from her first book that tells you about the kind of person she is:
"If thinking highly of myself and being self-affirming is a fault, I want to be the walls of the Grand Canyon."
"Black trauma is never given space to heal because we have to make sure the white people who hurt us don't feel too bad about it. Even as victims, we're told to care about the feelings of those who harm us."
Her TED Talk entitled, "Getting Comfortable With Being Uncomfortable," has gathered a viewership of over 2.4 million people from all over the world.
In her second book, Professional troublemaker, she sends out a unique insult, the kind you probably have never heard of before:
"If I want to kill myself, I would climb to your level of stupidity and jump to your IQ."
From her words, one can assume that Nigerians are very free to speak their minds, even if it may seem to be an insult.
Therefore, get ready to listen to one of the most riotous podcast episodes that you have ever listened to.
You can read more about Luvvie Ajayi Jones on her website here.
Guy Kawasaki Interviews His Hero, Ken Blanchard
In this episode, Guy Kawasaki interviews one of his heroes, Ken Blanchard.
Ken is the author of the one and only management "Bible" called "The One Minute Manager."
This is a book that has sold 23 million copies and been translated into 45 languages.
Ken is the Chief Spiritual Officer and co-founder of the Ken Blanchard Companies, a leading global consulting and training firm.
Ken's latest book is called, "Simple Truths of Leadership: Fifty-Two Ways to Be a Servant Leader and Build Trust."
In the book, he lays out the concept of becoming a servant leader, which may seem like an oxymoron to many people, but it is one of the top principles of leadership that Ken lives by.
Ken Blanchard is a holder of a Bachelor's Degree and a Ph.D. from Cornell University and a Master's Degree from Colgate University.
Ken spends most of his time as a visiting lecturer at Cornell University, and he is also a member of the Board of Trustees.
In the year 2005, Ken was inducted into the Amazon Hall of Fame, as one of the top 25 bestselling authors of all time.
As a bonus, in this interview, Ken talks about something that Guy did not anticipate. He tells a couple of fantastic inside stories about Norman Vincent Peale and Peter Drucker, two individuals who are also legends in management writing and theory.
If you want to become a better leader, then this is a podcast episode that you do not want to miss.
Guy Kawasaki Interviews Susan Cain
Susan Cain is an Author, and through her book, "Bittersweet: How sorrows and Longing Make Us Whole, she talks about the power of sadness, longing, and vulnerability for catalyzing mental health, innovations, and beauty.
Of course, this may sound very strange to most "normal" people, but it is worth the read.
Susan Cain is also known as the author of the Bestselling 2012 book, "Quiet: The Power of Introverts in a World That Can't Stop Talking".
This book was loved by many introverts all around the world because it validated their feelings. Take note that the book has been on the best-selling list ever since it was published more than 10 years ago.
On another note, Susan Cain was also mentioned by LinkedIn as the 6th Top Influencer in the world, and she has over 30 million views of her Ted Talk, "The Power of Introverts."
Just so you know, the Ted Talk was a source of great anxiety for her, and she had to work for 6 days with a speech coach in preparation for a speech that took 18 minutes and 48 seconds.
Basically, if you like the work that Susan Cain does with introversion, then you will definitely love the second book, mentioned at the start.
What could be greater than knowing how you could turn sadness, longing, and vulnerability into innovations self-actualization, and innovation?
Well, to learn more about Susan Cain and how she approaches life as an introvert, check out her website here.
Listen to the podcast and get to know more about what makes Susan Cain Tick. What is it about this self-confessed introvert that makes her such a powerhouse in the world of influencers?
Guy Kawasaki's Interview with Pat Flynn
Pat Flynn, an architect by profession, got laid off from his dream job in 2008. However, he did not go into a deep hole to wallow in depression, but pivoted around and built a website that helped people pass the LEED building exam, for green building design professionals.
Pat has two popular podcasts, "Smart Passive Income", and "AskPat", which you may have heard of.
Smart Passive Income has earned more than 25 million downloads and was at one time ranked as the 3rd overall business podcast on Apple Podcasts.
Pat has also written three books, "Superfans" and "Let Go", and "Will It Fly?"
In his spare time, Pat works as an advisor to Pencils of Promise, a nonprofit organization that builds schools in low-income areas, as well as Teachable, Squadcast, and CovertKit.
Pat is a friendly and personable individual, who is like every Filipino person that Guy Kawasaki has ever met.
His goals do not involve driving a Lamborghini or buying an island, but rather, securing the financial future of his family, retiring at an early age, and helping other people to achieve the same things.
In this episode, Pat gives some down-to-earth, practical advice based on the experiences of his life.
It is worth listening to, especially if you feel like life has got you down.
You can also catch up with Pat Flynn on his website here.
Guy Kawasaki Has a Talk With Marshall Goldsmith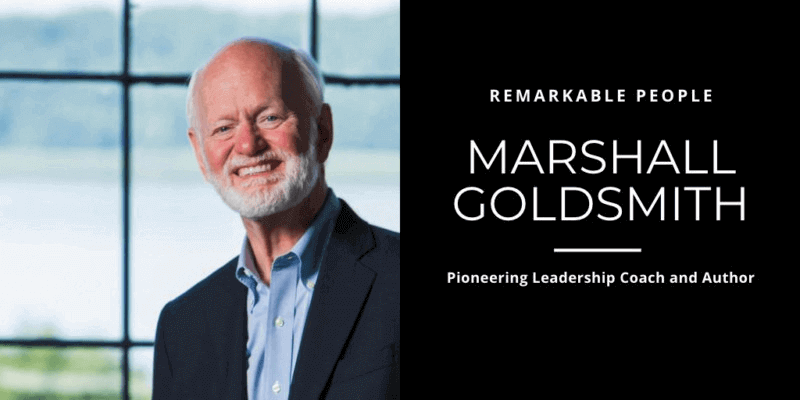 Marshall Goldsmith is the most famous and leading executive coach in the world. He has worked with some of the leading CEO of some of the biggest companies, such as Best Buy, Ford, Pfizer, and the World Bank,
Marshall is the only person to have ever won the "Thinkers 50 Award for #1 Leadership Thinker in the World" two times. This is why he is considered to be the number one Executive Coach in the world.
Marshall is also the author of the book, "What Got You Here Won't Get You There" and "Triggers". Both books were added to the "Top 100 Leadership & Success Books Ever Written" list by amazon.
Marshall, in his new book, "The Earned Life: Lose Regret, Choose Fulfillment, explains no less than what you should do with your life before you get o the end of it.
Apart from this book, Marshall has written many other titles, which you can read about on his Amazon profile here.
In this episode, you are going to hear advice that the most powerful CEOs and executives around the world pay tens of thousands of dollars to get.
And lastly, you will hear Marshal and Guy Kawasaki negotiate his (Guy's) adoption in this episode. Guy quips that he hopes that Marshall knows how many surfboards he needs every year since he has taken up surfing at a very late stage in his life.
You should go ahead and enjoy this interview.
You can also read more about Marshall Goldsmith, or contact him for more advice through his website here.
Guy Kawasaki Holds a Talk with Nikhil Kamath
In this episode, you get to hear Guy talks to Nikhil Kamath, a co-founder of the largest stock brokerage in India, Zerodha, as well as True Beacon.
If it means anything to you, you should know that Nikhil, at the time he was talking to Guy Kawasaki, was in his early thirties, and already a billionaire, when you consider his stale in the company.
Nikhil has a story, that guy describes as "made for the movies."
Nikhil dropped out of high school to play chess. Later on, he worked at a call center answering support questions.
During his time as a call center worker, Nikhil started dabbling in stock brokerages and soon became a millionaire.
This, according to Guy, is like Queen's Gambit meets Slumdog Millionaire meets Charles Schwab.
However, the actual story of Nikhil is not as Bollywood in nature, as you would think.
There is real value in this episode, and Nikhil offers his insights into several topics, such as:
The importance and value of getting rid of barriers as a reason why you have not started a company
Ways of monetization in an industry where nearly every service is offered free of charge
The benefits of not raising venture capital when you are starting a business
Using psychology and sentiment when you are making investment decisions,
The pitfalls you should avoid in the cryptocurrency world
The bad, and the good, of having a calm demeanor.
Well, you should listen to this podcast and be amazed at how Nikhil turned his life around, even when it seemed like it was headed towards being a life of struggle.
Guy Kawasaki – The Glowing Recommendations from People He Has Touched
Guy Kawasaki, in his various career positions, was someone who always gave out more than he received to the people he interacted with. Here are some of the glowing recommendations he has received from those whose lives and careers he has touched.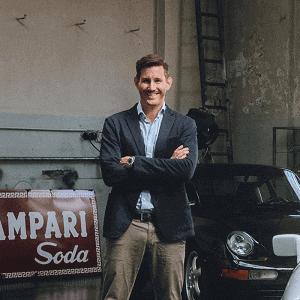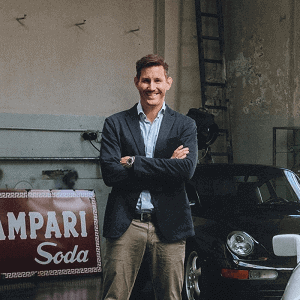 Wolfgang is the founder of Freelectics, a company creating fitness apps for mobile devices.
Wolfgang was once a client of Guy's.
Wolfgang was working at Mercedes Benz, as "Mr. EQ", when he met Guy. Guy was helping the company internally and externally to embrace changes within the industry, with all the opportunities provided by Connected, Autonomous, Shared Electric Cars.
Wolfgang and Guy partnered in various activities, from social media live streams, hosting interviews and "Inspirational talks" at CES, and mind-opening speeches to smaller meaningful events with tech evangelists and influencers at SXSW in Austin, or Silicon Valley.
Wolfgang says that Guy is a very passionate individual, who contributes wholeheartedly to everything he does.
He aims to drive change. One of his quotes, "Stop reading inspirational quotes and get to work", was made when he wanted to put Mercedes-benz.com on his profile. A Perfect Choice!
Wolfgang gives another example where he says Guy started surfing at the age of 60 and enjoys it several times a week now. This taught him that you can learn anything at any age; you just have to be brave to do it.
Wolfgang says that working with Guy means that he will positively push you, and you will always learn something new in life. Guy is a great inspirational speaker with a remarkable network.
Guy does not care what position you are in; he is always interested in what you are doing and the passion you bring to the table.
Vinitaa is the Senior Vice President of Human resources for North America at Proctor & Gamble and was once a client of Guy's.
Vinitaa once invited Guy to give a virtual talk to her leaders across Asia on lessons that Guy learned from his work experience with Steve Jobs.
This is one of the topics that he is well-known for, but Vinitaa asked him to share it in a manner that was meaningful for HR people who work in a large, established MNC.
The event was attended by 80 people from 8 locations. The time in Singapore was 11:30 AM and 8:30 PM for Guy who was in the Bay Area.
The experience was like being invited to visit with him at his home office. He went as far as showing the attendees some of the P&G products that he used – Swiffer and Tide!
Guy had an infectious passion for the subject matter. In the one-hour-long session, attendees from all over the world were inspired and gained a useful understanding of what it takes to be internal innovators and revolutionaries.
He added a bunch of life stories, bold statements, humor, and anecdotes, which the attendees loved.
Even though the talk was given in a virtual setup, Guy was effective and impactful, as if he was giving the talk in a face-to-face setting.
His humility, charisma, energy, and candor touched the minds and hearts of the attendees.
Vinitaa says that they were very fortunate to have him join them in the virtual summit, and professes that Guy is a Force!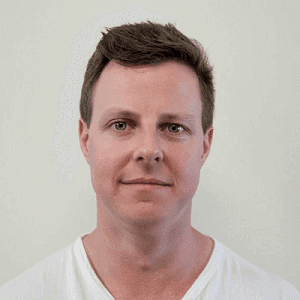 Chris is the Senior Director of Product Management at Dixa, and once worked with Guy, albeit in different companies.
Chris says that the site Twithawk.com would not be what it is today, without the generosity, guidance, and evangelism that Guy offered.
Guy sent a single "Tweet" which made the site "Explode!" This was just a week after the site was launched, and it triggered a viral marketing frenzy, that went on for months. As a result, Twithawk.com saved a lot of money on its marketing budget.
Chris says that to his surprise, not only did Guy help to spread the news initially but of his own volition, went on to tell the world about the site at conferences and events, weeks and months later.
This was the first time that Chris had the experience of a site going viral and being so successful. Guy helped him make decisions that he was not used to making, and this helped in some key communications that he needed to make with people.
Chris says that he also went ahead and read Guy's book, "Reality Check", which helped him fill in the blanks when it came to carting things forward in the right manner, rather than stumbling along in the dark.
Chris says that in the end, he owes his success to Guy Kawasaki.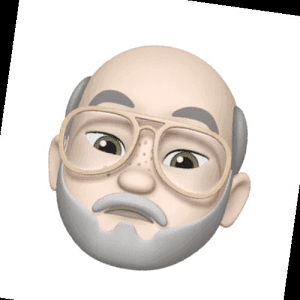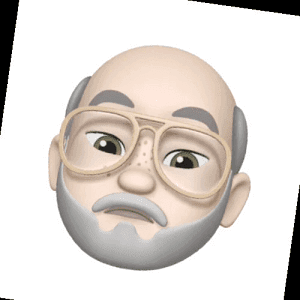 Chuq is the Manager, of Technical Publications at DomainTools.
Chuq worked with Guy in the past but in different companies.
Chuq worked with Guy when he was the Chief Evangelist for Apple, during the dark years when Apple seemed like it would tank.
Guy was a tireless fighter for what he believed Apple should be, both internally, and as a promoter of Apple to DomainTools developer crew and beyond.
Chuq says that the fact that Guy created Evangelist, a mailing list to motivate and rally Apple fans around the world, was a revolutionary way to change how the company communicated with users and handled PR.
This gave Apple fans the reason and information to fight the challenging negative news about the company at that time.
Guy was a prolific promoter of transparency and opened long before those words became common speak in the corporate world.
Chuq says that he learned a lot when he was working with Guy on how to communicate with a large audience, and motivate and encourage those around him.
He learned the usefulness of honesty and openness as tools in times when problems arose and the need to acknowledge, and not hide, these problems.
Chuq says that he would work with, or for, Guy once more in an instant; Guy is interesting and fun, and when around him, you can never be bored.
Chuq says that working with Guy was one of the most memorable times in his long tenure at Apple and the reason why he stayed at the company during those dark times.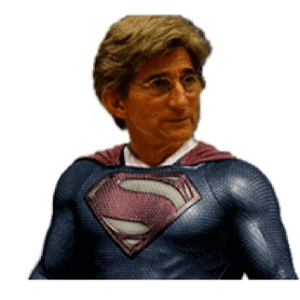 Tom is a Partner at FoundersX Ventures, a Venture Capital Firm, and also a designer of professional education programs.
Tom has a long glowing recommendation for Guy Kawasaki, so we will just pick out some of his remarks.
Tom starts by saying, "Guy Kawasaki is a Thought Leader!"
Tom has taught at various prestigious universities over the years (Stanford, Harvard, and University of Singapore) and over the years he has seen thousands of speakers, and as Guy Says, 'Most of them suck!"
Tom observes that Guy has delivered extraordinary keynote speeches, and talks for his students, entrepreneurs, investors, government, and business leaders for over 20 years; Guy has always been his favorite.
In another remark, Tom, who has a serious addiction to reading books, says that he has bought all of Guy Kawasaki's books, and he has found them to be particularly inspiring.
He singles out the book "Selling the Dream", where Guy defines evangelism as a form of high-tech marketing, rather than religious extremism.
He says that he has assigned several of Guy's books as assigned reading at Stanford, and also the National University of Singapore. Some of these books are "The Art of Selling", "Enchantment", "Reality Check", "The Art of the Start", "The Art of the Start 2.0", and "The Art of Social Media."
Tom goes on to recommend that if you have not read any of Guy's books, you should start by reading "The Art of the Start 2.0" and "Enchantment."
Tom also says that if you are planning a major event and need an extraordinary speaker, then you should hire Guy Kawasaki in a heartbeat.
In Conclusion
Guy Kawasaki is a globally respected businessman, author, innovator, and entrepreneur. His simplistic approaches to business, are somewhat revolutionary, given the high success rate that they bring.
Gary believes in giving first before you take. He believes in improving the lives of people even as he pursues his own interests.
Guy believes in a radical approach to business, and he tops it all by doing what he does wholeheartedly and with a touch of humor.
These are some of the traits that make people want to work with Guy. The same traits that pull people towards him.
If you want to succeed in your personal and professional exploits, then perhaps this article has given you inspiration and resources that you can use to achieve your dreams.
If you have any comments about this article, kindly share them with us in the comments section below.