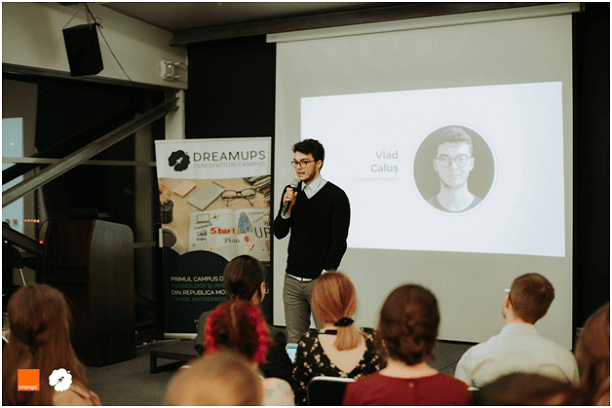 The idea of dropping out of college freaks almost all of us.
'What will you do without a degree?',
'Nobody is going to hire you!',
'You've ruined your life!'
These are indeed some of the common conceptions that cross one's mind when the thoughts wander anywhere near the periphery of a college drop-out.
But, it's also rightly said that success belongs to those who dare to dream big.
And that's what this post is about.
Welcome, Vlad Calus– the man who dropped out of college only to become an entrepreneur!
When it comes to digital marketing, many things need to be understood & learnt.
Some of these lie in the niches of paid ads, organic, social media, content marketing, performance, advertising, search engine optimization, etc.
And that's precisely what the guest of today's story has mastered over many years of self-learning.
How did it all begin?
A few years ago, Vlad dropped out of college with two of his friends.
He had his passion in mind, along with the desire to create something unique, something that people would be drawn to.
And that's when he built Planable, the command centre of social media collaboration for marketing teams, digital agencies and freelancers to collaborate with their teammates & clients on content calendar in the most visually pleasing way.
The Ultimate Inspiration  
Planable started as their own need. Vlad Calus along with two of his friends, worked in marketing agencies before and they struggled to collaborate with clients in excels and powerpoints, neverending email threads, back-and-forth files.
In the best case, it was frustrating and a waste of time.
In the worst, important information was lost, and the agency-client relationship was damaged.
Vlad knew that social media collaboration shouldn't be that hard and was something that would draw the interest of people.
So, he, along with his team of college dropouts, set on a mission to build a product that will help marketers be more productive and will delight their clients.
Self- learning Empowering Passion
From the very first day Vlad, driven by his passion, jumped in many areas of marketing.
He learned everything himself just by typing questions in Google and reading all that came up.
Right from the most stupid question, like what's engagement, and how to get more likes on your Facebook page to calculating churn, improving customer retention, etc. there was no stopping Vlad Calus.
The Journey to Unprecedented Growth: Awards and Recognitions
In February 2019, Vlad became Forbes 30 Under 30 Honoree.
Five Biggest Instagram Trends and the Best Instagram Marketing Tools of 2019
As of today Planable is helping more than 5000 brands and agencies, including professionals at Jaguar Land Rover, Viber, ESET, Virgin Mobile, Wendy's and many more.
There are also many things Vlad and his company are contributing to the industry, such as Instagram Content Spotlight Report, a book on the way marketing teams will evolve in the next decade, podcast, vlog and other exciting projects launching this year that we're collaborating with 30+ experts from companies such as CNN, Ahrefs, Fiverr, G2 Crowd to build them.
Vlad Calus has also been featured in world famous platforms like Social Media Examiner, Entrepreneur.com, WeRSM, Freshdesk, Subsign, Digital Agency Network and many others.
What's in the name 'marketing'?
Vlad believes that it's an essential skill that any marketer should have – trying to find all the possible answers to the questions they have by any means.
Googling is not always the solution. It's also super helpful to start connecting with other marketers in the space to discuss ideas, ask for feedback, collaborate, and build strategies together.
The future of 'Planable.'
As a long-term vision, Planable will become the norm of content creation & collaboration of all the marketing assets professionals work on, including social, images, video, articles, blog posts etc.
It will help creatives save more time, be more efficient and streamline the content publishing workflow in one single place.
When everyone can see the same thing, and everyone is on the same page, no misunderstandings can happen.
How did people help in the journey?
He was surprised to find out that the marketing community is always friendly and helpful when it comes to collaboration.
A lot of the marketers he met, such as Kas Szatylowicz, Yam Regev, Bill Stathopoulos, Levi Olmstead have been incredible connections, and that's precisely what you should do too.
A blog to educate people
Their blog focuses heavily on content creation, collaboration, digital marketing, teamwork, agency world, but we also cover topics related to these and interesting for our audience.
The audience of Planable mainly consists of digital marketing professionals, social media managers, content creators, PR and communications experts at small and medium agencies, freelancers or in-house marketing teams with solid knowledge of the topic.
Here are a few topics Planable team enjoys reading about on the blog.
However, if you're interested in collaborating & receiving some good backlinks, then you must give a shot to these topics and send them to the Planable team.
Content review, approval & audit
Marketing & PR Industry
Digital Marketing Strategies
Marketing mistakes
Social media & marketing tools
Agile marketing teams
Marketing collateral
Creative content, workflow & people
Content collaboration
Innovative marketing campaigns
Team transparency, sign off & prototyping
Content planning
Team process optimizations
Client meetings, onboarding, retention, relationship
Brand development & awareness
Storytelling
Ads creation & collaboration
Vlad's Favourite Books, That You Must Not Miss!
There are a few favourite books that Vlad always recommends, and he'd love to share with you today.
1) "Marketing Teams of the Future"
"Marketing Teams of the Future" (download for free) is a book that navigates content the journey of content marketing from the early beginnings.
It also dives into a profound analysis of today's industry. You will find patterns, principles, and workflows that will help upgrade current workflow and processes for a future-proof team.
Go, get it now!
2) "Atomic Habits", by James Clear
World-renowned life coach James Clear has discovered a completely different way to revolutionise your behaviour.
He understands that lasting change comes from hundreds of small decisions – doing two push-ups a day, waking up five minutes early, or holding a single short phone call.
He calls these atomic habits. And that's why you must not miss it at any cost.
3) Steve Jobs by Walter Isaacson
A remarkable book that Vlad highly recommends to anyone.
The book is based on more than forty interviews with Jobs conducted over two years.
These also include interviews with more than a hundred family members, friends, adversaries, competitors, and colleagues. Authored by Walter Isaacson, it tells a riveting story of the roller-coaster life  of Steve Jobs and searingly intense personality of a creative entrepreneur whose passion for perfection and ferocious drive revolutionized six industries: personal computers, animated movies, music, phones, tablet computing, and digital publishing..
People of Marketing & how to become a marketer: Tips and Tricks!
As of last month, Vlad and his team launched a video blog & podcast. People of Marketing, which is a show with and about marketers.
It throws light on their struggles, the industry, and the solutions.
Their first episode is focused on Instagram trends. Since Instagram has more than one billion users worldwide, it is one of the most powerful social networks.
In this episode, the topic is how to tackle this year's most popular trends and ways to leverage them.
It doesn't matter if you have thousands of followers or if you've just signed up for Instagram.
These are the trends that everyone should consider to build a more meaningful community on Instagram.
Follow the show below.
Should you become a marketer?
Vlad concretely believes that questioning your career is absolutely normal.
Since we're all always looking for something better you should definitely jump and try different things.
And for marketers, there are a lot of options to choose from.
We can become head of a marketing department at a cool brand, be part of an agency, join a startup, start our own agency, become a marketing consultant or get into freelance digital marketing.
Conclusion
So, whatever you aspire to become, all you have to do is follow your dreams.
Get out of your comfort zone and do what it takes to become the best version of yourself.
The self-made man Vlad Calus is a living example of that.
If his journey inspires you, let us know in the comments below.