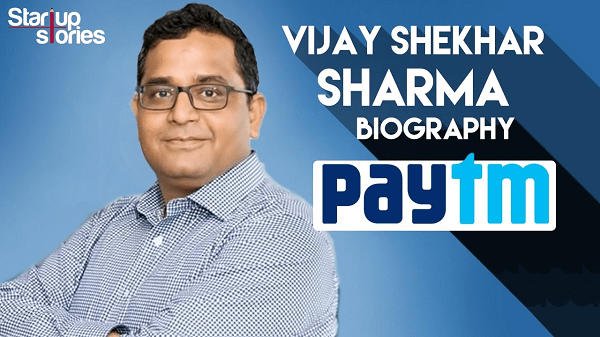 "Cheers to the winners, who won because they didn't give up."- Vijay Shekhar Sharma, founder of Paytm.
Who says Dreams don't come true, if you are rags and dream of being rich?
They do come true, if you dare to chase it and fight till you make it.
Today, we are presenting you the most awe-inspiring rib tickler that will shake you out of the blue – who went rough through the rail and made us all believe in his Startup –PAYTM, an Indian Ecommerce and Digital Wallet Company.
So tighten your seat belts.
Pull up your socks, stretch your arm chair and get plugged with such an inspirational story of Vijay Shekhar Sharma, the hero behind Digital Wallet.
Vijay Shekhar Sharma: Founder and CEO of Paytm
Birth and Early Life
Vijay Shekhar Sharma, a whiz kidwas born in a small town in Aligarh, Uttar Pradesh on 8th July, 1978.
His perseverance and determination made him spent long hours in Computer Room to search for being in Silicon Valley, the mecca for worldwide innovation.
Being studied in Hindi Medium, life was not easy for him. His imperfect English came in way towards cracking IIT exams and other competitive exams.
Later he got admission in Delhi College of Engineering.
In college, he used to simultaneously read two books — one in Hindi, the other in English to comprehend with the course material and get good command on English.
This in turn, helped him getting the grip over communication- fluently.
"I kept a diary and noted down new words," he says.
A lesser known fact , in his college life, he had built his first company- 'XS Communications' – – a web solutions firm offering web-guided services, including web directories, and was also a search engine!
This is currently running as Content Management Systems.
It is used by many publication house all around the world including the most prominent Publication house – The Indian Express. Slowly and gradually he learnt how to code a website and design content.
Within a year's or two, it achieved a supernormal turnover of Rs. 50 lakhs and was later traded to "Living Media India" for half a million dollars.
After selling his company, he went on to earn and learn from the corporate world.
So for almost two years he worked for some companies like RiverRun Software Group designated as Business Development Associate, Intersolutions India Pvt Ltd under Technical Team, India Today Group Online labelled as Technical Head, and lastly Startec Global Systems, India as Chief Technical Officer.
Decided to start something of his own
But working 9 to 7 as an employee, didn't ignite any spark.
Though he was promoted with higher position, it didn't give any motivation to continue it for long.
Later he realised that he need to work upon starting something of his own – Something that is greater, newer and   superior.
Having said that; he quit his job and grinded his nose well to start something exclusive!
Paytm Case Study | Dr Vivek Bindra
One97 Communication
One97 Communications Ltd. is India's one of the leading mobile internet company.
It is inspired and driven by a commitment to great consumer experience from online booking till receiving payments from any corner of the world.
Headquarters in New Delhi.
Slowly things turned shallow, when Vijay partnered with One97 Communications.
But on darker side, nobody was ready to fuel the product with any amount of investments.
"Sometimes, failure is a blessing in disguise. Failure to launch an IPO gave birth to Paytm," said Vijay Shekhar Sharma.
2005 was the year of heavy hailstorm, with no investors, he took a loan of about 8 lakh and trusted to keep it going.
Later when Indian Market was booming, he launched Paytm as a product in 2010 –a Digital Wallet and Ecommerce based Application that once hit over 110 million registered users.
While in 2015, he launched Paytm Payments Bank that allows users to withdraw money from their respective bank's ATM – anywhere and anytime.
To your surprise, it was inaugurated by Arun Jaitley, Finance Minister.
VijayShekhar Sharma admitted, 'I don't need to sleep; I am living a dream,'
Effect of Demonetization          
Due to the advent of Demonetization, number of transactions and downloads have increased significantly.
People started moving towards "being digital" and looking more for digital transaction instead of cash.
According to some reports, it led to 700% hike in transaction and post demonetisation.
His Real Inspiration
Vijay Shekhar Sharma who is the inspiration of youths – in real admires Jack Ma, the brain behind Alibaba and Softbank's Masayoshi Son.
From routine till business strategies, Sharma has high regard for their binding values and principles towards work.
Beyond Paytm
In an interview, Vijay indicated that he would soon buy Rolex, the luxurious watch company known for its performance and reliability – Once his company reaches 10 billion dollars mark.
Currently Paytm is available in 11 languages and offers end-to-end solutions with 100% security in Payment modes. Managed presence in Africa, Europe, Middle East and Southeast Asia
Over and above 7 million merchants across India uses its QR Code to accept payments directly into their bank account.
Paytm Mall is basically a B2C model inspired by – TMall, the model of China.
Over 1.4 lakh sellers have already registered their products wrapped with consumer trust.
Deep down, it has partnered with 40+ couriers and has 17+ fulfilment centres across India.
It raised $200 million from Alibaba Group and SAIF Partners in March 2018
One97 Communications has announced the launch of a premium loyalty programme called 'Paytm First' for its regular users for customer retention.
Some notable additions to their current program:
Added GPS-tracking system
Added ticket booking, income tax returns filing and also re-launched Paytm GamesPind.
Vijay Shekhar Sharma Net worth
In January 2018, Paytm valued at a whopping $10 billion.
The net worth of Vijay reached to270 crores USD in 2019
Sharma further holds 51% Share in Paytm Payments Bank.
Marketing Strategies:
Begin with offers and Coupons
Begin with monthly pack offers, Facebook promotion and word-of-mouth – made sale of approximately 5-6k worth recharges a day and reached INR 100,000 recharges a day, that too within a span of just 4-months.
In order to solve the query of customers, it launched a toll free number "1800-1800-1234" and due to these, transactions increase profusely.
He sank his teeth into gaining well-regarded clients like HomeShop18, Dish TV, and Snap deal to maintain their growth and on other side also increased their staffing from 4 to around 40 members.
Paytm collected Rs 30 crores from 12 lakh users in 4 days for Kerala flood relief fund and additionally 1 crore from their side. Also updated a charity tab for Odisha Fani Cyclone.
Some Magical Movements
When Ratan Tata – the prominent Indian industrialist made a personal investment in Paytm.
When Paytm received a $575 million investment from Chinese e-commerce giant – Alibaba Group, and took 25% stake in One97 as part of a considered agreement.
Received $300 million from Warren Buffet's Berkshire Hathaway.
"Rotey huye aatey to sabh hain, magar Jo hasta Hua jayega. Wahi asli Mukandar ka Sikandar kehlayega", says Vijay Shekhar Sharma.
Investments and Acquisitions
Over a quick span of years, Vijay with his deft skills collectively procure a few investments & acquisitions.
2013: Paytm acquired Plustxt for around less than $2 million. To enable fast text messaging in Indian Language.
2015: Invested $5 million in hyperlocal delivery firm, Jugnoo. It run down its operations all over the country, and improved its service quality at helm.
2015: Acquired Delhi-based consumer behaviour prediction platform Shifu, to predict the behaviour of users.
2016: Invested heftily in logistics startups LogiNext and XpressBees for quick and better supply chain management
2017: Financed in healthcare Startup QorQL to avail the services of Artificial Intelligence (AI) and big data – to sense the transaction rate and user's frequency in accordance with payment sector.
July2017: Acquired a main stream stake in online ticketing and events platform Insider.in. Also funded an Event Management Company, Only Much Louder (OML) and Mobile Loyalty startup, MobiQuest.
2017: Paytm acquired Little & Nearbuy, and merged both.
June 2018: The Company acquired the startup Cube26 – to focus on user experience. It is a Flipkart funded startup.
Achievements
India Today magazine ranked him #18th in India's 50 most powerful people of 2017
GQ India named him among the 50 Most Influential Young Indians for 2017
The Exchange4media Group, Impact Person of the Year, 2016
Recognized as one of the most Innovative CEOs of 2014 by Inc. India (2015)
"CEO of the Year" by the SABRE Awards, 2015
Paytm Wallet gets the "Best Digital Wallet Award" at IAMAI' India Digital Awards (2015)
Recognized among Delhi/NCR's Top 50 Brands at a celebration by Paulwriter (2014)
One97 features in Inc. India Innovative100 list (2013)
'Most Innovative Start-up of the Year' at the Entrepreneur India event organized by Franchise India (2012)
Universal Thoughts:
Vijay Shekhar Sharma shares his secret behind being such a successful industrialist and a true magnate personality.
Here is a quick outline of what he believes regarding Entrepreneurship, Leadership and Enthusiasm.
No substitution. But Work Hard.
There is no substitute to hard work.
You need to work consistently to achieve something like never before.
Shortcuts often end up in a midway but your endeavour and real perspiration will take you to a newer and greater pinnacles.
Surround yourself with strong vibes of perseverance and persistence because hard work deceives none.
Don't shout for investments. Go Work for it.
Not everyone will believe in your dream.
In the beginning, no one will invest.
You need to trust your product and continue it with your own shoulders.
Don't wait for others to invest into it.
Plan, Organize and Implement. Its success and admiration will attract hefty investments automatically.
Presence of wisdom is must
Knowledge often comes with hard work and experience but wisdom always comes with correct observation.
In fact, it must be present within you all the time.
You will learn a ton but only its re-investment and correct execution will lead you long term funds and security.
Without wisdom nothing prosper and without hustle no one achieve.
Dive deep and not shallow
Whatever you go into, Go deep to the vast and give all of your best.
There's no secret sauce behind building castles – just an undying passion blended with some serious hard work will get you all fruits.
When you dive in depth, you always come out with glorious treasure in hand.
So get imbibe with the willingness to outlearn and outbound your ideas and business plans.
Today's rejection. Tomorrow's Success
Never get disappointed over your failure and rejection.
Because what's not good today can still become best in the later stage.
It all happens with some hidden reason.
Today's rejection may become your tomorrow's success.
In the end, disappointment will pull down your spirit and nothing will be achieved in return. Instead, pull up your socks to continue to improve yourself for something incredible and astonishing.
Conclusion:
We often fall on hard times, sometimes fall apart and sometimes end up strucking with the hills.
But the show must go on, the spirit must rise high just like our adrenaline junkie, Vijay Shekhar Sharma.
So our sturdy readers, amped up yourself with energetic vibes to listen to such an awe-inspiring story of our Paytm hero.
Stay tuned for some more surprising and inspirational story.