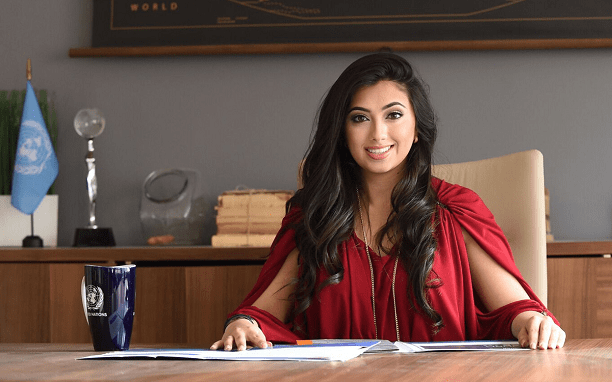 Now, I want to be a little bit in your face and ask a direct question, "If God forbid, you face 18 job rejections in the very early stage of your career, how would you react and behave?"
You will probably go nuts and start behaving in a crazy manner.
Many will lose all hope and develop suicidal tendencies.
This is not the case however with the most successful and revered entrepreneurs in the world and that's probably the reason they are at the top.
Believe it or not, it sounds as if they are made of a different metal altogether.
Here we are talking about Shama Hyder, a web and TV personality, an award-winning CEO and founder of The Marketing Zen Group. She is also an acclaimed keynote speaker.
Shama Hyder, International Keynote Speaker
The beginning of her entrepreneurial journey
One of the most successful young Indian American entrepreneurs, Shama Hyder was born on April 25, 1985 in Goa, India.
She is from an average middle class background, despite that she made in big in the US. It was largely because of her desire to do something big and an unwavering support she received from her parents.
She had strong faith in the potential of social media since the beginning. The quality education she received at University of Texas, in the US is also a major factor behind her early success.
Shama is an example of an inspiring immigrant success story. She built a tremendously successful business empire based on digital and social media consulting services. She launched her entrepreneurial journey from a humble initial investment.
It involved a lot of hard work as the multitalented girl from India became a best-selling author, a globally renowned public speaker and a prominent TV, media and Web personality.
Moving to the United States
Shama's family migrated to United States in 1994 and found another home in Dallas Texas, when she was barely 9 years old.
She graduated from University of Texas at Austin in 2003. She did her Masters in Organizational Communication and Technology in 2008.
In the University of Texas, she met Professor Dawna Ballard. In an interview with KVR Webtech, she admitted that Dawna was an influence in her life as she was the first influential person outside, who believed in the young prodigy and encouraged her to do something big.
Her struggle story
In an interview with Moe Abdou for 33 Voices, Shama admitted that she was also on a look out for a job, when she finished her graduation in 2007 as most of the university graduates would do in the United States.
Social media was like a hot cake back in 2007, as Twitter had just taken off and Facebook was the reigning social media. Excited by the stats and the number of users of those big social media platforms, she started looking for a job in consulting companies, because she also had a background in social media but she couldn't find even a single job.
In 2007, she appeared in about 18 interviews and she was rejected from all of them. It was a time when she saw the world slamming all the doors in her face, but she was not ready to give up on her passion in social media.
She needed something to crawl through to get out of this mess and eventually it dawned upon her that to keep her passion alive, she should start her own venture.
She strongly believed that there is future in social media and that was the tipping point that led to her entrepreneurial career in social media.
Shama TV – Market Like a Zen Master
Shama's contribution to social media marketing
Shama Hyder is also an author and a well-known digital marketing expert. She started her entrepreneurial career in 2009, when she founded Zen Media, which is now a global marketing and media company with 27 employees.
As a CEO of Zen Media and a keynote speaker, she has got worldwide recognition and popularity. It's largely because she has a unique approach towards digital and social marketing.
A leading influencer on LinkedIn
Recently in 2017, she was ranked as one of the top 10 influencers on LinkedIn.
She had started very young, when she was under 25. She was named as one of the top 25 entrepreneurs by BusinessWeek magazine back in 2009.
In 2015, the leading business magazine Forbes recognized her as the top 30 under 30 Movers and Shakers.
Forbes 30 under 30 Entrepreneur Shama Hyder CEO of Zen Media on Stories in Business Podcast.
Shama's revolutionary approach towards digital marketing
Very few people can actually afford to achieve such super success in their early thirties.
In 2009, when Shama launched Zen Media as a digital marketing and social media marketing company, social media and digital marketing were rather mysterious territories.
Most of the business owners were confused about the changes taking place on digital landscape. Very few people actually understood how to implement it correctly.
Shama is a dynamic leader and a visionary entrepreneur. It was her vision and passionate approach for digital marketing that led Zen Media to grow at an astonishing rate of 400% annually since its inception in 2009.
With an organizational strength of 27+ and clients including nonprofits and Fortune 500 companies to small business owners from across the world, Zen Media is a truly global organization.  .
Recognitions from White House and the UN
Shama Hyder was honored by the State Department and she was selected as the only woman delegate to mentor technology business owners in Asia and Middle East region following the White House initiatives to spread awareness about tech businesses worldwide.
United Nations honored her as the top 100 young entrepreneurs of United States.
Books, magazines and TV
Shama's first book The Zen of Social Media Marketing was published in 2010 and it became an international bestseller. The book has been reprinted many times in the following years.
In 2016, she published another book Momentum, andit was about branding in the digital age.
She is a featured author on the Forbes and Inc. magazines, where she is a columnist. She also runs a YouTube channel Shama TV that offers expert tips and advice on digital marketing strategies and new media technologies. It also throws light on the current business trends.
Mentor, investor, media and business personality
Shama hosts many television programs in Texas about digital marketing and social media marketing. She is a busy entrepreneurs and she keeps on attending several workshops both national and international, where she is invited as keynote speaker.
She offers tips on crucial business topics such as entrepreneurship, leadership, millennials, and technology etc.
She is regularly invited by fortune 500 companies such as Siemens, Bentley University, Cisco, HubSpot, and many others.
Shama is a media correspondent for Fox Business news channel. She is also a mentor and investor on Young Entrepreneur Council. Currently, she is a board member of Forbes Business Council.
Wealth and Net Worth
According to Forbes, in 2014, The Marketing Zen Group earned revenue of $2 million. Current figures about her net worth are not available, but her company has been assessed as a multimillion dollar enterprise.
Shama Hyder's Top 10 Tips on Entrepreneurship
Speaking to the Source of Insight, the CEO of The Marketing Zen Group –a full service web marketing firm, Shama Hyder offered her top 10 tips for the entrepreneurs.
1. Shed your fears, plan, research, take help from others and launch your venture.
2. Start as young as possible.
3. Leverage tech in a big way.
4. Think global, even if you are acting local.
5. Young or old, your age is an asset, young means energy and a promising future and old means a lot of experience.
6. Hire intelligent people, use your instinct while hiring, resume may lie about the potential of a person.
7. Always have a business lawyer by your side.
8. Listen and respond to your marketplace.
9. Invest in services, workforce and marketing.
10. Use creativity instead of money, especially when you are a startup.
Free resources for entrepreneurs
Go through the following podcasts:
A. Lessons on Business & Life from 'Zen Master of Marketing,' by ShamaHyder about digital entrepreneur.
Final words
Beyond her venture "the Marketing Zen Group", Shama is respected for her no nonsense advice for the digital age entrepreneurs.
She is remarkably brilliant and that's something that differentiates her from the rest.
She is regularly invited for the keynotes and conferences by some of the most prestigious organizations and MNCs.
Her books and keynotes are a treasure house of marketing advice that is both contextual and practical.
Her success proves that vision is always above experience.
Gain an edge over your competitors with our exclusive guest posting services. Our team connects you with industry-specific thought leaders, amplifying your brand message across diverse platforms. Improve your online visibility and watch your revenue skyrocket with our result-driven strategies.