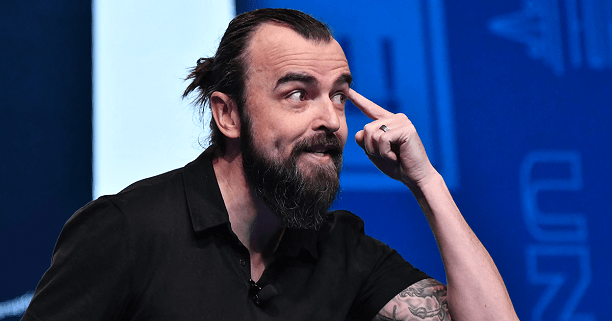 In our journey towards the most influential people online, I bring you the mirthful Scott Stratten.
He is different in the way he presents he's facts across. As he puts it, he let people unlearn the old and bad ways on how to conduct their brand on the Social Medias.
Ordinarily you would dismiss him as just another comedian. Not until you get to know that he once run a successful viral video agency in the world (UnAgency), and he has also written best sellers! Welcome.
Scott Stratten: Education and Interest
Scott went to Sheridan College where he studied Human Resource between 1994 and 1998.
He came back later to the College, as a professor, teaching Human Resource and Employment Law. (2002-2010).
Before that, just after college, he worked as a Human Resource Consultant at Goodwill Industries of Toronto a position he took for two years then moved to Polyair as a National Sales Training Manager.
He took about a year and eight months before moving on to be a tutor at Sheridan College. He spends almost a decade teaching, until he made up his mind and started his company UnMarketing Inc.
He is currently the President of UnMarketing.
Scott Stratten Keynote Speaker Trailer
Rewards & Attainments
Scott has his videos watched sixty million times.
He has also appeared in the Wall Street Journal, Huffington Post, Forbes and Entrepreneur Magazine among many other top online publications.
He was named Top Ten American Marketing Gurus by Business Review USA.
His UnPodcast was signed up by CBS network as their major business podcast to start their new digital network.
Another accomplishment for Scott is that he has co-authored best-selling business books with Alison Stratten, the latest in line being UnSelling: The New Customer Experience .
The book was named Sales book of the year.
Scott was also named Forbes Top 50 Social Media Power Influencers in 2013.
Scott the Keynote Speaker
As a speaker, Scott has come in handy in assisting his audience cope with this age of disturbance.
Though a recent inductee into the stardom of the keynote speaker, Scott is a bestselling author of five books and has had taste of marketing and training.
He speaks in events for companies which range from 3M, Wal-Mart, Microsoft, Cirque Du Soleil and Deloitte amongst many others.
Scott is one guy who keynotes an event passionately, knowledgably, and as always, full of drama. He bridges the gap between virtual and reality.
He is known to have his audience laughing, but also, reasoning, and doing. He currently does nothing, except conference keynote.
A senior Director of Hardrock International once said that Scott illuminated and amused a bored group on the changes the social media landscape has brought with thoughtful and mirthful examples of branding initiatives.
This was after his keynote speech for the company.
Scott Stratten the Blogger
Apart from being a keynote speaker, sometimes Scott blogs, and when he does, he looks critically at the marketing mistakes made by companies.
For example, from one of his blogs on The National Speakers Bureau, he plainly pointed out the suspicious app review by a Canadian company.
It came out clearly that the employees of the firm actually reviewed the app themselves.
From his views, he saw no reason why the company does not want negative reviews, while it was clear that they could use them to make their product better.
This was a big mistake done by many companies who only focus on 5 star reviews, thinking that they would result into many sales, instead of getting the 1 or 2 stars that would help make their product better.
He clearly speaks against self made review. As a blogger, Scott doesn't mince his words. He calls a spade a spade.
Full UnMarketing Keynote
What Social Media/ Online marketing skills can we get from Scott Stratten?
Never ever automate your brand page on social media, keep your followers/fans engaged. He calls such automation, is like taking a mannequin for marketing gig.
A small change on a video can determine whether it would go viral or not. He had one of his watched over 13,000,000 times on Facebook.
Timing is very essential when tweeting. Avoid automated tweets for they can hit clients in bad times like disasters etc.
Checking out your facts before shelling them out is a must.
People talk about unnecessary thing on Twitter; however, it can be an excellent platform to vent out your brand if you do it well.
Avoid exaggeration of size and numbers on Social Media; you might end up losing instead.
Avoid under pricing just to look appealing, when indeed you may end up making a big loss.
Avoid words like "sign in for a free newsletter" on your website.. They are enticing at all. Instead you can use phrases like: "Sign-up for product updates and exclusive announcements" or "Sign-up for weekly tips on how to save your business money."
Respect your readers. Don't email them unless you have something important to tell them. Avoid automated e-mails. Be as natural as possible.
When someone Tweets about your brand and mentions you, ensure that you become part of the conversation. Don't ignore them.
Stop trying to piggyback off holidays and celebrations by making it about you.
When giving a review, stick to the facts, versus smearing the company.
No need of being on Google+ if you are already on the other Social Medias. Scott finds it an effort in futility, according to him; you'll still be circling the same people you have on the other platforms.
The best time not to send an email is when everyone tells you. You need to work on your brand first. You will also need to test the same email over different time.
Keep note that nobody joins the Social Media to be sold to. Instead, they buy from people they know and trust. Be nice and help people, then, Social media will be an awesome place for branding.
Always get to know the ROI of any action or activity in your company. Whether it's meeting, buying furniture for the office etc.
Want to be a Keynote Speaker like Scott? Here are a few tips
He emphasizes the importance of being an expert not a speaker. People are interested in someone who really knows their stuff.
Make sure that you speak, don't read the slides.
Ensure that you deliver your content effectively, aim to be great on the stage.
Make your audience have something new from you every time you speak. Don't talk too much about yourself.
Switch off your phone before speaking, and, get used to the idea that someone else phone will go off during the speaking session.
The session is not about you, but, about your audience.
Take note that you know your stuff so well that you don't need to use any slide during Q&A.
Don't make apologies to the audience about something that you needed to have but you don't. Just carry on.
Be passionate with your topic.
Be early and stay late. Get to know your audience well.
Record everything you say, have it on your blog, you will learn more when you watch your own videos.
Tell your audience great stories mixed with humor.
Gain an edge over your competitors with our exclusive guest posting services. Our team connects you with industry-specific thought leaders, amplifying your brand message across diverse platforms. Improve your online visibility and watch your revenue skyrocket with our result-driven strategies.