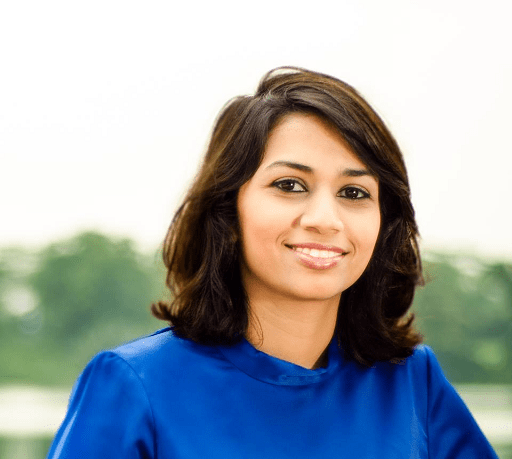 Meera Kothand is an email marketing strategist and Amazon's bestselling author.
She considers herself as an accidental entrepreneur.
Her Journey is really inspiring from crashing her own site (and not getting a single customer) to an email marketing and blogging influencer.
She has been featured on Smart Blogger, Marketing Profs, YFS, Addicted 2 Success and several other sites.
Her specialty: simplifying marketing strategy with no-fluff, direct and actionable advice with a smattering of tough love.
Her work helped thousands of bloggers and marketers.
Let's read the story of this accidental entrepreneur.
Who's Meera? Read Her Own Words
I was never the kid at the lemonade stand.
I was never one of those people who said that they always knew they wanted to be an entrepreneur.
No one in my family owns a business.
You went to college and got a job. That was the norm.
I never had an entrepreneurial bone in my body.
So naturally, I had loads of self doubt when I started.
Should I bother?
Am I wasting my time? Is it worth it?
Would people think my writing's lame.
It was and still is a process getting over my assumptions and limiting beliefs.
But there are a couple of things that I did right from the start and this has helped me to this day.
Being very clear about what my brand was about
Nurturing an email list from Day 1.
Being budget conscious but willing to invest in education and tools appropriate for my stage of growth.
Thinking of systems from the start
A focus on these things helped me grow an audience and attract new audiences via word of mouth.
At the same time it allowed me to stay focused and now fall prey to distraction and shiny object syndrome.
I gave a lot of importance to systems even before I fully comprehended what they were about. That has helped me tremendously as well.
I don't necessarily feel like I've reached a certain level of success. Yes, I've surpassed my expectations of what I originally thought possible but I'm not moving toward a destination.
I'm fascinated by online marketing and I want to try new strategies and tools….to see how they work and if they didn't why or why now.
So growth and success is more of a journey and this mindset makes me show up everyday.
How To Grow Your Email List
Books Written By Meera
The One Hour Content Plan: The Solopreneur's Guide to a Year's Worth of Blog Post Ideas in 60 Minutes and Creating Content That Hooks and Sells
But I'm Not An Expert!: Go from newbie to expert and radically skyrocket your influence without feeling like a fraud
Your First 100: How to Get Your First 100 Repeat Customers (and Loyal, Raving Fans) Buying Your Digital Products Without Sleazy Marketing or Selling Your Soul
CREATE Blog and Editorial Planner: Create Exceptional Content, Get More Done and Smash Through Your Blogging Goals
What Her Readers Are Saying
"Meera's content is one of the best in the blogging & digital marketing industry – the amount of useful information she gives is remarkable. I also love how authentic and helpful she is." – — Raelyn Tan
"Email marketing can be so confusing for online entrepreneurs. Meera Kothand makes it easy."- Isabelle
"The first time I came across her site I literally read EVERY post all in one sitting – and they're all crazy in depth posts – but it didn't matter because I was hooked! She knows marketing is about the people as much as it is the product." – — Yuri Gibson
Meera's Email Marketing and Blogging Tips
Here are some golden tips from Meera:
Start your email list immediately
When should I start my email list?
Are you still thinking it?
She strongly suggests you to start your list from the day one your blog or site goes live.
If you have already launched your blog and haven't started building email list.
Start it IMMEDIATELY.
Email list is something you own.
It's an asset.
Email helps you to build a pattern of trust with your readers. Once you build trust with your subscribers, they are more likely to buy from you.
Republish your content
Do you think that Google will hate if you republish your content?
Republishing means duplicacy and it will hurt SEO?
There's nothing bad to republish your content on Medium and other popular sites which have a larger audience base.
You just have to do make some changes: Tweak the title and add new images – And you're good to go.
Always send a welcome email to new subscribers
Every website owner or blogger must send welcome email or welcome series (series of 3-4 emails) when someone first joins your email list.
This is the most overlooked aspect of email marketing.
A welcome email simply means 'roll out the red carpet' for your subscribers when they first sign up.
Your writing should make an impact
As a blogger or writer, always think what you can bring to the table.
What value you can provide to your readers and your every blog post should make an impact, Show your unique voice to the world and you can do it by writing every day.
Insider Tips from Meera's Newsletters (You won't find anywhere)
Be clear about how you're using content
How do I get enough content for my blog as well as email?
If you're having this on your mind, it likely means you don't have a proper content strategy in place.
What is each content channel for?
We've all come across the word funnel right?
There's a top, middle and end of the funnel.
The reason a funnel tapers or narrows at the end is because only a fraction of your email list will become buyers at any one point in time.
Your content moves people further down the funnel. But every stage of your funnel has a goal.
The top attracts readers and entices them to become subscribers.
The middle is where you nurture subscribers to become buyers.
This is where email plays a crucial role.
Squash the temptation to move on to the 'next thing'
People shelving perfectly good products because they were disappointed with sales…or they were bored with it…or they think no one wanted it.
You're not building a product. You're building a marketing asset….something that's going to be a part of your brand.
Sales is always a symptom of some other problem.
Is the message of your product confusing?
Do you need to reframe the problem?
Any product needs a few iterations before you get the messaging correct. So don't shelve it without giving it a chance.
Write your mission statement
What do you want for your readers?
What impact or change do you want to bring for their life?
Every single content and product on your website should work at fulfilling your core message.
Think of it like an assembly line in a factory.
Your content, products, messages cumulate and work their way towards bringing your customer or reader to that desired change or outcome at the end of the assembly line.
Fun Facts About Meera
Meera used to write fiction and actually won first prize in an international writing contest. She said that she can't imagine to write fiction again.
She has always been the nerd who sits in the first row in class.
She love coffee with milk and milk chocolates.
She lives in Singapore with her husband, daughter, and parents.