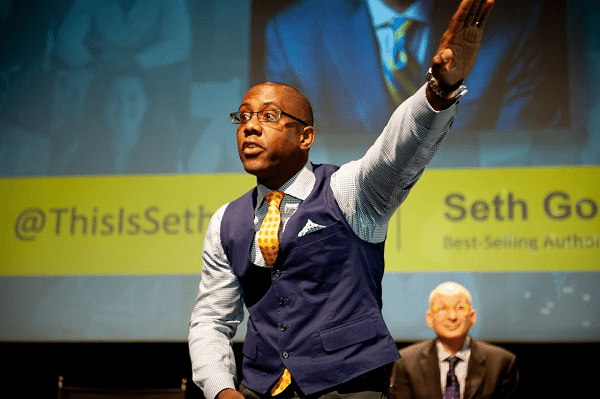 To encourage and give you some words to keep you moving despite facing challenges in entrepreneurship, I have the story of Ramon Ray.
Ramon Ray is the editor of the popular smallbiztechnology.com and also the editor and founder of Smart Hustle Magazine.
This talented journalist and technology evangelist is the author of Technology Solutions for Growing Businesses.
He has written other books including Facebook Guide to Small Business Marketing and it is one of the best sellers in Amazon.com.
Ramon has had the honour to speak to many audiences including the White House.
He is invited by the Office of the President of the United States to speak to the Congress as an expert.
This led to numerous events such as "Small Business Technology Tour," "Smart Hustle Small Business Conference," Small Biz Big Things" and "Small Business Summit."
Ramon has brushed shoulders many respected celebrity entrepreneurs, but his connection with the main street remain contact.
He likes to interview small entrepreneurs and business owners and share their stories.
Some of the prominent people he has worked closely with and even shared a stage with them include Guy Kawasaki, Daymond John, Seth Godin, Gary Vaynerchuk, and Simon Sinek.
Ramon interviewed President through Google Hangout, the first interview of its kind for the President. Besides, he also interviewed many sharks though Shark Tank.
Facebook Marketing Tips For Small Business with Ramon Ray
Early Life
Ramon Ray started four companies but later sold one. He studied at the New York Institute of Technology.
He is a journalist and a talented speaker whose meetings are full of laughter.
Ramon was not born rich, he created business and it was he sold the third one that made millions that catapulted him financially. He loves technology and calls himself a technology evangelist.
Having owned four companies, he is an experienced entrepreneur who knows the struggles and challenges of becoming successful.
In his ever full conferences, he communicates insights that work for his audience regardless of their location around the world.
This entrepreneur and the speaker know how to connect with his audience at a personal level and many people have testimonies how opened their eyes and they were able to take their business to another level.
Ramon used to be a technology consultant and has first hand experience with different technologies including mobile computing, online software, computer networks and social media among others.
He is an expert in technology, sales and marketing. He has excelled in business growth, networking and personal branding.
Over the years, he has written informative articles, which are more than a thousand. Besides, he has spoken to big audiences and thousands of entrepreneurs.
His proven tactics and advice has impacted thousands of upcoming and small business owners.
Today, he specializes in sharing his wealth of knowledge and is always to attend events when invited.
Awards & Accomplishments
Ramon Ray and Anita Campbell are the founders of the Small Business Influencers Awards.
The program is meant to recognize those leading in the small business world.
It is a way to appreciate their support and contributions in news outlets, apps, leaders, media and experts.
Ramon the entrepreneur
Ramon Ray is a technology evangelist, but according to him he just started small.
He worked hard to give the best and then people started coming to him for advice and he turned to a technology evangelist.
When giving out his advice to entrepreneurs he knows that business is different depending on the location of the investor.
He believes technology can take a business to another level, if only investors are willing to try it.
Apart from increasing sales, they should take advantage of online payment methods.
Ramon's favourite technology tools for running a small business are the Batchbook and Google products.
With online applications such as Carbonite and Dropbox, Ramon says he can easily manage his virtual team and run his business smoothly.
Ramon Ray talks about growing your business on Business Circle
Ramon Ray the speaker
Ramon is a professional speaker who knows how to present an inspiring message to his audience.
He helps investors and professionals to elevate their brands and crush their competitors, which in turn boosts their revenues and enhances their overall growth.
Ramon shares how he grew from the nothing to become a highly sought-after celebrity.
By sharing his experience step by step, other investors can see where they make mistakes thus helping them improve.
According to Ramon, branding is being different from others and finding a way to sizzle and pop and stop chasing deals and just wait for them to come looking for you.
He has expertise in personal branding, and he speaks so well sharing practically with his audience and guides them on how to create their brands.
One of Ramon's unforgettable talks is how he guides business owners to date leads and marry customers. It's all about sales; most people want to sell more, but they forget to keep the ones they already have.
It is important to nurture relationships with potential customers and to make sure they buy from you again, not just once.
Ramon, the speaker, also insists on the importance of using social media.  All the platforms such as Instagram, Facebook and Twitter can help build a brand and generate sales.
Why Ramon is a Top Global Influencer
Ramon Ray is one of the most recognized top global influencers. His efforts are mostly seen through is his books, speaking tours, informative videos and Smart Hustle magazine.
He also has other small ventures that are all business focused meant to help small business owners and other professionals interested in investments.
Ramon Ray Is a Great Marketer
Ramon Ray has rich experience in marketing and his book titled "The Facebook Guide to Small Business Marketing?" he believes most people do not understand marketing and that's why they do not get much from the biggest social media platforms.
He researched and studied social networks such as Facebook, Twitter, LinkedIn, and GooglePlus. Whereas most small businesses use Facebook, Google Adwords is another marketing tool they should use according to Ramon.
Ramon Ray: 3 secrets to conquering selling
Ramon's Advice for the Young People Who Want to Succeed
Ramon has been working with young people for years. He has volunteered as a teacher; his tips for those who want to succeed are:
Having a Good Character and Attitude
Everyone knows a smile and a warm welcome are essential, but they do not seem to realize that it's imperative.
Mostly, a young person is judged by his or her physical look, so start with the first impression.
Smile and have a positive attitude.
Be honest and always do the right thing; also help those who a bit far down than you.
Opportunities will come to you in the future just because you helped someone.
Hard Work Is Important
If you are willing to work hard and leave your comfort zone to extra work, you win.
You will get some positive results eventually. If anyone shows up when you are working, let them know you need time to finish work before you talk and have some fun.
Avoid calls that are no important; you can call later.
Hard work is an excellent trait that people frown at and will give you names such as workaholics, but as long as one knows when it's time to take a rest.
Every successful person with money and wealth took the time to work hard to reach where they are.
Learn New Skills
You can go back to school or learn a new skill online.
Keep learning new things, and you will always have something to help you make money. Make sure you learn how to do something like a pro not just learning theoretically.
There are great videos where one can learn things like video editing, fixing cars and much more.
You can learn to do things you love and make some money.
Ramon loves sharing his knowledge with other people.
He says that most people will commute daily to work and spend about eight hours doing a job they hate wholeheartedly.
Here are some of the tips he gives and calls them core fundamentals that can lead to success:
Keep reading and learning
Experiment with different things that you love and enjoy doing
Ask questions where you are not sure
Ask for help if you need to
Be honest and avoid breaking the law
Volunteer
Eat healthy, exercise and keep fit
Learn about multitasking and know what to prioritize
Make new friends and learn things
Budget, save and avoid getting into debts
Be nice to people as much as you can; no need to be a jerk
Always start your day early in the morning