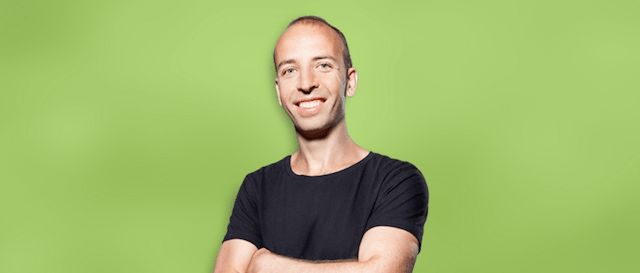 While searching for proven and actionable SEO advice on the Internet, you might have stumbled across Backlinko.
Backlinko is among the most reputed and authentic websites that provide effective tips about SEO and that is probably why marketers from fortune 500 companies such as Pepsico, Amazon, Samsung and Apple subscribe to Backlinko's newsletter.
Brian Dean is the founder of Backlinko, a website which always comes on the first page of Google, when you type any keyword related to backlinks or SEO in the search field. It makes Brian Dean an authority in the field of SEO.
However, just like other successful entrepreneurs, Brian Dean didn't get success in one shot. He has had his fair share of failures before he tasted his first success.
He is a strong advocate of ethical SEO practices and hates black-hat strategies.
Nomadic lifestyle   
He doesn't stay at one place and live the life of a digital nomad. He has lived in many countries such as Cambodia, Thailand, Japan, Spain, and Turkey. Currently, he is living in Germany.
He is also an extremely popular blogger at Backlinko. In an interview, he disclosed that it had been a long journey before he ultimately acquired near leadership tag in the field of SEO.
Career story
Brian Dean wasn't in the field of SEO from the beginning. In 2010, Brian Dean was working as a freelance writer and living in Phnom Penh, Cambodia.
He was also promoting a few websites and working hard to bring them on top of search engine result pages.
In the meantime, his major client, who used to offer him writing assignments, suddenly laid him off. He fired other writers as well. His site was probably hit by Google Panda Algorithm update.
As a result of the layoff, Dean's income dropped from $6, 000 per month to just $500. He then decided to launch an SEO agency in Cambodia. Luck smiled on him and he got two clients within a matter of days.
At present, he doesn't do any freelancing or SEO. However, he is majorly occupied with offering consulting services to many clients. He also keeps himself busy with promoting his authority site and Backlinko.
From Ph.D. Candidate To SEO Guru: Brian Dean Of Backlinko Reveals How He Achieved SEO Success
Challenges of working as a digital nomad
Dean feels awesome working as a digital nomad, but he admits that it can be tough and there can be some major downsides to his nomadic lifestyle.
You might frequently face the Internet connectivity issues even though Internet has reached almost every place on the planet.
At other times, you may also face difficulty in finding a quiet place to work. As he works without a team, often he has to bear the responsibility of everything that goes wrong.
But the rewards of working solo outweigh the downsides and so he wants to remain a digital nomad, even though he is an established entrepreneur now.
Expertise in SEO
As far as expertise in his field is concerned even the most professional marketers and seasoned professionals turn to him to get proven SEO advice.
According to INC magazine, Dean is an expert SEO professional, who knows what he is preaching because he lives it in real life and tests it every day.
Education and work history
Dean didn't plan to become an SEO professional. He graduated from the University of Rhode Island with a degree in nutrition and his master's degree from Tufts in the same subject.
He was planning to make a career in academics and work as a professor. So, he applied for a PhD program from Purdue, but he didn't enjoy that and decided to discontinue his studies.
He wanted to do work as a dietitian, but in 2008-09, the economy was badly hit by the biggest recession of the century.
He got the inspiration to become an entrepreneur from the book "The 4-Hour Work Week" by Tim Ferriss.
Tim Ferriss's book motivated him to create his own information products and he decided to start it with an ebook.
Dean also grabbed a full-time job as a dietitian, but it was interfering with his ebook business. So, he decided to leverage Elance, which is a platform to hire freelancers, and started hiring content writers.
But, he wasn't happy with the quality delivered by those writers and then he decided to write for the clients on Elance.
This was the beginning of his career in writing and SEO. He was still far from a "4-hour work week" but he successfully managed to pay for his bills.
It was difficult to manage multiple clients at Elance, so he stopped working at the platform and decided to focus solely on writing for Livestrong, one of his major clients.
At that time, niche websites were a major trend and he created content for around 150 such websites. These were one page websites and it was the tipping point, when his interest started growing in SEO.
These niche websites were used to divert traffic to some other websites, acted as affiliate sites or generated revenue from Google AdSense.
Lots of blackhat strategies were in fashion those days and people used spamming to create backlinks along with highly keyword-stuffed content to rank on top.
At that time, even the people who didn't like blackhat strategies such as Brian Dean were affected by a major Google algorithm update known as Panda. It targeted spammers and black-hat SEO.
Later on, he realized that his sites were penalized not because of spamming, but because of his choice of sites.  He chose a lot of crappy sites, which offered no value to the visitor.
He learnt a lot from his Google Panda experience and decided to enter the world of SEO. He launched his own agency. He also launched Backlinko as a blog site to support his agency in 2013.
Backlinko currently attracts some 2, 60, 000 wizards visits and 50% of this traffic are return visitors.
Dean's advice for entrepreneurs who fail
According to Dean, failure is quite common among successful entrepreneurs. He admits that he also failed many times and it got worse because he decided to get back on track again without questioning his choice of the project.
So he advises young entrepreneurs to sit down after every failure and introspect as to why they failed. If you honestly question yourself as to why you failed, you will find success quicker and faster.
Dean's Best Advice for Content Writers
Formatting is an important element of writing that differentiates between content that gets most eyeballs from the content that go unnoticed. This is also very important for SEO.
Your content should be easy to read and understand. It should be visually appealing as well.
Here are Dean's top three tips to make your content outshine your competition.
Write short introductions. Keep your introductions extremely short. Don't begin with a story, people may find it boring in the beginning. Just tell them in brief what you are going to discuss in your article.
1-2 sentence paragraphs. There is a noticeable difference between print version formatting vs. the web content formatting. On the web, people loveone-sentence paragraphs. The readability of your content will likely hit the roof, if you follow this principle.

Bucket brigades. There are some phrases that generate the interest of the reader. For example, when you write 'here's the hack that will save you hundreds of dollars,' the reader gets super excited to read further. Use bucket brigades sparingly in your long form articles.