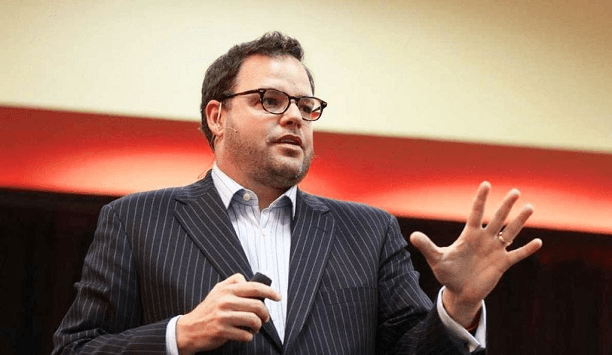 We've all heard about this phrase that says, 'If you love what you do, you will never have to work a day in your life.'
This saying is often related to the era of Confucius and Mark Twain, where it originally came from.
But the question is, have you seen a real-life example of this phrase?
A person, who is irrevocable in love with what he does and has accomplished a million things in this lifetime.
Curious to know who the person is?
We're talking about New York Times bestselling author of six books and one of the most popular digital marketers in the world, Jay Baer.
Jay Baer is a business strategist most famously known for his social media marketing tips and his blog Convince and Convert.
He has worked with more than 700 companies in the world and helped them find their way in the market through best digital practices.
An insight into his early life:
Jay Baer was born in an ordinary family in the year 1969 in Lincoln, Nebraska.
He grew up in Arizona and graduated from the University of Arizona with a major degree in political science and minors in communication.
A bright student at school:
Even though Jay pursued his education in Political science, he was always eager to write and explore content on the Internet.
Throughout his time at the University of Arizona, Jay was one of the brightest students.
He also received the prestigious Flinn scholar award that was only given to the top 20 high school senior students annually.
A desire to do more:
Jay officially began his move into digital marketing in the year 1994, before which he was working as a political consultant and brand marketer.
In-spite of his good going life and a job that paid off well, Jay wanted to help people and innovate in the field of marketing.
Talk Triggers Jay Baer Full Length Keynote Speaker – Word of Mouth – Customer Experience
First breakthrough email campaign:
However, the turning point in Jay's life was when Senator John McCain ran for the position of President in 2000 his email campaign, which was run by Jay Baer became an instant hit due to its interactive nature.
This was one of the earliest time, where Internet could impact politics.
And that's when Jay Baer realized that he should advance in the field of marketing.
Therefore, in 1994, Jay got his first job in marketing as the Vice president of Internet Direct, which was Arizona's first Internet Service provider.
Finding its first venture:
After Internet Direct, Jay moved onto co-finding his first venture azfamily.com, which was a local content website.
His website soon became one of the world's second largest content website.
Gradually, Jay Baer made his grip strong in the field of marketing by working across different companies and finding ventures of his own.
In 2000, he worked at Visitalk.com, a VOIP video calling service and also started a new venture Mighty Interactive, a digital agency.
The beginning of a multi-million dollar company:
Finally, in 2008 he founded his one of most successful marketing consultancy firms, Convince and Convert.
The company has helped more than 700 businesses across the globe in excelling through best practices.
Over the years, Jay has helped various companies establish their feet in the market and reach out to their customers like nobody else.
His passion for his work and longing desire to write more and more has pushed him to become the man that he is today.
The journey till today:
Today, Jay Baer is an active venture capitalist, investor and advisor to nearly 25 early stage technology and social media companies.
He is a successful author to 6 best selling books and founder to 5 multi-million dollar businesses.
When asked about what he loves the most about marketing, Jay says that he loves people and their stories.
And marketing done well, is ultimately a long term relationship with the customer.
"Believing that volume equals success. Constantly shifting best practices and required skill sets. Sub-optimal project management capabilities. Fear of delegation. These are some of the biggest obstacles keeping marketers from doing their best work." – Jay Baer
Awards and Recognitions:
Jay Baer has various awards and accolades credited to his name through his hard work over the 25 glorious years of his marketing career.
He's the most retweeted digital marketer in the world and second among B2B marketers.
The list of Jay's recognitions is endless. Some of these include:
One of the 200 living members of the Professional Speaking Hall of Fame.
Certified speaking professional by the National Speakers Association for the year 2016
Amazon's Best Seller Author in the year 2016 for his book Hug your haters.
3rd on the New York Times Best Selling author list in 2013.
Apart from these hard earned recognition, Jay Baer has also been a renowned advisor to nearly 700 companies since the year 1994.
These companies include Caterpillar, Nike along with 32 of the top FORTUNE 500 companies.
Jay's interest in presentations and addressing live audiences through motivational and thought provoking speeches has also helped him earn the title of Best Marketing Podcast in the year 2015.
His valuable works have also received mentions in International Media and renowned magazines.
Jay Baer Hug Your Haters – Full Presentation
Let's have a look at Jay Baer's life changing publications:
Best Publications:
1) Hug Your Haters: How to Embrace Complaints and Keep Your Customers
It is one of the earliest works by Jay and the first modern take on improving customer service for business.
It is based on the realities of improving customer expectations in today's times rather than five or ten years ago.
This book also ranked among the top three business books of the year 2016 by Strategy: Business Magazine.
2) The Now Revolution: 7 Shifts to Make Your Business Faster, Smarter, and More Social
It was Published under Wiley publications in the year 2011 and talks about the customer's demands from companies in real-time and with authenticity.
3) Youtility: Why Smart Marketing Is about Help Not Hype
Jay Baer's publication of 2013 was one of the New York time's best selling books.
It focused on the power of helpful marketing. It was also a number one on the Amazon Best seller list.
4) Talk Triggers: The Complete Guide to Creating Customer with Word of Mouth
This is Jay Baer's latest books and is a detailed guide to creating customers using strategic and operational differentiators that induce and compel work of mouth marketing.
The book is a manual for assisting the growth of businesses through customer conversation.
Jay addresses the audience across the world more than 60 times in a year.
His blog Convince and Convert has also been named as the world's #1 blog by the credible Content Marketing Institute.
Apart from these, Jay has also been featured and is till being mentioned in various articles and contributions in popular magazines such as Forbes, Entrepreneur.com etc.
Where can you learn from Jay Baer?
You can learn and grow your content, social media, word of mouth, email and online reputation through Jae Baer's consultancy.
He keeps on writing new posts on his blog where you can read and learn about the best practices of marketing.
His methodologies and consultation promises to double the digital for anyone.
You can avail his consultancy and training at Convince and Convert.
To refer to his latest posts, you can go to his blog jaybaer.com.
Top 5 tips from Jay Baer on Creating Customers that will last a  lifetime:
Jay Baer has helped more than a couple of companies in the past year to achieve complete success and customer satisfaction through smart practices social media tips and hacks.
His goal is to assist companies in creating more customers through their existing customers and authentically handling their expectations.
1) Discover the needs of your customer: Understanding the personas of your buyer, is one of the critical factors in maintaining a long term relationship with them. Find out the information about buyer personas using various research tools, social surveys, interviews, web analytics etc.
This practice will help you from niche content or product for them, that is specifically designed to fit their needs.
2) Map the needs of your customer to potential programs run by you: Buyer personas may help in understanding the needs and demands of the customers, but until you take action over them, you can't capture your potential customers.
Run social media campaigns, programs, video series, ebooks etc. addressing a particular buyer challenge or problem. Jay highlights that when you do so, try to relate your product or services around them. It is one of the crucial concepts of marketing.
3) Market the marketing:
Do you treat information casually? Suppose your customer sends you an email of appreciation.
Now all you do is accept it and thank them.
That's it? Well!
Jay Baer suggests businesses market the marketing.
Use social media platforms to market your client's content first, and then their products.
In other words, treat content like any product or service that you market for your business.
4) Respond to negative comments:
Jay Baer has often noticed that most companies that receive flak on social media through negative comments etc. choose not to respond to them.
And this is where all their customer service efforts turn to vain.
Jay recommends businesses to respond to comments, especially negative ones. This will impart a feeling that you value and care about the concerns of your customer.
Being unresponsive to criticism on social platforms puts your brand and especially your customer service in the negative light and wrong impression.
5) Embrace criticism and grow:
Praise might out your chest out upfront, but it seldom teaches you anything.
You already know the key areas where you and your business are excelling. However, criticism is the only way of knowing where you can become better and improve.
Jay asks people to take criticism constructively and build a culture of helpfulness into your company. Use the bottom up approach from your employees to CEO so that everyone can be of some help to the customers.
Final words
Jay's journey to become the most successful marketer is an inspiration to all who aim of achieving significant through writing.
Today, Jay is the author of six best selling business books and also the founder of 5 multi-million dollar companies.
He helps brands improve various aspects of marketing that include social media marketing, email marketing, word of mouth marketing along with content marketing.
His most successful venture is his consultancy Convince and Convert that has helped world's most iconic brands such as the United Nations, Oracle, 3M, Cisco, Nike, Hilton, Caterpillar etc. find their feet in the market.
Jay is a living example of a self-made marketer, who has made it all possible through his hard work and perseverance all these years.
Does Jay Baer's journey inspire you? Or is there someone else helping you get your hands on in marketing?
Let us know in the comments below.
Discover the art of strategic guest posting through our bespoke solutions. We customize outreach campaigns, ensuring your content reaches the right audience. Witness a surge in organic leads and earn valuable backlinks from authoritative domains.