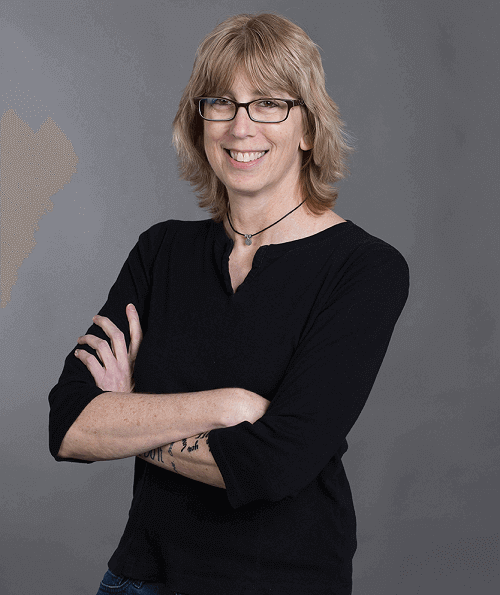 Although Madalyn Sklar has been described as the Leading Twitter marketing expert, she is also a community builder and serial entrepreneur.
Madalyn Sklar has been in digital marketing for over 26 years and 17 of those have been spent as a social media marketing expert; it is no small wonder that she is ranked as the #1 Social Media Power Influencer in Houston.
Madalyn, on a weekly basis, hosts the #TwitterSmarter chat on Twitter, which pulls together people in an hour-long discussion about marketing on Twitter.
She launched this chat over seven years ago, and it has gained over 15 billion impressions.
Apart from that chat, Madalyn also hosts a weekly audio room on Twitter Spaces, known as "All Things Audio."
She also has a couple of podcasts. In one, the TwitterSmarter Podcast, she interviews other social media and digital marketing experts, and in the other, "All Things Audio", she co-hosts Suze Cooper to talk about a wide range of social media topics.
Madalyn Sklar has been honored as one of 50 Women Entrepreneurs to follow, by the Huffington Post.
Madalyn says that she has one major passion in life, which is to teach people how to become rock stars on social media, especially on Twitter.
She inspires them to "Just Do It" and take action.
She believes the way to achieve this status is to develop strategies that work.
Her Motto is "Work Smarter Not Harder." She lives by her motto and teaches it to others every single day.
How to Use Twitter Threads
Madalyn Sklar – A Career in Music and Twitter
You couldn't tell it if you saw her, apart from the fact that she sports quite an amazing array of tattoos, but Madalyn Sklar has been very vibrant in the "Indie" Music Industry, as well as on Twitter, and other social media networks.
Let us take a look at how Madalyn built up her amazing career.
Orbit Web Design
In her first stint as an entrepreneur, Madalyn Sklar started out as a web designer and crafted the company, Orbit Web design.
She worked in this capacity from 1996 to 2006.
In the Houston area, Madalyn is known as the first web developer. She started off with her trusty laptop, did her programming using Notepad, and grew a profitable business from the bottom up.
After being in the web design industry for 11 years, juggling it with her passion for the music industry, she made the decision to close down the web design business, and concentrate on coaching in the music industry, as well as in social media marketing, on a full-time basis.
Madalyn Sklar started GoGirlsMusic, a company that promoted "Indie" music for women musicians, and ran it successfully for 6 years and three months before it closed its virtual doors in 2017.
The community is still vibrant on social media, although Madalyn is not actively involved in it.
GoGirlsMusic was a unique organization that focused on promoting the careers of independent female artists.
The organization worked unstintingly to help female artists through education, social media, and other events, aimed at empowering them in the genre.
Artists who joined the community had the opportunity to perform, have others review their work, and get involved with other hardworking women who "get things done" in the music industry.
In addition to running the virtual community on their website, Madalyn started the ggchat conversation on Twitter.
It is the oldest and largest Twitter chat for musicians. For 6 years, artists and other music professionals would chat on Twitter about new and exciting ideas that helped enrich this music community.
The chat used to run every Thursday from 3 PM to 9 PM Eastern Time.
Madalyn says that those were days that she will always treasure.
From 2014 to the present day, Madalyn Sklar has been a Hootsuite Ambassador for Hootsuite Media Inc.
Her roles include:
Advocating on behalf of the Hootsuite brad
Providing feedback on the Hootsuite dashboard and regional insight
Amplifying messages from Hootsuite to their existing networks
Creating a powerful presence for Hootsuite within the region through taking part in online advocacy and other events.
Read Also – Rachel Pedersen – From Living on Welfare to Becoming a 7-Figure Entrepreneur
In March 2022, Madalyn Sklar was engaged on a contract basis by Social Media Pulse to serve on the Social Media Advisory Board.
As part of this board, she takes part in the decision-making processes concerned with the development and growth of the Social Media Pulse community.
She helps review Twitter training, and content, and supports the team in crafting high-quality training sessions.
In the long run, Madalyn Sklar decided to start a company in her name. she is still going strong, and offers courses, hosts her podcasts, and organizes her speaking engagements from the site.
Read Also – Mari Smith: Life and Times of the Acclaimed "Queen of Facebook"
Let us look at some of the main features of her business, which has ballooned to become one of the leading social media consultancies in the world today.
This is a free course offered by Madalyn Sklar, where she teaches people how to succeed on Twitter.
As a Twitter Marketing Expert, Madalyn spends plenty of time, on a daily basis, engaging and sharing with her community on Twitter. The platform is the top social media site that she uses to connect with her networks of small business owners, entrepreneurs, big brands, and all who fall in between.
Madalyn has discovered a number of strategies and tactics that work.
She has put them all in a course, which she has aptly branded #TwitterSmarter "Secret sauce"
The methods described in the course have helped her organically grow her Twitter account to more than 100,000 followers, and interact with thousands of people every week.
The course is perfect for people who are just starting using Twitter, as well as those at the intermediate level who want to kick their Twitter experience up a few notches.
The course covers the following:
How to boost your Twitter presence
How to save time through scheduling your content
How to use notifications to build relationships
How to stay organized by using Twitter lists
How to expand your network through Twitter chats
How to stand out by using video
And so much more.
So, if you want to be a rockstar on Twitter, take up this course; it will not cost you anything, and you will leave with valuable insights on how to improve your Twitter marketing exploits.
Read Also – Andrea Vahl: The Hilarious, Knowledgeable, and Inspiring Social Media and Facebook Marketing Guru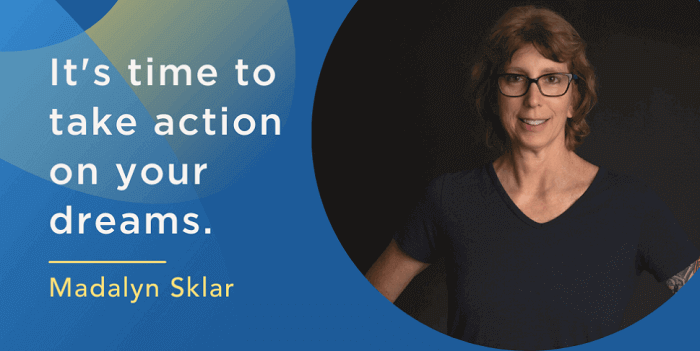 Apart from offering the free course, Madalyn Sklar also has a number of Premium classes and services for those who want to go deeper into the topic of social media.
Social Media Coaching
Sometimes you need a coach who will help you take action.
Are you struggling to stand out from the noisy crowd?
Are you searching for means to grow, connect, and engage with your community?
Are you searching for ways in which you can sell more products or services using social media?
Well, if you are asking yourself any or all of these questions, then Madalyn Sklar can help you out.
Madalyn will work with you as a coach and help you gain a strong online presence, which will help you connect with your followers and fans so you get more leads, better engagement, and amazing results.
Madalyn offers strategy sessions for 30 minutes and one hour, each of them with a set of modules that you should follow. You can start with the shorter one to test the waters before committing to the full one-hour session.
Read Also – Michael Stelzner: One of the few Bloggers Who Grew Their Business to $1 Million In The First Year
Business Consulting
Apart from social media marketing, Madalyn also consults with entrepreneurs to help them gain insights into their businesses. This is especially useful if you want to increase revenue from your products and services.
So, who should consider signing up for a social media coaching session?
Marketers, businesses, and social media managers that are looking for expert support and guidance
Businesses that do not have huge budgets for hiring a full-time social media manager, but still want to know how to manage their social media accounts effectively.
Businesses, entrepreneurs, and marketers who need one-on-one help and support from a guru who will give them valuable tips, strategies, tactics, and other information.
Madalyn is ready to consult with you so you can take charge of and maximize your presence on social media.
She will show you how to make social media networks work for you, earning you a new group of followers and fans.
If you want to stand out on Twitter, Madalyn will help you launch a Twitter chat. This is a great way to get noticed and be seen as a credible authority in your industry.
Madalyn also consults on how to host a Livestream or podcast. She is absolutely passionate about helping businesses use these platforms as a way of keeping in touch with their communities.
Madalyn is available for one-on-one sessions or group sessions.
When time permits, Madalyn takes it upon herself to manage a select group of Twitter accounts, and a wide range of social media sites, so you should get in touch with her if you want to be considered.
Read Also – Sue B. Zimmerman: Leading Instagram Marketing Guru and Business Coach
Speaking
Madalyn Sklar, being an expert on the use of Twitter, has been asked to speak on the topic at various events and conferences.
Madalyn is passionate about connecting with big and small audiences and sharing what she knows about social media to not only bring value but also inspire people to take action.
If you are hosting an event about social media networks, especially Twitter, then you should hire Madalyn as one of your speakers.
"Her lessons are always grounded in practical, hands-on learning with a ton of take-home value. That's what keeps me coming back." –Tim Fargo, Social Jukebox
Madalyn has been a frequent speaker at Social Media Marketing World, among many other renowned social media conferences and events.
Madalyn Sklar has three different podcasts in which she shares her expertise about Twitter, or interviews other social media experts on various aspects of social media as a whole.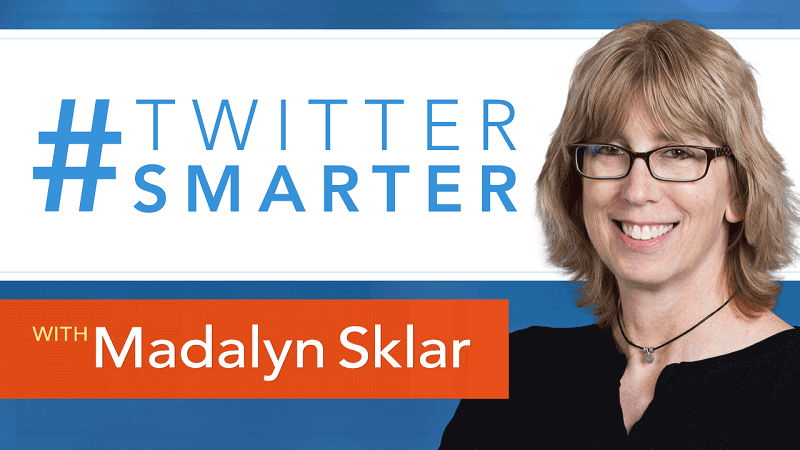 Madalyn Sklar shares her best insights on the best way to use Twitter in this podcast.
You can listen as Madalyn interviews the top-ranked marketing and social media rockstars, who share their tips, tools, and resources that will inspire you to up your game when it comes to Twitter marketing.
The podcast started in June 2015 and has an audience spread across 117 countries in the world.
Madalyn offers listeners to become patrons of the podcast and get a chance to partake in gifts that she offers on a regular basis to the patrons.
Here are some episodes from the podcast:
Twitter Tips on Personal Branding and Social Selling, with Nick Martin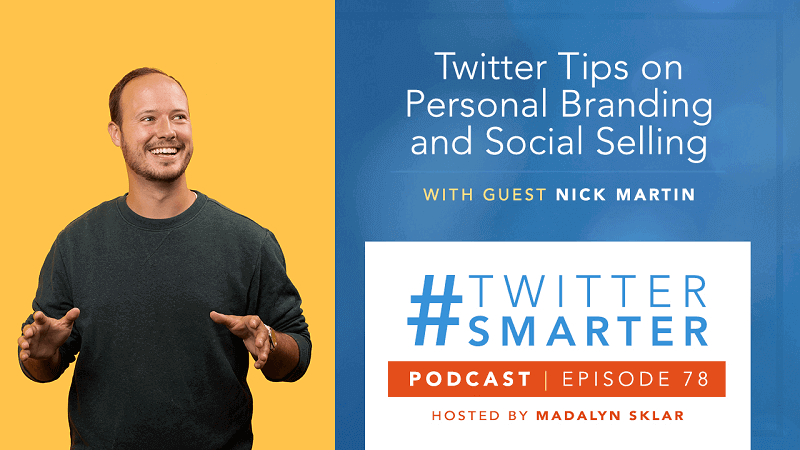 In this episode, Nick Martin shares his personal tips on Twitter social selling and personal branding and adds tips on how to use GIFs to increase your engagement rate.
Nick Martin is a social engagement specialist at Hootsuite. He manages Hootsuite's online community engagements and coaches all new employees on how to maximize Hootsuite's social media presence.
How to Find Inspiration for Creating Twitter Content, with Janet Machuka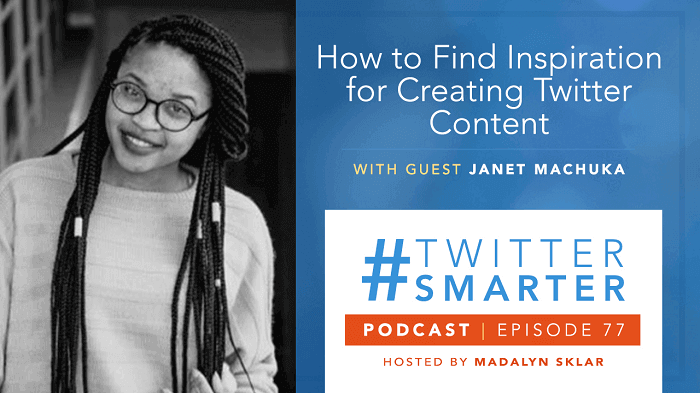 Janet Machuka, in this episode, shares her tips on how you can find inspiration for Twitter content ideas.
This is something that many people struggle with. Twitter rewards people who tweet many times a day, but sometimes, you can run out of ideas, and get social media burnout.
Janet will encourage you how to learn from others and will let you know how she loves to motivate her own followers on Twitter.
Janet Machuka, a Kenyan, is the Digital Marketing Manager at Sparks Corporates and is also the founder of the Africa Tweet Chat Digital Academy, which runs every Wednesday at 9 PM East African Time.
She is also a strategist, content creator, digital marketing trainer, and influencer.
You will learn a lot from Janet in this podcast episode, and also from her Tweet Chat if you join it.
How to Create an Awesome Twitter Content Marketing Strategy, with Todd Giannattasio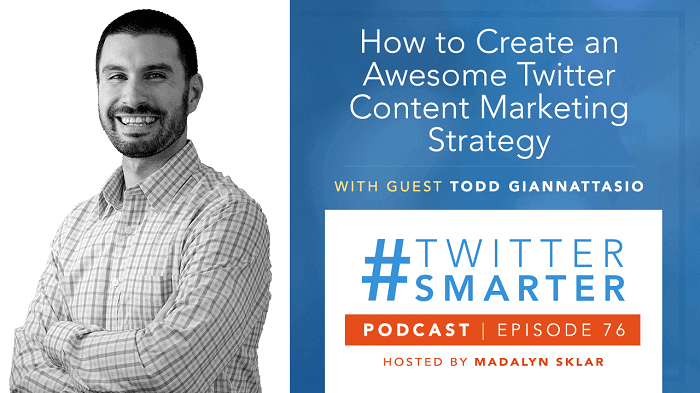 In this episode, you will get tips, from Todd Giannattasio, on how to build a solid Twitter content marketing strategy.
If you have been having doubts about how yours measures up, or even how to start up one, then you will benefit from the steps that Todd lays out in this episode.
As an added bonus, Todd will also give you a FREE Twitter Marketing Strategy Guide.
Todd Giannattasio is a veteran marketing guru, who has been featured in Huffington Post, Forbes, and Entrepreneur magazines. They featured him because of his proven methods to grow brands, grow leads, and increase sales in this ever-evolving world.
If you have issues with your content strategy on Twitter, then this is an episode that you should not miss.
Madalyn has other interesting podcasts, as listed below. Take the time to listen to some of the episodes and see how you can grow your following on Twitter and other social media networks.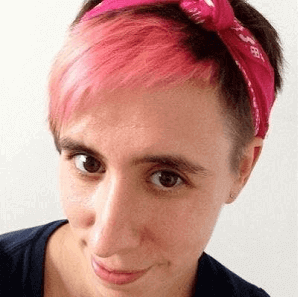 This is a weekly podcast hosted by Madalyn Sklar and Suze Cooper, which takes place every Wednesday between 3 PM and 8 PM BST.
They talk about the week's developments and news in social audio; Suze Cooper is a voice tech and audio specialist.
If you want the best news about the tech, the content, and the platforms, then you should join them on Twitter every Wednesday.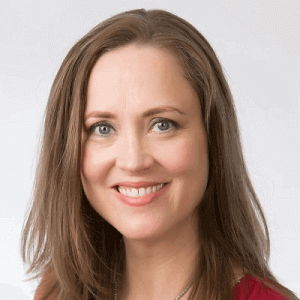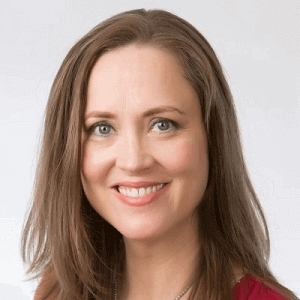 This is a podcast hosted by Madalyn Sklar and Kami Huyse.
At the bottom of every powerful online program is a community. This is a podcast that teaches people how to build, nurture, and monetize an online community and build a tribe of ardent fans.
Madalyn Sklar – Recommendations Earned From People She Has Worked With
Madalyn Sklar has worked with several people and organizations, helping them with the social media marketing challenges, and others in the music industry through GoGirlsMusic.
Here are some of the recommendations that she has earned from them.
Leslie Starnes is an Account Executive at Insight and has worked with Madalyn in the past, albeit at different companies.
Leslie says that she has known Madalyn for more than 5 years, and each year has proven to be better than the previous one.
Leslie and her band have been members of Madalyn's GoGirlsMusic and they have played at most of her gigs in Austin.
As Leslie works for Rockin' for Rescue, she has partnered with Madalyn and gone on a few trips to the Kerrville Folk fest and New York for a GoGirlsMusic event hosted by Sarah Bettens Show, she has known Madalyn to be very focused.
She is the grand mistress of all multitaskers.
Although she is a firm individual, she is also flexible.
Leslie says that Madalyn is experienced in every aspect of the music industry, and she works with her at every opportunity that she gets because she knows if Madalyn is involved, then things will move, things will shake, things will rattle, and then lo and behold, their goal will be met.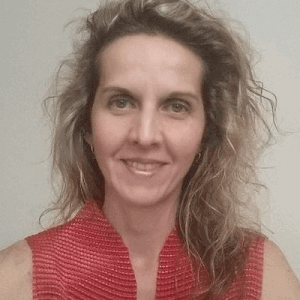 Dagmar is an International SEO Consultant and is the Chief Strategy Officer, CEO, and President of Global Empire SEO Consulting.
Dagmar has worked with Madalyn, but they were on different teams.
She says that Madalyn Sklar is not only an amazing Twitter marketing guru, but also a thoughtful, super caring, and supportive individual.
Dagmar says that what Madalyn shares in her weekly #TwitterSmarter Twitter chat and the experts that she invites for the show to empower the group are simply amazing.
The chat and the weekly Blab show have built the base for the Twitter success that Dagmar's company enjoys.
Dagmar says that she looks ahead to learning more from Madalyn Sklar, and taking part in her training and programs.
She thanks Madalyn for being an outstanding person in her life.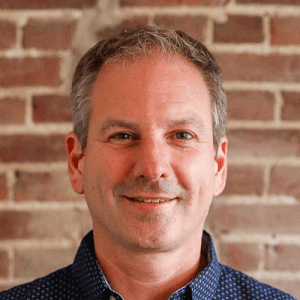 Rich Brooks is a Digital Marketing Consultant and President of Flyte New Media.
Rich worked with Madalyn in the past but in different companies.
At one time, after interviewing Madalyn for his podcast, Rich realized that he had been approaching Twitter in the wrong manner all along. After taking part in her TwitterSmarter Twitter Chat, he recognized that she had an amazing audience that looked up to her for advice and help in their social media exploits.
Based on this observation, Rick asked Madalyn to speak at his "Agents of Change" Digital Marketing Conference, and she really delivered.
Rich says that her presentation was greatly received, and everyone who spoke to him afterward said how engaging Madalyn was. They loved her presentation.
Rich says that if you are looking for a person to speak about Twitter or other digital marketing issues, then you should reach out to Madalyn.
In Conclusion
Madalyn Sklar is a powerful Twitter guru and has worked her way up in the most unique ways.
She first started out as a web designer, then moved on to be a virtual promoter of female "Indie" music artists, before finally settling down and building a successful career as a social media expert, especially on Twitter.
You too can be successful on Twitter if you follow her advice. You should sign up for her free course, and learn how to become a rockstar on Twitter.
She is a world-renowned speaker on issues regarding social media marketing, so if you are hosting an event on the same topic, then you should get in touch with her.
All said and done, she is a fun person, dedicated to what she does and a believer in the "getting things done" ethos.
Follow her – https://twitter.com/MadalynSklar