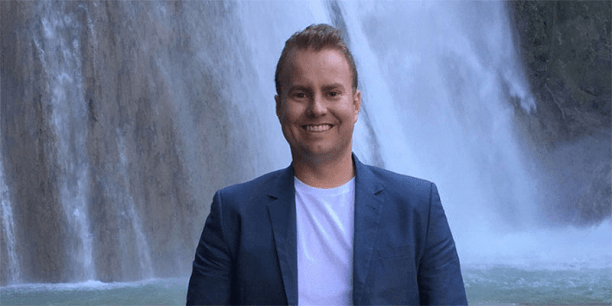 In the journey towards success in your entrepreneurship, I have chosen John Rampton's story to motivate you and give you hope when faced with barriers against success.
John is a man who conquered disability by using it to his advantage and not only became the second most influential individual globally but, went ahead to make a seven figure income purely online!
He was able to start and sell several online businesses through his self taught online marketing tactics.
He has also been a top PPC Expert for three years running. John has helped many people through his articles in Forbes and entrepreneur.
His numerous articles on Forbes assist entrepreneurs, online marketers and startups. They range from advice on social media, time management and basically how to manage your business.
For example on Facebook he advices entrepreneurs on the 25 vital books that they should read.
John has always been sharing his entrepreneurship journey on blogs and social media and has clearly revealed how one can take the path to success.
They include great books like: As A Man Thinketh by James Allen, Like a Virgin: Secrets They Won't Teach You at Business School by Richard Branson and The Fire Starter Sessions by Danielle LaPorte.
Early Life
John Rampton was raised up in Salt Lake City, according to his site, johnrampton.com, his entrepreneurship has lasted all his life.
A real hustle since his early years at college, John was involved in an accident at a construction site (a job he used to pay for his college fees) that immobilized him.
He was to remain bed confinement for a year. After several surgeries, the doctors declared that he would never walk again.
John was left with no any alternative but to try and figure out how he can still make money while on his bed. He chose to pursue online marketing.
Working up to 20 hours daily, he learned all he needed to sell products on the internet. He used the same motivation to conquer his disability.
He courageously enrolled for an experiment where stem cells were used in his leg to enable him walk again.
He was back to his feet after tough physical training. His determination being clearly portrayed here.
He came up with two victories, getting back to his feet (literally) and being able to figure out how to make money online.
He clearly talks about his ability to fight his inability as the cornerstone of his success.
John Ramptom is truly an inspiring person. He clearly reveals to you that you can indeed take advantage of your failure and make it any direction you are passionate about.
He uses most of his time in encouraging people and showing them that things can work their way if they fight and pursue them passionately, despite the barriers that they may have.
Awards & Accomplishments
Apart from being the second most influential person on the internet, John was also awarded top PPC Affiliate Marketer for 2012.
He has co-authored a book with Murray Newlands: Performance Marketing for Professionals and another top selling book with Joel Comm: Self-Employed: 50 signs that you Might Be an Entrepreneur
Let's look at how John has pursued all his passions and helped thousands, either as an online marketer, a serial entrepreneur or a speaker.
John Rampton as an entrepreneur
His entrepreneur spirit is seen in his starting an online invoicing company Due.com where he is the Founder and CEO. He also spends time advising businesses on marketing and management.
This spirit is copied by thousands across the globe.
Those willing to get started or want to understand how they can run their businesses well, need to read his articles on top notch blogs including: Forbes, entrepreneur.com among others.
He is known to launch products that help people solve their problems. He turns his critics into buyers. A good example is the Snore Coach, a product that aims to making users stop snoring in a clever way.
John has always been sharing his entrepreneurship journey on blogs and social media and has clearly revealed how one can take the path of success.
Growing After $1B | Kenneth Lin (Credit Karma) & John Rampton (Entrepreneur) @ Startup Grind Global
His Worth
John's total worthies in millions, though not revealed on Forbes, he has earned seven figures in his product and company sells, books and speaking engagement not to forget mentioning that he advices several large companies.
The Talented Speaker
John is a highly motivating speaker that has been handy to people and companies helping them to change the way they do business and their outlook of life.
He has many videos on YouTube that advices online business owners and startups on how to get real traction online, the ten golden rules of affiliate marketing, advanced content promotion (How the big boys do it), and various interviews including the one he speaks about due.com
As a speaker, he has coached hundreds of entrepreneurs on how to turn their ideas into multibillion businesses.
Many have learned from his forum on how they can either manage their businesses; market them, and ideas on saving time and management.
There are also many videos on YouTube where he talks about his entrepreneur especially where he talks about his tough journey towards stardom.
He speaks passionately about his dream of having all global online businesses growing through his help.
As a speaker, John is not only inspiring but, he has assisted many of his audience in starting, managing, marketing and making sales.
John Rampton as one of the Top Global Influencers
As I had mentioned above, John has been named no. 2 out of 50 possible influential people across the globe.
He is also a very influential PPC (Pay Per Click) experts. A position he has held for the last three years.
His amazing rags to riches story, his passion about online marketing, and his many articles and speeches across the internet is what has propelled him to where he is now.
John Rampton the Passionate Business Marketer
In his bios on various sites and on social media, John emphasizes his passion for marketing businesses.
He clearly states that one needs to be highly passionate about what they are engaged in. He advises individuals to be ready to put in many hours to succeed.
Most of his articles on Forbes, Entrepreneurship.com and other sites give tips on how to launch new products, market them and maintain the clients.
John Rampton on delegating
According to Stephan Spencer an SEO, who worked with John on his online invoicing company site: Due.com, he is good at content marketing, however his grasp of the technical part of SEO was wanting.
After working with many SEOs and failing to get the traffic of his site shoot, John came to Stephan looking for her services.
The success was 554% improvement in traffic for Due.com! Why do you need to know this? Well, John is a believer in delegation and trusting his staff. He realized that to make it as an entrepreneur, you will need to build around you.
However, he says that it takes a couple of years to get the right team. It's one of the great ways to boosting production.
John Rampton's advice to those willing to make millions
John sees no limit to one being a millionaire currently. According to him, age is just a number in this game. He emphasizes the importance of learning from your failures.
The following are some of his advices;
Make use of YouTube Channel to Popularize Your Brand
John points out the idea that there are a few YouTube millionaires and teaches that one should take advantage of the channel and make their brand popular.
Follow your Passion
He advices those who want to be millionaires to claim their mentors by through their passion and finding a way to offer people what they need for less pricing.
Jump on Trending Bandwagon
According to him, there is absolutely no any wrong doing when one joins a trend, all they need to do after that is to figure out branching from it and becoming innovative.
Don't be afraid of new things
He dares those who are willing to make it financially to embrace new things and keep off fear.
Everyone has the same time
If others can make it, so are you. The time given for all of us is the same. How do you make use of time?
Find your niche
One should be able to choose a niche they are passionate about and get started.
As a way of giving back to the society, John Rampton founded Palo Alto, a California-based  a hosting company which specializes I assisting businesses by hosting them for free, for life.
John has been recommended by influential individuals including: Jeff Bezos, Mark Zuckerberg, and Bill Gates just to mention a few.