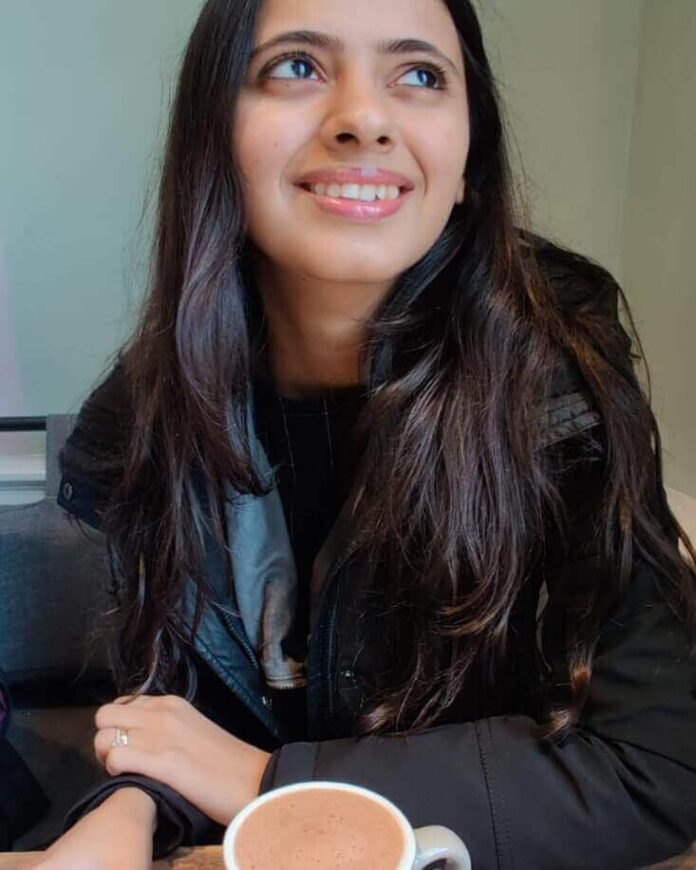 Krusha Sahjwani Malkani is from Mumbai, India, a place that is often referred to as "The City That Never Sleeps." However, Krusha says that she still gets 8 hours of sleep every night.
So, what is it about this young lady that is so outstanding that she has become the Director and Head of Asia at Sociabble at such an early age?
Well, this article will take you through the life and times of Krusha Sahjwani Malkani, and you will see just what has driven her to be a Professional Certified Coach, who has had a profound impact on the lives of those who have come looking for her services.
Meet Krusha: APAC Regional Business Head at Sociabble
Krusha Sahjwani Malkani – Her Life Journey, In a Nutshell
In her early school and college years, Krusha always sat at the top of the class, as far as her grades were concerned.
She has never enjoyed physics, and if you are a person who scored great grades, in India, arts was not considered an option; therefore, she chose commerce.
When she chose commerce, the only option she had, given the great grades that she was getting, was to take a course in Chartered Accountancy.
She performed well in all her examinations, but luckily, she came to realize at an early age that this was not the career path for her.
So, she walked off and has never regretted that decision.
She met some of her best friends when she chose that journey and she got some tax and accounting knowledge, which she leverages to her advantage to this day.
At the age of 19, while she was still, studying, Krusha decided to start working full-time.
She was among the top 10 students who graduated from Mumbai University, even though she was working in a Public relations startup for two and a half years.
She worked on projects such as Swedish House Mafia, A.R. Rahman, and many more, which was a life that many teenagers dream of.
She was offered several promotions, but she did not think that it was the right step to take at that time.
At this point, she decided to further her studies and she took a Master's Degree course in International Business in Singapore, and she was ranked in the top 3 positions upon graduation.
Having studied abroad, Krusha wanted to expand her horizon – she wanted more.
She, therefore, worked hard to find herself a job in France, and after sending out applications for 6 months, Sociabble happened.
After a great 6-month stint, selling to the European markets she felt the itch to take Sociabble back to her home country.
She built her case and made a presentation to start the first Asia office for Sociabble in India, which would serve all of the Asian regions.
At that time, it was just her and her trusty laptop, and LinkedIn. It now seems like a surreal dream to realize the clients and the team that she has built in India and the Asia region, today.
So, what does Krusha do today?
Krusha wears several hats:
She is the Director at Sociabble, India. She is one of the pioneers in the Asian market for employee communication and employee advocacy, and she has come to know the inner workings of the industry quite well.
She is also a co-founder of "The Pink Thread", a forum where people tell stories to drive change and empower women in India's corporate world.
She is a certified life and career coach (PCC) and she aims to support as many people as she can, so they can realize the same benefits that she has realized when they chase after their dreams.
Her life coach business is called "Butterfly Effect Coach"
She is also a writer and published author.
Finally, she will forever be a student, learning and experiencing new things continuously.
Krusha Sahjwani Malkani – Her Top-of-the-Class Educational Journey
Krusha has always excelled in her education. This is a record of the schools and colleges that she attended:
Greenlawns High School, Breach Candy
Krusha attained her Indian Certificate of Secondary School in 2009, from Greenlawns High School, Breach Candy. She has a mean grade score of 92.47%, which is very good.
She was the House Captain and Contingent Leader of 200 students at the school.
HR College
Between the years 2009 and 2011, Krusha pursued her Higher Secondary Education, majoring in Commerce, at the HR College. She attained a mean grade score of 88%.
Between the years 2011 and 2014, Krusha Pursued a Bachelor of Commerce (B. Com) degree in General Business and Commerce from the same college. She attained a mean score of 90.18% and was ranked among the Top 10 students at the University of Mumbai.
While at the college, she was crowned Mis HR, at the annual student overall personality contest in 213.
She was a Junior Director of the Council for Handling and Organizing Inter-Collegiate Events while still in Junior College.
She was the Lead Organizer of the Independence Day Event in 2012, while still in Junior College.
She was also the Comparer at the Talent Parade Event in 2011, while also still in Junior College.
Grenoble Ecole de Management
In the years 2015 to 2016, Krusha pursued a Master's Degree in International Business from Grenoble Ecole de Management. She was awarded a Merit scholarship and topped her class in her first semester there.
How to Engage on Social by Krusha Sahjwani
Krusha Sahjwani Malkani – The Quick Career Path of a Talented Young Lady
Krusha has had a short, but successful career journey to get to where she is today; it is absolutely amazing when you look at what she has achieved within such a short time.
BookMyShow
Between December 2013 and June 2014, Krusha worked as a Freelance Writer at BookMyShow, in Mumbai, India.
She wrote several freelance articles covering the Bollywood Movie Industry for the company's blog.
Metigon Enterprises
Krusha worked at Metigon Enterprises as a Client Servicing Executive between August 2012 and August 2014.
Her tasks involved:
Coming up with PR angles for launches and events, and managing media relations across magazines and newspapers at a national level. She also did front-end servicing and content creation.
Preparing PR Plans, Quarterly Reviews, Media Advisories, and Activity Dossiers.
She was quickly promoted to an executive position, where she led a team of 4 colleagues who were older and much more experienced than she was.
She was then placed under the direct supervision of the Associate Vice President and was let to lead the activity for major company events.
She was able to handle several events successfully. Some of them include Music tours and concerts for the renowned artist and Oscar Award winner, A.R. Rahman. Others are for artists such as Armin Van Buuren, Swedish House Mafia, and Above & Beyond, among many others.
Mindshift Interactive
From August 2014 to January 2015, Krusha worked as a Senior Account Executive at Mindshift Interactive.
She was hugely involved in content ideation, strategic planning, and content execution on a wide range of social media forums for reputable clients and brands across the sectors of insurance, fashion, and luxury items.
At the age of 21, she became the youngest person in the company to be promoted to Assistant Manager, after having worked at the company for only 6 months.
She led her team with exceptional performance in organizing the first fashion week event for the company.
She managed their social media forum in real-time during high-profile events, which included the largest fashion week ever held in Mumbai. She also added innovative ideas for short celebrity bytes videos at the event, all of which went viral.
Thought Catalog
Krusha worked as a Freelance writer at Thought Catalog between January 2017 and January 2018. You can see some of her work on her writer profile page here.
The Pink Thread
In March 2020, Krusha co-founded The Pink Thread, where she still works today. The company is a passion project dedicated to bringing inspiring stories of women who have excelled in Corporate India, so others may emulate them.
From the year 2016, Krusha has worked in two capacities at Sociabble.
Between September 2016 and February 2017, she worked as the International manager at Sociabble.
Sociabble is an employee advocacy platform. It works by making employees be brand ambassadors for the companies that they work for. They generate leads and save on paid media. The company also serves as an internal communication tool for employees among other services.
Krusha, as an International Manager, performed business management duties, and key account management primarily covering the APAC markets.
From March 2017 to this day, Krusha has worked as the Director and Head of Asia, for Sociabble.
The Butterfly Effect Coach
Krusha also founded a personal life coaching business, called the Butterfly Effect Coach which we shall discuss in detail in the section below.
The Butterfly Effect Coach is a company that is dedicated to making people turn their lives around by looking at the positive aspects and ignoring the negative.
Everyone has had their ups and downs in life, but it is the mindset that you carry, especially after having a bad experience, that determines how you end up in the future.
Krusha goes ahead and starts by telling her story, which will inspire all those who have been set back by adverse personal events, to focus on the good, and move on to a brighter future.
Tips for Creating Great Content by Krusha Sahjwani Malkani
Here is her incredible personal story:
When asked to describe herself, Krusha Sahjwani Malkani says, "I am a daughter, a sister, a wife, a daughter-in-law, a niece, an aunt, a friend, Director at a global SaaS company, an author, and a certified professional level (PCC) life-coach."
She winds it up by saying that she is a lucky girl, or at least that is what she has told other people, and it is probably what a lot of people think, or thought, about her.
Well, The truth is that she is lucky in a myriad of ways.
Krusha was born and brought up in South Mumbai. She had wealthy grandparents who were able to afford to send her abroad to study.
She met the love of her life in her early twenties. She humorously describes herself as having a great metabolism, and overall, her body and facial structure are considered to be "good-looking" in her society.
Krusha met the love of her life when she was in her early twenties and has very supportive in-laws.
She does not have any major illness, and she is blessed with a great talent for writing and dance.
Her list of things that she is grateful for can go on and on, and she is truly a lucky girl.
However, she also has had her fair share of "unlucky" events in her life, which she considers to be inconsequential given the many things that she has to be thankful for.
Her parents got divorced when she was 15, a very unlikely event in society at that time.
She suffers from Psoriasis, and there were days when she was a school-going girl when she could not wear shorts outside the house. The Psoriasis subsided when she was sixteen.
Before she found the love of her life, she had her fair share of heartbreaks, as many people do.
Before she found her direction in her career, she did feel lost more than once.
So, despite her saying that she is a lucky girl, like many people, she also has had her slice of "unlucky."
Krusha says that despite everything, she feels like the balance of life has tipped towards the good luck side, but a lot of what she has achieved is not out of luck. It is out of the series of choices that she has made.
At the age of nineteen, she decided to work full-time, without being prompted by anyone to do so. Despite having good grades, she opted to quit her Chartered Accountancy (CA) course. She decided to work after marriage, which many girls of her age do not.
Despite having a great job that she liked, she chose to create a side hustle. Even when she had no urgent reason to do so, she opted to change her diet to a healthier one. She chose to believe in unconditional love, despite her past heartbreaks. And the list goes on.
In the end, Krusha has come to realize that outside of what she calls her "good luck" her habits and her mindset, are what have brought her success in the different spheres of her life.
She made a conscious decision to work on herself, and she believes that you can too. She would like to help you do so.
Krusha says that she is far from perfect, and working on herself is a daily process. She has new things to discover and conquer every day. For her, it is an ongoing process, just as life is.
When you look at how Krusha describes herself, you can understand why she has become such a great life coach.
This is her story – short and inspiring.
You can check out her business website, and learn more about how she offers her services and the packages available.
Krusha Sahjwani Malkani – The Author
Krusha has worked as a content writer in her career. She has taken her writing skills an extra notch higher to write a book entitled:
The book was published in November 2019 and is available in paperback format.
The book features Anju, an Indian housewife living in Mumbai.
She comes from an upper-middle-class home, is married, and has two daughters and in-laws to contend with.
She has lived her life in the same way, for twenty years. All has been normal and satisfying, to some extent. Suddenly she notices a sudden anomaly in her life.
Anju does everything in her power to shake off this unwelcome surprise, however, shaking it off is becoming a steep challenge.
The subservient housewife feels that it is time for her to set herself free from the humdrum of life and do great things.
See how far she will go.
The story is quite inspiring and speaks to many women in India, who have to live as housewives and never pursue any other dream.
Anju loves her cup of tea. Make yourself a steaming cup of tea and enjoy reading the book.
Krusha Sahjwani Malkani – On YouTube
Krusha, in keeping with her chosen path to be an inspiration to other women, is featured in several YouTube channels in which she seeks to inspire women to be better.
She also uses the platform to talk about Sociabble, and other important aspects of business, especially concerning social media.
In one of her videos, The Role of Storytelling in Creating Gender Equity with Krusha Sahjwani, she goes on to talk about how storytelling can serve as a tool for women to break from the culture in India and pursue career dreams.
The Role of Storytelling in Creating Gender Equity with Krusha Sahjwani
Sharing experiences through storytelling is powerful, and can change the way people view the world. Stories can transform societies, inspire action, and make the world a better place for everyone.
There are several other videos that feature Krusha, but this one stands out in that it talks about how people should shed what they were brought up to believe, and adopt what they KNOW, now that they are all grown and can make decisions for themselves.
It is a powerful; video, especially if you are a woman and have lived in the shadow of cultural beliefs all of your life.
Krusha Sahjwani Malkani – Recommendation Earned
Krusha Sahjwani Malkani has come a long way in a very short time. She has become a Top Voice on LinkedIn and is the Director and Head of Asia at Sociabble.
Here is a recommendation that she has already earned on LinkedIn, and many more will surely come.
Kushal is an Analytics Consultant and Owner at Germin8.  He works as an Online Reputation Manager and Social Media Listener.
Kushal was at one time a client of Krusha's.
Kushal says that there is a definite difference between Customer Service and Customer Success, in terms of its ideology and the effort an individual exerts in meeting them; Customer Success is more demanding but gives more rewards.
He says that this is what Krusha has excelled in doing, within a period of two years.
He says that she makes future-sensitive suggestions in a timely manner, and understands the need to not just represent her company but also those of her clients, indulging his.
She invested a lot of time and effort in his company when he needed her services.
She is a perfect example of how to teach a man to fish so he can feed himself for the rest of his life. She gives her time, attention, and concern, and ends up helping more than expected.
She helped him in the initiative of Employee Advocacy in his company, and it grew more than he thought it would.
Although she is focused on her brand's solutions, she does have an endearing, consistent dialogue style. Her softer style of communication is something that Kushal values about her.
Kushal says that he is sure that she would add value to any brand or team, that she works with.
In Conclusion
Krusha Sahjwani Malkani has come a long way in her short career. From her educational background and performance, you can see that she was a girl destined for bigger things.
She worked hard and scored great grades. She would have been fully satisfied working in the corporate sector, and perhaps one day becoming a Managing Director, or some other such position.
However, she decided to strike out on her own. She still loved working in a corporate environment, but she wanted to work for herself.
This is perhaps what drove her to ask to open the Asia Office for Sociabble.
Krusha has been an inspiration to many women, both young and old. She has been honored by Social Samosa as one of their Superwomen.
The life of this young girl should be an inspiration to you. You can overcome your challenges, cultural or otherwise, and be a shining light like she has been.