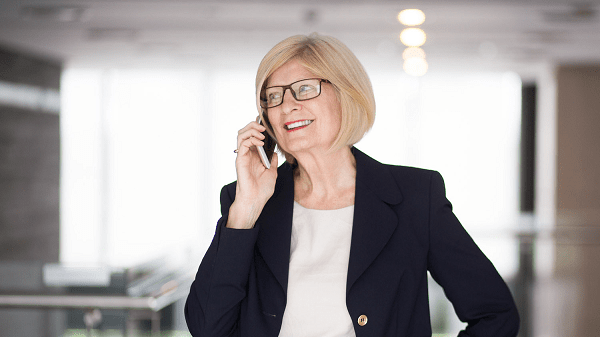 Kerry Hannon, an award-winning American author of 14 best-selling books, was born on October 29, 1960, in Pittsburgh, Pennsylvania.
In her early days, she was shy as a kid, but her inner instinct pushed her to transform herself into a public-speaker.
Kerry Hannon, Keynote speaker, Best Selling Author
Kerry is a graduate of Duke University. She dedicated three long decades to build expertise in business management, wealth management, retirement, personal finance, and career transition.
Kerry's authority lies in helping people manage their personal finances, careers, and entrepreneurship. Her advice is well-sought after by millions of her audiences who feel empowered and take charge of their careers and finances.
Kerry got married to Cliff Hackel, who is a documentary director, editor, and producer, on July 4, 1992. Cliff has won an Emmy award for his work. Kerry is a die-hard animal lover and holds a special love for horses and dogs.
Hannon advises women on how to grow their income and build financial security. Kerry is a passionate writer as well as a public speaker.
Kerry's success story
Kerry's success gaga is sung all over the world. She is a famous best-selling author of 14 books and a popular radio and TV commentator. Kerry is invited as a guest speaker at conferences across the globe. 
Kerry Hannon Interview
Though Kerry's life has undoubtedly been rewarding, but she had to go past her fears and apprehensions to carve her success story.
Kerry always wanted to be a national columnist as she thought it would be one of the most significant milestones. She strived hard to become one, only to realize that it's not worth its charm.
Kerry's transformation journey began about 15 years ago, when she was walking down the beach in Florida, along with her father. While taking a stroll along the sea beach, her father asked her generally, 'How is she doing?'
To which she replied after a pause, 'I am miserable?'
Her personal life was fine, but she was surely having a tough time with her career.
At that point in time, Kerry was doing something that is a dream job for many. She was writing a financial column for a large national media firm with her photograph on it and was paid a fat cheque for it every month.
Though Kerry was doing what she always dreamt of doing but the reality was far different from her dreams. She would feel trapped under the steady pressure of meeting thin deadlines. She spent most of her days in a noisy newsroom chasing targets. She felt lost and sad. She shared all this with her father.
And, her father promptly advised, 'Just Quit.'
After her father's advice, she delved deeper within to self-introspect and eventually resigned.
The decision to deny a fat paycheque was not easy for Kerry. Soon after resigning, Kerry got involved in writing a book about Navajo weaving titled 'Trees in a Circle.' While writing this book, she met an old woman in her 80's who wove monumental rugs. Kerry met her and asked, 'What inspires her to weave such wonderful rugs?'.
The woman replied with a sparkle in her eyes to Kerry, 'You ask rare questions that no one even thinks about.' Hearing this, something shifted in Kerry, as she gained the confidence of being her own boss and never looked back.
Initially, Kerry's decision was scary for her, but fortunately, her start-up grew steadily. She left no stone unturned to make her venture work. Often, she would find herself juggling between tasks, working overtime, and doing things that no one else wanted to do.
She found herself working with new teams of editors now and then and faced multiple rejections from publishers. She accepted rejections with grace and reached out to new people every day via phones, emails, or social media to build a network for her business. During such challenging times, it was her self-belief that got her going.
Kerry's most significant learnings from her struggles
The biggest learning for Kerry through her career struggle is to be resilient. She is not afraid of failing anymore. She is ever willing to stand up in front of people to share her thoughts because she believes in herself.
She drives her biggest motivation from helping others. She loves to help people find jobs they love. After all, there is always light at the end of the tunnel.
Kerry's firm
Kerry has started her firm in her name, Kerry Hannon Inc. Kerry is a national keynote speaker and an expert on entrepreneurship, personal finance, career transitions, and retirement.
Getting the Job You Want After 50 with Kerry Hannon
Kerry Hannon's current professional engagements
Kerry is currently a popular columnist for The New York Times, Forbes, and MarketWatch. You can find her columns on personal finance and entrepreneurship on the PBS website (NextAvenue.org). Hannon is a member of the board of visitors at Shady Side Academy in Pittsburgh, Pennsylvania.
Kerry has appeared as a career advisor and financial expert on The Dr. Phil Show ABC, CNBC, CBS, NBC Nightly News, Yahoo Finance, NPR, and PBS.
Kerry is a renowned award-winning author of 14 books. One of her latest creations, 'Great Pajama Jobs: Your Compete Guide to Working from Home' has rolled out recently.
Kerry has put in much hard work exploring all aspects of covering business, careers, and personal finance as a columnist and editor for leading national dailies and media firms for three decades.
I'm a frequent television, podcast, and radio expert commentator. I have deep experience in all media– and produce high-level content for books, magazines, and newspapers, including The New York Times and various web sites.
Clients for my keynote presentations include AARP, Duke University, The Investor Protection Trust, Georgia State Securities Office, RBC Wealth Management, SXSW, and many more.
Kerry's Social media handles are as follows:
Twitter Handle: Twitter @KerryHannon,
Website: KerryHannon.com, and
Linkedin Profile: www.linkedin.com/in/kerryhannon.
AWARDS: 
In 2006, Kerry createdS. News & World Report's pioneering "Second Acts" feature — It was a column built to inspire people by sharing success stories of those who have successfully navigated a complete career change in midlife. The column talked about challenges faced by them and the motivation to overcome them.
Kerry's previous creation published in 2019 in the name, 'Never Too Old to Get Rich: The Entrepreneur's Guide to Starting a Business Mid-Life,by John Wiley & Sons, is a No. #1 bestseller on Amazon. This book of hers was also labelled as the Book-of-the-Month Club by The Washington Post.
In 2018, Kerry won two bronze medals from the INDIES Book of the year award for her national bestselling book Great Jobs For Everyone 50+.
Her book 'Love Your Job: TheNew Rules for Career Happiness,(Wiley)' won the GOLD Living Now Book Award for Personal Growth/Motivation winner.
A major highlight of Kerry's career is 'Work in Retirement: Career Reinventions', which has been testified before the Senate Special Committee.
Most of Kerry's books have been recognized, awarded, and have qualified into the best-selling categories of Amazon.
Books by Kerry Hannon 
Some of the best-selling books by Kerry Hannon include:
Great Pajama Jobs: Your Complete Guide to Working From Home(Wiley, 2020)
Never Too Old to Get Rich: The Entrepreneur's Guide to Starting a Business Mid-Life(Wiley, 2019)
Money Confidence: Really Smart Financial Moves for Newly Single Women(Post Hill Press, 2017)
Great Jobs for Everyone 50 +: Finding Work That Keeps You Happy And Healthy…and Pays The Bills (Wiley, 2017)
Finding The Job, You Want After 50 for Dummies(For Dummies, 2015)
Conclusion
Kerry's story is truly inspirational in proving, 'where there is a will, there is a way.' She has been instrumental in redefining the lives of millions of women who are divorced or in their late 50's. It won't be wrong to say that she is a second-inning expert in redefining careers for those who have lost hope or for those who lack courage. Life is always there to bless those who have the guts to live life on their terms.