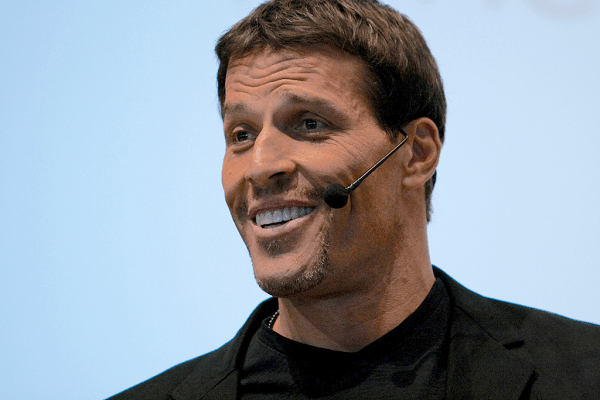 Tony Robbins, also known as Anthony Jay Robbins, is an American national known best as a motivational speaker, coach, author, and philanthropist. 
Robbins is known for his empowering seminars, infomercials, and self-help books. He is rated as New York Times number 1 bestseller, for his unique creations. 
Born on February 29, 1960, he devoted four decades to chisel himself as the nation's top-most life and business strategist. His empowering teachings and transformational power have been enjoyed by more than 50 million people. His audience hails from 100 different nations across the globe. To date, more than 4 million people have attended his live seminars.
Tony Robbin's achievements are mind-blowing. He is the leader of the leaders as he has worked with 3 US presidents. He has been a professional advisor and coach to top entertainers from Aerosmith to Green Day, to Usher and Pitbull. He has also worked with Andre Agassi, Serena Williams, and Golden State Warriors.
Even the billionaire's club is not deprived of his charm. Billionaires like Steve Wynn and Marc Benioff sought his coaching.
Tony Robbins Best Motivational Video – The Speech to Inspire Masses
Robbin's Career Roadmap
AT 17, Tony started promoting seminars for author and motivational speaker Jim Rohn. In the early 1980s, Robbins began to practicing neurolinguistic programming (NLP) and Ericksonian hypnosis and partnered with John Grinder, the NLP co-founder. Robbin was a learner throughout. He learned to fire walk and made it a part of his seminars.
Robbins released his first infomercial in 1988. It was a self-help program. Few years down the line, in 1997, Robbins launched the Leadership Academy Seminar.
He partnered with Cloe Madanes to open Robbins-Madanes Center. It was an organization to train life skills coaches to help people deal with addiction and other issues.
Robbin kept climbing the ladder to success with his vision and determination. In 2014, he launched a Major League Soccer franchise in Los Angeles, California. His team participated in the soccer competition in the year 2018.
In 2016, Robbins purchased Team Liquid, an eSports professional gaming organization. In 2017 Team Liquid won The International 7, a Dota 2 tournament with a prize money of $24 million.
Robbin could mark his name in history with his dedication and courage. He is the only professional to have worked with the biggest names, such as Justin Tuck, Hugh Jackman, Bill Clinton, Serena Williams, Wayne Gretzky, and Pitbull. The irony is that Robbins never went to college and has never had any professional education.
He has counselled American businessmen Peter Guber, Marc Benioff, Steve Wynn.
Tony Robbin's Venture
Mr. Robbins is the owner and chairman of a holding company that runs more than 50 businesses. The company is well-established with a combined sales exceeding 6 billion$ a year.
He organizes his International seminars through Robins Research International.
Tony Robbins's Top Rules for Success
Robbin's company Values
Robbins Research International Incorporation believes in supporting the goals of its employees and their diverse lifestyles. The company practices policies to strike a healthy work-life balance.
The company has a mission of changing lives everywhere. Tony Robbins runs the company to awaken the human spirit in everyone.
The company's values revolve around the saying,' Training never stops when you want an extraordinary life.'
Current Professional Engagements
Robbin conducts multiple seminars every year, directed at 'self-help' and 'positive thinking.' In his conferences, he preaches a fire walk mindset and exercises for strengthening positive beliefs. He encourages active audience participation and physical activities in his seminars.
Accomplishments and Awards
Tony Robbin's sharp business acumen has been honored by Accenture by naming him as the 'Top 50 Business Intellectuals in the World'.
The Harvard Business Press has titled Tony as, 'Top 200 Business Gurus.'
The American Express has named Tony as the 'Top 6 Business leaders in the world.'
Tony Robbin's has been named the 'CEO Whisperer' by the Fortune Cover. He is named in the top 50 Worth Magazine's 100 most powerful global finance people for 3 consecutive years.
Teachings to the world
In the words of Tony Robbins…….
"The secret of success is learning how to use pain and pleasure instead of having pain and pleasure use you. If you do that, you're in control of your life. If you don't, life controls you." 
Even though Tony grew up with very limited means, still he could make a profound impact on the world.
He has a strong message to give out to the world:
He believes that one must lookout for a mission and not just find a career. Once you have a mission in mind, then you are no longer working for money, but you have a higher purpose of serving.
He believes that self-learning is the best way to learn and grow. He studied the lives and biographies of achievers and observed a pattern in their success. He believes that one must work very hard on self to produce outstanding results.
You need to remove your focus on self-needs to serving the needs of others. When you work to help others, it gives you the drive to go an extra mile every time to make a difference.
Net Worth
His books are his blockbuster creations that earn a lot of wealth. As of 2020, Tony Robbins' net worth is estimated at $500 million.
Publications by Tony Robbins
Tony Robbins has written many self-help books, six of which are international bestsellers. A few of them are listed below:
Unlimited Power (published in 1987), and
Awaken the Giant Within (Published in 1993)
His personal and life training programs are attended through audio, video, and life training programs.
Tony took up a speed-reading class when he was merely 13 years old. He believes that this class was a life turner for him. On most days, he finished reading one book a day. He has finished reading more than 700 books.
Philanthropy: Tony Robbin's Social Conscience
Tony Robbins is a renowned philanthropist. He set up the Anthony Robbins Foundation in 1991 to help the young, the homeless, the prisoners, the hungry, and the elderly.
Tony Robbins charity is also seen in India's sub-territory. He works with a firm called Spring Health, which provides fresh water to small villages in rural eastern India. Spring health ensures that waterborne diseases do not spread due to the lack of freshwater supply.
Tony also raised money for a nonprofit organization called Operation Underground Railroad. The purpose of the organization is to fight against child trafficking along with the government. The organization works with former  CIA, Navy SEALs, and Special Ops operatives.
Tony has partnered with a social organization called Feeding America, in 2014, to feed the needy. In the last 5 years, the organization has provided 500 million meals to the needy. Now, Tony along with this organization is aiming to feed 1 billion people over the next 5 years. Tony also conducts programs in more than 1,500 schools, 50,000 service organizations, and 700 prisons .
Television and film
Tony Robbin has earned a popular name in the television and film industry as well. He has played cameo roles in multiple films like The Cable Guy, Reality Bites, Shallow Hal, and 'The singularity is near: A true story about the future.'
He is also seen in 'The Roseanne Show.' In 2010, he started hosting a reality show with Tony Robbins, which helps the participants to face their personal life challenges. Though, the show was called off due to low viewership. He also hosted Oprah's lifeless on the OWN network.
There is a documentary made on Tony's life by filmmaker J. Berlinger. The documentary is called, 'Tony Robbins: I am not your guru.' The film was even premiered at the Southwest film festival in March 2016. His documentary was translated into multiple languages and released in 190 countries.
Tony's life story gives a strong message to the world that no hardships or challenges can be big enough to stop you achieve what you strongly desire. Though, Tony received no formal education and support from his parents, yet he mastered the psychology of success to emerge as Number 1 life strategist.
After reading through his inspiring story, you must make sincere efforts to Unleash the power within.