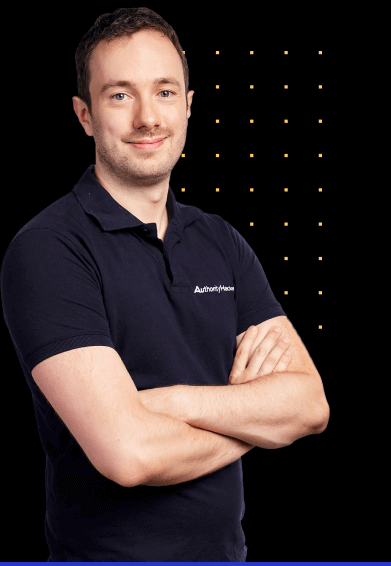 If you have been a participant in the digital marketing arena, you will know that for organic marketing to work, your website has to be in good standing when it comes to having authority.
Having authority means that the content, products, or services offered on your website are trusted. This way, Google can confidently push your site to the top of the rankings where you will get the necessary exposure to improve your site's traffic volume and revenue generation.
For affiliate marketers, having an authority website is a necessary lifeline if they want to succeed. Affiliates sell products and services on behalf of other companies.
If you have an affiliate website of high authority, then people will trust the products or services that you promote to them, and they will buy from your site. This will improve your commissions and your revenue generation.
That said, Perhaps you may or may not know about Gael Breton, one of the co-founders of Authority Hacker, an online course on how to build authority websites.
Gael is a brilliant affiliate marketer, who built a series of affiliate websites that propelled him to the top of the affiliate marketing world.
To know him better, we will be looking at his approach to affiliate marketing, and how he built the Authority Hacker system for affiliate marketers.
One thing to note is that the methodology that Gael came up with can be implemented on all types of websites. The main takeaway is that you should know how to build an authority website within your niche to succeed.
Our Recommendation

Gael Breton and the Development of Authority Hacker
Gael Breton is a co-founder of Authority Hacker, an online marketing training company that he formed with Mark Webster, in 2014.
The training consists of a set of courses that empower people to build highly profitable websites.
The training is targeted at people who want to build websites on their own, and bring in a significant income stream; the keyword here is significant.
The best thing about the structure of their online courses is that they do not require prior knowledge in website development or digital marketing.
Anyone can start the course, go through the step-by-step program, have a dedicated helper, and learn through in-depth training videos.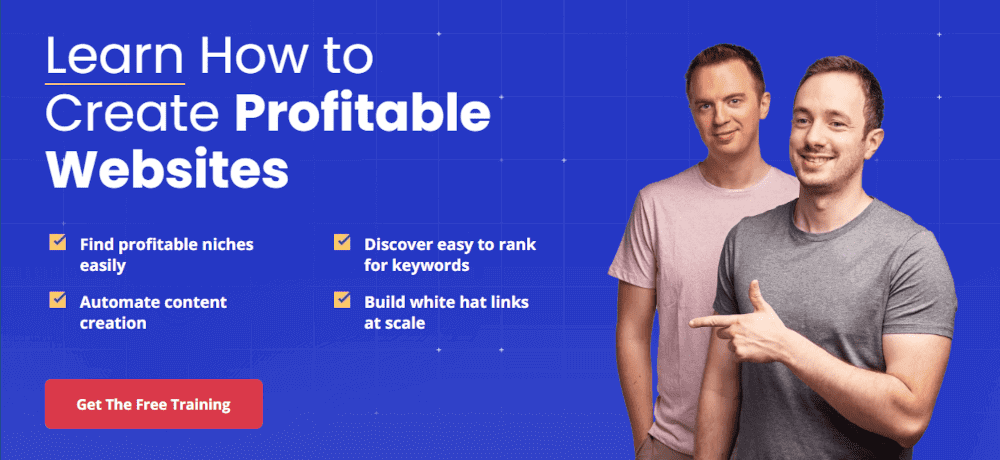 Entry into the market
Gael, as we shall see later, had experience in the digital marketing world, working for clients in different companies.
After a while, he started building websites and created a documented process that would serve as a tool for hiring people.
Pretty soon, many people showed interest in his methods, and he decided to create a small course with his co-founder.
It was initially a small set of 8 videos, which dwelt on how to get leads for content websites. The initial price of the course was $27, and the course became successful.
This is when he and Mark webster realized that they had uncovered a goldmine.
The main reason that they decide on going the online course way was that it was an appealing business model. All you had to do was create the course and then sell and scale it to unlimited levels.
There were no hassles of delivery.
Geal also felt good about teaching and empowering people to be successful, and this was a huge driver of his commitment to developing the course further.
Gael Breton from Authority Hacker on strategies for building 6 figure-sites
Any Beginners Jitters?
When they started the course, Gael and Mark had no idea whether the course would sell or not.
They had the usual jitters that people get when starting any business. They were not sure whether it would succeed, and that is probably why they priced the course at an affordable $27.
For them, creating content for the course was not difficult given that they had a lot of prior experience in digital marketing and web development.
The price of the course was cheap, which provided a low risk to their customers.
After their initial success, they felt encouraged to scale up the course, and that led to their success.
Any Mistakes In Developing the Course?
At one time, Gale and Mark conducted a product launch, without having tested each of the pages on all devices. This was a huge mistake that cost them a huge loss in income.
The two had not tested the product launch pages on iOS, and the "BUY" button could not be seen on some versions of Safari.
This stooped customers from accessing the checkout page, and this led to a loss of revenue.
Today, the two ensure that they use tools like "BrowserStack" to make sure that their web pages are responsive and can be viewed on all devices.
Suffice it to say that Gael and Mark had the usual issues that many people experience when they are starting a new business.
There was a lingering doubt despite their prior experience, and there were mistakes made at one time or another.
However, they persevered and kept sight of their end goal, and now they have a successful course on their website, which caters to over 8,000 students in 137 countries all over the world.
The best thing is that Gael and Mark have included all these experiences in their course, basically showing that they too are like any other entrepreneur.
Have a dream, and work towards the dream despite making mistakes here and there. Learn from mistakes, build upon them and move on.
Gael Breton Education
Geal Breton had an education in the business world, and that is perhaps one of the reasons why he has been able to steer Authority Hacker to success as a business.
NEOMA Business School
He enrolled at the NEOMA Business School in 2006, where he undertook a course in IFI, Marketing, and International Business.
He had experiences and activities related to Culture Connection. He graduated with a Bachelor's Degree in International Business.
HKUST Business school
In 2007, he joined the HKUST Business School to pursue more Business Studies.
The Professional Life of Gael Breton
As mentioned earlier, Gael had working experience in the web design and digital marketing world, and his experience started right after he finished his formal studies.
LoveClients Inc.
SEO Manager
Between the years 2009 and 2011, Gael worked as the SEO manager for LoveClients Inc.
He was responsible for the SEO strategy for the company and also client communications.
Higher Click
SEO Director
In March 2011, Gael joined Higher Click, a company based in Budapest, as the SEO Director.
His responsibilities included crafting successful SEO strategies for their clients to achieve high rankings in the major search engines. He left the company in February 2015.
Authority Hacker
Co-founder
In April 2014, Gael, tother with Mark, formed Authority Hacker, where he still works to this day.
Gael Breton and Publishing
Well, You will not find any paperback or digital books authored by Gael Breton, but there are many insightful blogs that he has published on Authority Hacker.
His sweetheart topic is, of course, affiliate marketing, but there are many other topics on which he touches.
Some of his most popular blog posts today are:
This is a great post that shows newbies how to make money from blogging. The blogging he discusses here is how to create content that will drive sales in affiliate marketing.
For those who want to know how to enter the affiliate marketing world and start making money soon, this is a post that you should read.
The blog post is not just about how to blog but goes on to give proof that the methods he talks about actually work.
Many people are not aware of this, but site architecture does affect your ranking on the search engines.
Geal says that a site with bad architecture is like a messy desktop, with icons all over the place, and getting to find out what each represents can be a nightmare.
This is where he talks about a method he uses on his blogs, which is creating SEO silos.
Better site architecture improves indexing and also provides a great user experience. Both of these are great since great indexing works best for the search algorithms and a great user experience attracts more customers.
This is another great article about how to succeed as an affiliate marketer on Amazon.
There was a time when it was easy to make money selling products listed on Amazon. However, over the years, it has become increasingly challenging, especially for new people in the field.
Many have tried and abandoned selling on Amazon. Gael takes you through a tried-and-tested way in which you can make a steady income stream when selling your products on amazon.
Gael has made more than 1.2 million dollars on Amazon, so reading the blogpost could give you an idea as to how he managed such a feat.
There are many other great articles published on Authority Hacker, that will show you how you can become an authority in your field, by creating trusted websites that will drive sales for your products and services.
Gael Breton Milestones
Gael Breton is a successful affiliate marketer and he has prevailed in niches where many affiliate marketers struggle to succeed.
However, his biggest milestone was the creation of Authority Hacker, a website that provides training courses for people who want to build high authority websites.
So, what makes Authority Hacker such a huge success when it comes to online training?
Authority Hackers Practices What They Preach
Authority Hackers provides a training course on how to build authority websites.
However, what you may not know is that the company also builds and sells high-authority websites, some of which are not shared publicly.
It is not just about teaching how to make authority websites, but they too, use the same methods they teach to build authority websites on the side and sell them when they become profitable.
Truth and Not BS
On Authority Hackers, you get the truth about things as they are. They do not teach how easy the journey toward digital marketing is.
They tell you the process as it is, mixing the successes with the challenges.
This is a great way to learn so you do not get shocked when you start your won authority website.
More than 10,200 Students
Oh Yes!
More than 10,200 students have been through the Authority Hacker course and have moved on to create websites that have brought in 7-figure incomes.
You can watch a video testimony from one of their students, Shane Dutka, who went on from being a nerdy accountant to a 7-figure professional digital marketer.
Huge Authority Podcast
Well, if you want to first preview some of the stuff they talk about in their course, there is a huge library of over 300 podcast episodes, that you can watch and listen to.
In Conclusion
Gael Breton is a formidable affiliate marketer, and he is a testament that you can pick a niche and then expand it into a huge business that impacts people from all over the world.
Gael would have used his knowledge to simply create several authority websites and keep the knowledge to himself.
However, he has used the knowledge to empower other people to move on and create websites that have earned them a comfortable living.
Truly Authority Hacker, and by extension Gael Breton and Mark Webster have had a huge impact on the digital marketing world.
If you have taken a course at Authority Hackers, please share your experience with us in the comments section below.