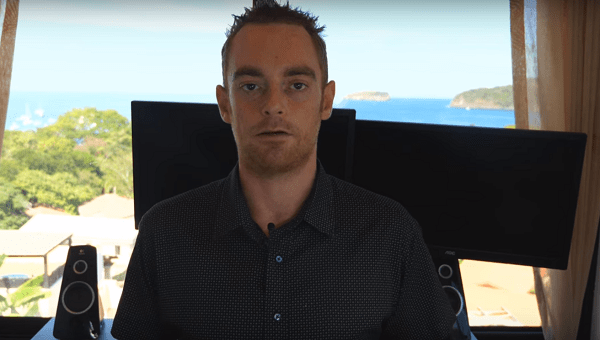 How many bloggers do you know are earning a seven figures salary?
We're sure by now you're probably thinking that I'm crazy.
But that's okay!
This is because the most common myth prevailing among us is that blogging might be a part-time hobby, but dreaming and making incredible money out of it is nearly impossible.
Here's something for you.
One of the world's most popular multiple award-winning blogger and affiliate marketer Matthew Woodward is making a seven figures money with his blog.
In this article, you'll know about his inspiring journey and how he has been able to achieve so much, all with his blogs.
Just Discover and Embrace folks!
Incredible Story of Matthew Woodward
Just like any other passionate gaming enthusiast, who are hooked to games as soon as they discover the world of the Internet, Matthew started his journey online at the age of 13 with writing reviews of online games for a website called Nintendo Files.
Gradually, his love for writing and playing games grew fierce, and it was then that he decided to create a community website that encouraged people to post short videos of their best gaming action online.
As time passed by, Matthew started digging deep into the world of the Internet, as any other teenager would have.
He could do some stupendous online gaming tricks such as firing a 360 no scope in a multiplayer first-person shooter game, out of the selective few.
Matthew messed around with blogs and likes and other digital elements. But one thing he did not know back then, was how to make money from the Internet!
Soon, the passion turned out to be a great career path for Matthew. He got an opportunity to work as a head of online marketing and soon began leading campaigns for world's most famous companies such as Samsung, Motorola, Asda, Tesco, and Orange.
He was successful back then working with one of Europe's largest distributor. But the immutable nature of the corporate world forced Matthew to pursue something of his own.
Something he could work for passionately!
Working for himself, without any restrictions and boundaries has helped Matthew Woodward discover a lot about the Internet and expand his skillset like never before.
He's been on his own for the past three years and has ranked in more than 40 websites.
He's also passionate about SEO and looks forward to challenging situations that come up with Google's algorithm change.
For him, it is not a fearful thing, preferably something to be conquered!
How To Start A Blog The RIGHT WAY With 7 Figure Blogger Matthew Woodward
Achievements and Accomplishments
Starting as a budding blogger at the age of 15, Matthew has a successful corporate career with global brands for 6-7 years. And then he took a leap of faith to start his affiliate blog matthewwoodward.co.uk and became a blog entrepreneur.
He started with 2000 visitors and an income of $600.
In the subsequent months, his traffic increased to 4500 than 6000, growing exponentially from there.
Now he has ranked in more than 40 websites and is earning a seven figures income.
You can also read his features articles on entrepreneur, Inc, TNW, Yahoo Finance, Moz, QuickSprout, KissMetrics, Unbounce, B2B community etc.
What People are saying about Matthew
Matthew Woodward's advice and insight are always spot on. My business has literally made hundreds of thousands of dollars (and our clients have as well!) thanks to his advice.  Our company has greatly benefited from his blog and we look forward to each post. Keep up the great work! – Andrew Stickel
Matt is without a doubt one of the smartest cookies in the box. His detailed tutorials and passion for perfection have given me the platform to help grow my business! – Stuart Jewson
I was able to double organic traffic
Hi Matt, Your online tutorials are quite easy to follow and replicate. I was able to double the organic traffic in many of my clients' websites relatively easy in very short time. Keep up the good work. – George Papatheodorou
Its refreshing to have a 100% ethical, honest & knowledgeable leader to learn from Matt, I love your attention to detail and straight-shooting nature. It is a well known fact that due to the massive potential income, plus the draw card of working anywhere, that many 'shady' people are drawn to our industry. It is super refreshing to have a 100% ethical, honest and knowledgeable leader to learn from. Keep it up, you are an example of what is good in our industry. – Colin Klinkert
Matthew's Income Report
Matthew Woodward publishes a blog income report every month that mentions his key earnings and spends from the month.
But I'm sure you're wondering, what is in it for you?
Matthew also writes about what all did he do exactly in the month to achieve that income.
The breakdown of his income provides full transparency and analysis into the blog traffic with effective strategies so that the users can learn what to do and what not for the success of their blog.
Here are his last three years' income reports:
(Source – https://www.matthewwoodward.co.uk/income-reports/)
That offers a lot of quality learning!
Matthew's Wonderful Lessons for Affiliate Marketers
A man who started like any other digital enthusiast and discovered his way to become one of the most successful self-made affiliate marketers has a lot to offer to his readers.
He is leveraging his knowledge and expertise to help people grow successful and earn more than they could have ever imagined.
Here are Matthew Woodward's top lessons for affiliate marketers:
Anything you think will benefit your Readers
If you're worried about where to start writing and how to make money out of it, then Matthew Woodward suggests writing anything that you could probably think.
Suppose you're reading a book or using an application or a hard product such as shampoo.
Why not be a part of your book's affiliate programs and share your experience with your users?
Do you use an application that can change the life or at least benefit your audiences in some way or the other? Become an affiliate for them.
Similarly, if you look around, you could find more than a couple of things that could that you're using and probably others would too.
Write a blog post about them and share it on your blog. You can also present that particular product available to buy for your audience.
Guess what? While your audience doesn't have to shed a single penny from their pockets, the person owning the product will pay you commision for running an affiliate program for them.
And you? You're a winner either way!
Don't get caught, Renounce that you're an affiliate
Matthew Woodward emphasises on transparency as the key to affiliate marketing.
Especially when you're starting new, make people aware that you're an affiliate.
While selling on platforms such as Amazon, make sure that you list your affiliate tag on one page.
Matthew Woodward advises affiliate marketers to create a single disclaimer page, this way you're completely transparent, even if your customers are not eyeing it on all of your pages.
The first step to enter the world of affiliate marketing is to sign up to the right programs.
Find the products that you like, because when you write about them, you will be interested.
You can start with simple Google searches such as '[brand name] affiliate program' etc.
Once, you're done selecting your products, sign up to an authentic marketplace such as Amazon that helps you make even more commissions.
Dig deep to find all the opportunities
Matthew Woodward's inspirational journey throws immense light on how one can expand their skill set by digging deep into the online world.
Unless and until you passionately focus on the task of actively engaging your readers, you will not be able to make a mark for yourself.
Start by finding your audience's pain points and looking for products that will help them.
Try to think about the different stages of a problem such as getting started, making progress, adding finishing touches etc.
Find what works for your audience and then create a post around it.
Focus on Your Content First
The content creation is the most important thing. Don't about traffic, backlinks or anything else until you have got content nailed.
Always try and focus on building valuable content that helps people and solves problems.
When a new visitor comes to your blog and you are helping him/her through your content, it creates a relationship between you and the reader.
They needed help, you helped them, it's beautiful.
Marketing Tools Matthew Recommends
Active Campaign – Email Marketing Tool
ClickMagic – Link Manager
Edgar – Social Media Scheduling
Grammarly – Grammer Check
Heap Analytics – Web and Mobile Analytics
Infusionsoft – Email marketing tool
Ninja Outreach – Blogger Outreach
Pocket – Save Favorite content
SumoMe – Internet Marketing
Thrive Leads – Email Opt-in
Yesware – Email Tool for sales
Matthew Woodward is a great treasure when it comes to affiliate blogging and marketing.
He has accomplished a lot in his niche, all with his desire to learn and explore.
And now, with the medium of his blog, he is leveraging his knowledge and skill set to help all people who aspire to earn significantly through their blog.